Fish retailer benefits from automated solution
16th May 2022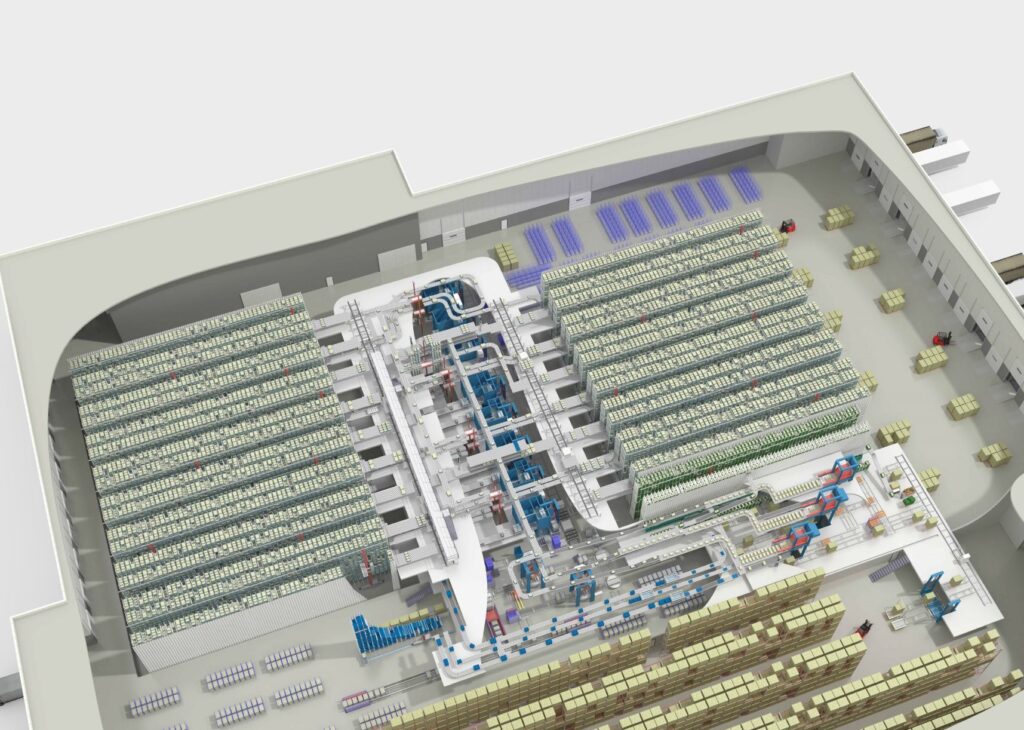 Fresh fish and e-commerce – how does that work? Víctor Escancianon (pictured), Director of Logistics + IT at Spanish food retailer Condis, explains how he gets people to shop in his supermarkets and how he supplies them at home via efficient omni-channel concepts.

At first glance, the Spanish retail market is characterised by huge companies such as Mercadona, Carrefour, or Lidl. But in the regions and large cities, medium-sized retailers have been very successful by setting themselves apart from the competition with their proximity to the customer, special services, and special, regional products. This demands new responses from logistics experts.
"Condis has been on the market for 60 years, and generations of families from Barcelona have shopped there", explains Escanciano, who is responsible for logistics and IT at Condis. The medium-sized company is mainly located in Catalonia. "We convince our customers with freshness", is Escanciano's promise. The name Condis doesn't stand for huge supermarkets, but rather for many smaller stores in the customers' actual neighbourhood.
"That's why click&collect is currently not a top priority for Condis," explains Alberto García Pardo, who, as Key Account Manager at Witron, has been successfully supporting customers on the Iberian Peninsula with the design and implementation of automation projects for more than 15 years. Together with Víctor Escanciano, the Witron engineer optimises the logistics processes of Condis.
Innovative and advanced logistics and order picking technology
But the classic "e-commerce business" is growing. "Covid 19 has given momentum to the channel," Escanciano looks back. Condis has been active in the online business since 2000 already. "This topic is gaining importance in urban areas. Meanwhile, we have more than 500 orders per day in Barcelona. And we are making money, too."
For him, e-commerce must come from one source – from logistics to the driver. Nevertheless, he still sees e-commerce more as a service for the customers. "People will always come to the store to convince themselves of the product quality or to get ideas for the meal. But we also see that customers quickly order a chicken or a bottle of wine in the evening. These are the people returning from work, who find an empty refrigerator, and need an express order," the logistics manager laughs.
"But they also come back to the supermarket on the weekend to buy fresh specialties." There is no way around an omni-channel strategy for retailers. Escanciano would know because Condis merged the responsibilities of logistics and IT. "Everything that belongs to e-commerce is a logistics issue."
The automated omni-channel logistics centre in Montcada i Reixac near Barcelona plays a special role. More than 670 supermarkets in Catalonia region – operated independently or by franchisees – are currently supplied with over 3,100 different dry products. "At Condis, we use innovative and advanced logistics and order picking technology to ensure maximum service quality for our stores and online customers, and to achieve maximum cost efficiency."
Ergonomics plays a central role
Due to the permanent growth as well as the solution's high cost-efficiency and flexibility, Condis decided in 2017 to expand the fully automated OPM system that was originally implemented by Witron in 2013 from six to eight COM machines during ongoing operation. The existing automated small parts warehouse was also expanded to 172,000 tray storage locations with 17 stacker cranes. An additional depalletiser and a second automated stretch-wrapper have been added, as well. Now, the system can pick more than 90,000 cases on a peak day in a store-friendly and error-free manner.
Small-volume items are picked in the DPS tote picking system according to both the goods-to-person and the person-to-goods principles. Depending on the order structure, the items are provided in the pick front in a permanent manner or on-demand, thus enabling constant optimisation of the pick front.
The replenishment of the picking aisle is exclusively system-controlled, using stacker cranes, which are also used for the return of products currently not required for picking. The classification of the product structure is permanently verified and adapted by DPS. Based on the static and dynamic provision of the stored goods, the walking distances of the employees are reduced by up to 75%. "Ergonomics plays a central role in all processes," explains Víctor Escanciano.
The DPS system used at Condis consists of a one-aisle AS/RS with 5,100 tote locations. Employees working at three pick workstations are guided by a pick-by-light system and pick the items directly from the storage tote into the customer order tote. "DPS is the ideal system for us to pick small-volume items in a semi-automatic manner on a minimum floor space with high throughput," says Escanciano.
Cases are picked using the patented Witron OPM / COM system, enabling a fully automated product handling from receiving through to dispatch, with almost no human intervention. With the COM technology, order pallets/order roll containers are built in a fully automated manner. Rather than gripping the product, the COM pushes the items exactly to the position on the order pallet/roll container that was calculated by the system based on a stacking algorithm.
The entire process is monitored via sensor technology, ensuring maximum availability. The products are gently carried and pushed during the complete process, as conventional gripper technologies limit the scope of goods that can be picked automatically.
The system, including the manual areas, has a size of 31,700 sq m. The automated logistics area covers a size of almost 4,700 sq m. As a general contractor, Witron was responsible for the design and implementation of all material flow, IT systems (WMS and MFC), control systems (PLC), and mechanical components. All conveyor system elements and stacker cranes were designed and produced by Witron. A Witron on-site team with 12 employees ensures a 24/7 availability of the logistics system and takes care of all service and maintenance tasks.
"Automation in the dry goods area has provided numerous benefits – both economically and ecologically," explains Escanciano. But why doesn't Condis also rely on automated warehouse logistics in the temperature-controlled areas? "In fresh produce, we operate a completely different business model," says Escanciano. García agrees: "This is due to the special business processes at Condis as we also implement many fresh and frozen automation projects in Spain and across the globe. More than 35% of our OPM installations are temperature-controlled."
Data-driven logistics and machine learning
And the e-commerce business? "We have opened two new, smaller warehouses and supply them efficiently and on-demand through our automated central warehouse. It is a classic fulfilment business. And we continue to invest. The two warehouses were no interim solution due to Covid 19." That sounds like growth in other regions, too. Escanciano denies: "There, you can only grow through acquisitions. That's not our strategy. We focus on last-mile logistics in the new warehouses. That's where we need to continue to improve."
And what else is Condis working on with Witron? "We want to run our automated system efficiently and permanently in the existing facility. Therefore, we are working with Witron on new maintenance and operation strategies, relying on Big / Smart Data, and Machine Learning for even more information from the warehouse."