Female leadership at Witron
13th June 2022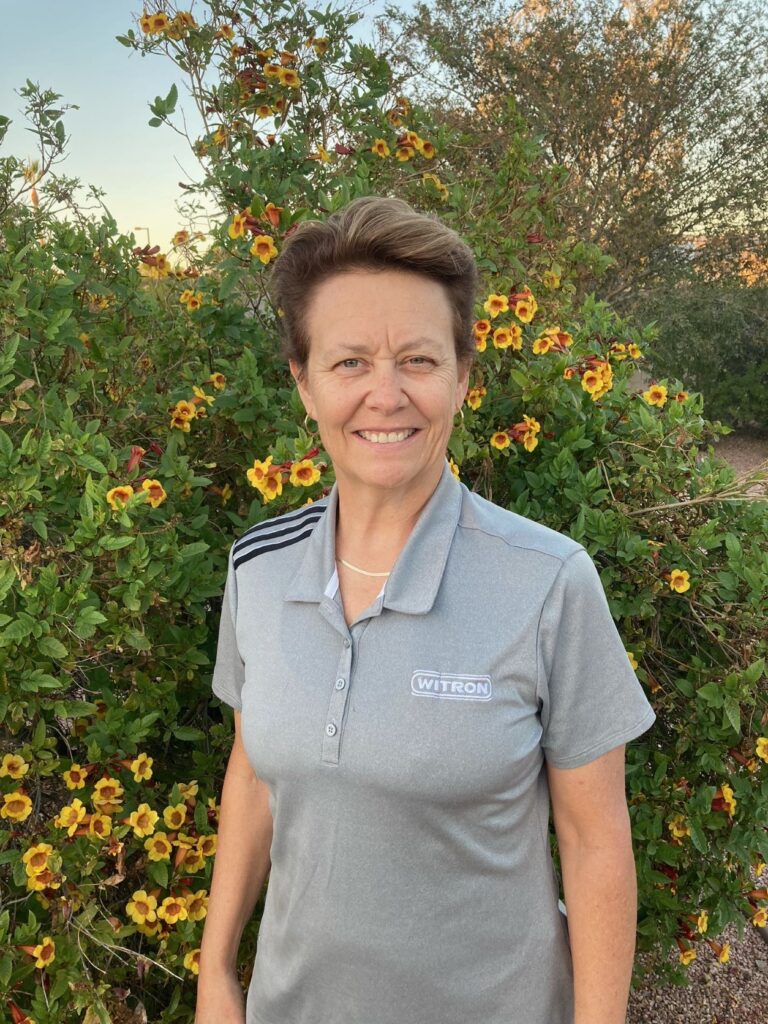 Margaret Wilson (pictured) successfully manages a WITRON OnSite team with more than 100 staff members. She doesn't need her own office: "I have a desk next to the conveyor system", says the WITRON site manager with a smile.
Since 2018, she has been responsible for one of the largest US WITRON OnSite teams, which works at the logistics centre of grocery retailer Kroger in Tolleson, Arizona. The heart of the highly automated system is the OPM solution, which the retailer was the first customer worldwide to opt for in 2003.
"Office work alone wouldn't make me happy; I need to be in direct contact with my colleagues – and, of course, with the technology." She leads her team, is en route in the facility four to five times per week, and actively maintains the conveyor system and stacker cranes, including all components.
The distribution centre supplies more than 100 Kroger stores with a dry assortment of almost 9,000 products and "we can only master the daily exciting challenges as a team ", explains the 55-year-old engineer. The WITRON employees in the logistics centre work four shifts, 24 hours a day, and 363 days a year. The site manager served many years in the US Army as a combat engineer, maintenance supervisor, and unit movement officer.
"There, I learned a lot of logistics, but most of all responsible leadership. You have to trust people. In the Army, I served teams with people coming from all walks of life."
In the logistics centre, more than 100 WITRON experts ensure that the mechanics and IT run permanently with maximum availability around the clock and that the goods leave the warehouse on time. This is because WITRON, as a lifetime partner, sells a delivery service to the customer, and Margaret Wilson and her OnSite team ensure that the technology keeps the promise made, day in and day out.
"We have IT specialists, electricians, and spare parts experts," reports the manager. When she started, there was one woman on her team. Today, 15% of the workforce is female. One female colleague also manages her own team," emphasises Margaret.
Do women lead differently? Wilson agrees. "I think, women tend to lead more collaboratively, take up ideas from the team, and don't always have to know everything down to the technical detail. That might differentiate us from some men who think that if they are the boss, they have to show it, and have to be able to answer every question on their own. I think that is not absolutely necessary. Getting people to work together, creating a powerful team, that's our most important job as a leader."
For Margaret, a good leader is first and foremost a person whom the team trusts in and who gives confidence. "I can't be directly on the front line for every shift or every repair, or maintenance call. I have to manage resources, keep the system running, and develop my team members professionally and personally."
But where do women and men learn good leadership? In the military, according to Margaret, but also in sports clubs or church groups. "You have to practice over and over again. It will not come automatically."
Her career in the military is still unusual, and even in the US, society is debating job opportunities for women in traditionally male professions. "Logistics for many Americans still means men with big muscles carrying packages. But logistics today is also mostly a head thing, and we need a lot of women there, too."
She has made a lot of good experiences with the Kroger management, she said because they also have many women in management positions.
"When I started at WITRON back then, the customer's concern was not that I was a woman, but that I was a rookie and had no direct experience with the processes in a logistics centre," remembers Margaret and laughs. "I'm sure the WITRON bosses were a little nervous at first, too", she jokes.
"They trusted me but were afraid that some of the gentlemen on the team might not accept me." So? "The team wanted a competent leader who was motivated and committed, and, of course, had the technical knowledge. I was that leader, and that's who I still am. After a week, I had arrived."
Margaret is confident. "You have to believe in yourself and your abilities." The site manager is certain: Despite rise of automation, employees are still and oftentimes become even more important. The shortage of skilled workers is omnipresent. "The logistics centre is a great place to be if you like technology and people like I do."
CLICK HERE to listen to a podcast of Margaret Wilson