EuroSort introduces 'smart' sorter
30th March 2022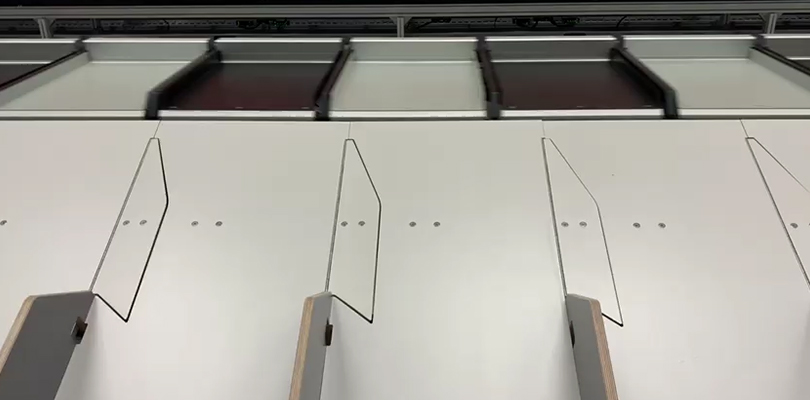 By adding an obstacle in its chute to increase the amount of sorter exits from 300 to 400 on the same footprint, EuroSort is introducing  a ground-breaking technology that narrows the required width of a sorter chute by up to 40%. This means either a 40% increase in sorter exits without having to increase sorter size, or the installation of a sorter in a much smaller space.
In a market where available floor space is the major restricting factor on the size of a sorter, you have to come up with creative ideas to get the maximum out of every available square meter of the warehouse. EuroSort is already well known for producing durable high capacity sorters on a small footprint, but is now making a huge step in what was believed to be impossible.
It has now introduced its next-generation chutes, featuring pitch reducing technology. This means that either the sorter itself can drastically reduce in size and budget, or up to 40% more exits can be fitted in the same footprint. EuroSort describes the development as "a massive improvement for our customers and a revolution in the automated sortation industry".
By implementing a pneumatically controlled 'door' into the chutes, the forward movement of a discharged item can be altered. When an item is bound for the chute this door is linked to, it activates, rising up and creating  a barrier in the chute. This stops the item in its forward slide and guides it down into the designated exit. The result is that, for example, 400 chutes could fit in the same footprint as 300 chutes previously. This innovation enhances the flexibility while maintaining the capacity, reliability and accuracy that EuroSort sorters are known for.
"Simplicity is the ultimate sophistication," says Patrick van Haaster, CEO EuroSort. "We are very proud our own R&D team managed to take this from an idea to realisation and implementation. To see a thought come to life and actually perform the way you had in mind is great.
"Our Pitch Reducer is already successfully up and running at one of the largest fashion companies in Eastern Europe, serving over 1,800 stores in 25 countries. We are grateful for the trust they put in us and our new development."
The benefits of EuroSort's Smart Chute include:
Up to 40% more exists on the same footprint
Less materials needed
Less floorspace needed
Higher efficiency for operators thanks to less walking distance
Less strain on operators to serve multiple chutes on small footprint
Fits most EuroSort sorter solutions
Very limited effect on capacity
No impact on versatility and reliability
No impact on sorting accuracy