ELOKON exhibits smart cloud-based solutions at LogiMAT
29th April 2022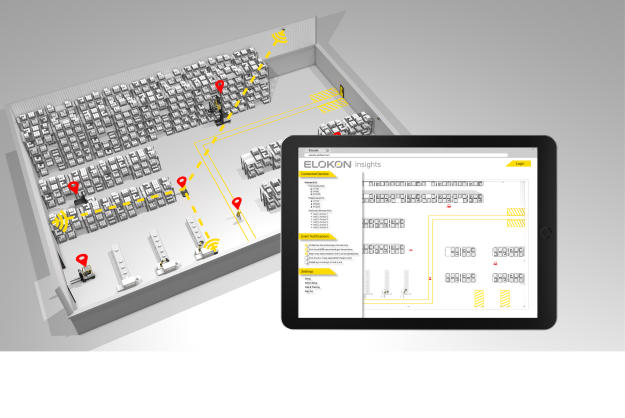 ELOcate will be one of a number of new products exhibited by ELOKON at LogiMAT 2022 on Stand F09 in Hall 10. This system is based on UWB radio technology which is also used in the company's ELOshield proximity detection system, and enables precise real-time location of all people, forklifts and AGVs in the warehouse.
Should any irregular or risky scenarios occur, ELOcate is able to automatically trigger an alarm. "Thanks to our web-based application, warehouse route planning can be optimised, work processes can be made safer and accidents can be prevented," said international sales manager at ELOKON GmbH Andreas Folz.
The driver assistance system ELOshield also features additional new functions and modules such as data analysis as well as an AGV module which safeguards AGVs when they are operating in close proximity to forklift trucks. The cloud-based fleet management system ELOfleet will also be on show and this has been expanded to include central document and battery management functionalities. ELOKON is also hosting the Munich-based start-up Filics on its stand, in which ELOKON Ventures GmbH invested in 2021.
"Due to the ongoing automation in warehousing and in manufacturing, there is an ever increasing level of interaction between humans and equipment. When it comes to the potential conflicting interplay between better occupational safety and higher productivity, our smart systems are ideal as they provide a solution for both," explains Folz.
ELOKON is one of the leading international suppliers of assistance and fleet management systems for intralogistics, and visitors to this year's LogiMAT will be able to see the benefits at first hand. "After a break of two years due to Corona, we are delighted to be able exhibit our wide ranging product portfolio and to meet visitors in person once again at LogiMAT," said Folz.