Visit the ONE Event for Intralogistics Innovations
31st March 2015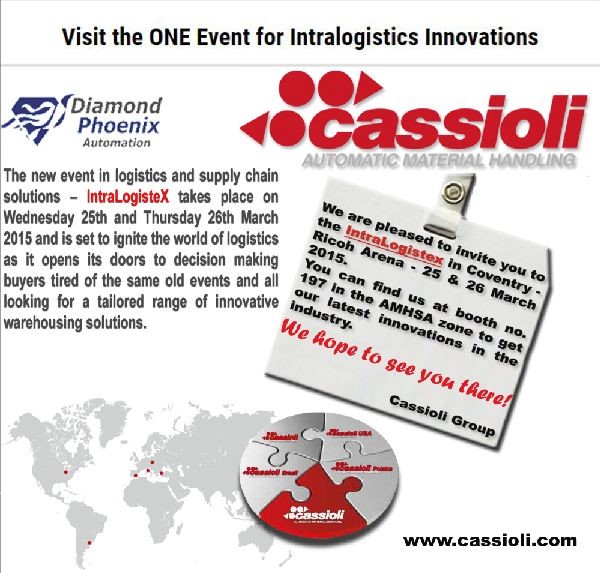 Italian based CASSIOLI Srl (Torrita di Siena (SI) www.cassioli.com) is a leading manufacturer and integrator of automated materials handling systems and has selected Diamond Phoenix as sole agent for the UK & I market place.Formed in 1943 the company boasts 5 manufacturing plants worldwide and >50m Euro turnover.
The company produces automated warehouses with stacker cranes, assembly lines, vertical warehouses, testing systems, automatic guided vehicles, satellites,self propelled shuttles, robotized workstations and conveyor systems.
The wide range of products and the competence acquired over many years of work as a manufacturer & system integrator means that CASSIOLI has the know-how to apply its solutions in virtually any industrial sector that requires automated handling and logistics for raw materials, semi-finished goods and finished products. Distribution and production logistics are the market sectors in which their applications are primarily focused.
Graham Boner of Diamond Phoenix commented:

'We are delighted to represent CASSIOLI in the UK & Ireland. The quality of their products and systems is outstanding and their experience in a wide range of sectors increases our solutions portfolio to our prospective clients. We look forward to offering the combined experience and know how of CASSIOLI and Diamond Phoenix to the UK market place.'
Please contact Graham at info@diamondphoenix.co.uk or visit www.cassioli.com for more information.