UK Retail Warehouse Transaction Volumes Grow in Q3
20th October 2016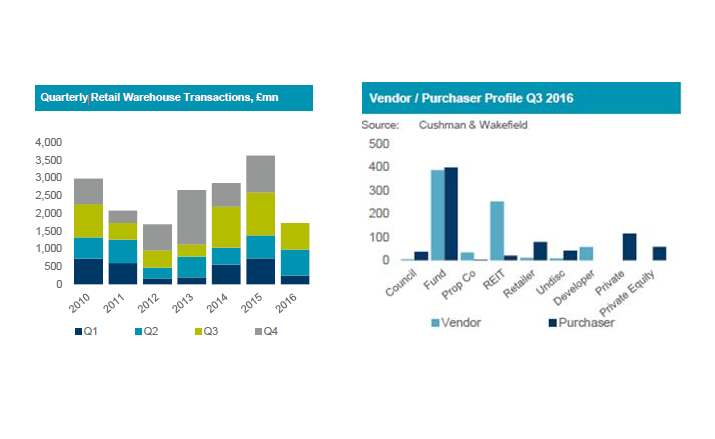 Retail warehouse sales reached £754m in the third quarter – the highest quarterly total to-date in 2016 as activity returns to the market, according to Cushman & Wakefield.
An additional £394m of warehousing is currently under offer with a further £900m being marketed, pointing to a positive end to the year. Despite this, the recovery in transactions since June's referendum vote to leave the EU has not been robust enough to make up for the subdued market conditions during the first half of the year. Total transactions of £1.73bn for the first three quarters of 2016 are down 33% compared to the same period for 2015 – although it should be noted that last year saw the highest volumes since 2006.
Patrick Knapman, Head of UK Retail Capital Markets at Cushman & Wakefield, said: "Three months on from the EU referendum we are seeing increased volume in the market place, which is encouraging after a period of relative inactivity. Private Equity buyers will become more prevalent in the market for larger lot sizes as we head towards the end of the year and we are also likely to see the re-emergence of institutions for the better quality stock. We foresee yields maintaining current levels during Q4 2016."

The largest investment transaction of the quarter was BMO's purchase of the British Land portfolio for £191m reflecting a net initial yield of circa 6.25%. ARES' purchase of Castle Vale Retail Park in Birmingham from M&G for £58.40m (yield 6.59%) was the next largest, followed by LxB's sale of B&Q Bugsby's Way in Greenwich to Weybourne Investments for £43.30m (yield 4.90%).
Although consumer confidence is back to pre-Brexit vote levels and retail sales growth in positive territory during July and August, Cushman & Wakefield warns that warehouse transaction volumes could be affected next year by rising inflation denting confidence.
Yields have also softened since Q1 – by up to 50bps in shopping parks and open consent schemes – whilst in Q3 retailers and local authorities represented a higher percentage of the purchasers than in previous quarters and REITs were net vendors by £231m.
Jonathan Rumsey, Head of UK Retail Market Analysis at Cushman & Wakefield, said: "Although volatility remains following the EU referendum result, consumer confidence is back to pre-Brexit levels and retail sales are showing strong growth. Following a minor blip in June and July, retail park footfall returned to positive growth in August while vacancy rates continue to fall. With Investor confidence improving and a large volume of stock on the market, Q4 transaction volumes should surpass the Q3 level."