Trent Gateway logistics units snapped up
19th July 2022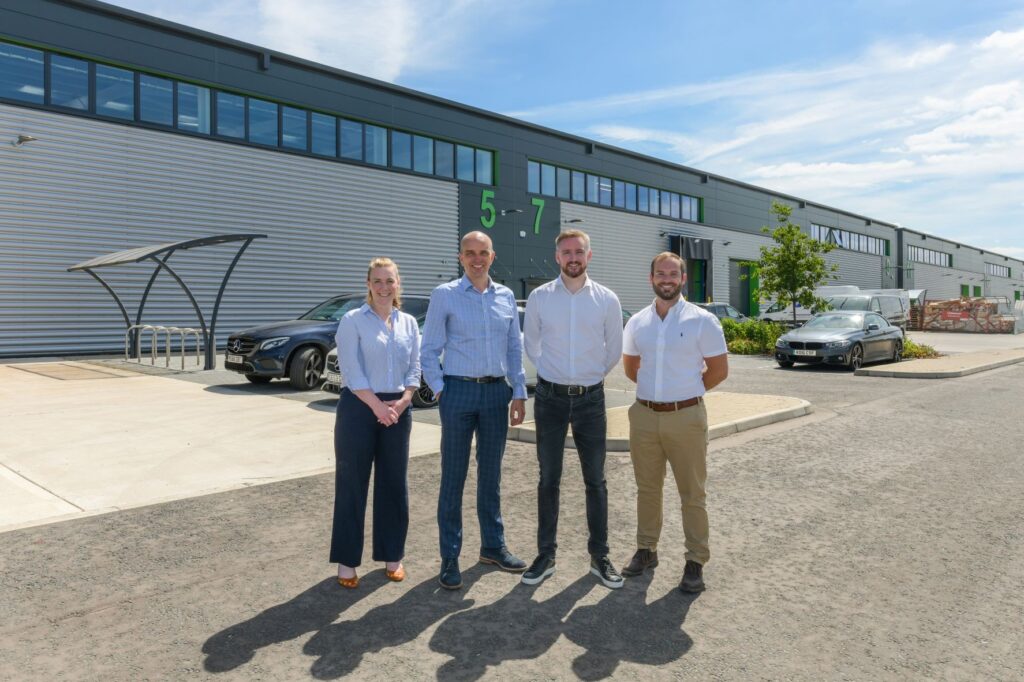 Demand for logistics real estate in the UK's East Midlands region is showing no signs of slowing, according to the leasing agents of Trent Gateway which is now fully let.
Due to the especially high demand for industrial properties, particularly those that possess green credentials, the property's landlord Northwood Urban Logistics has seen five units let in five months.
The final deals, brokered by JLL and FHP, have included MMC Materials UK Ltd which manufactures sustainable and compositable packaging and has taken 10,488 sq ft, and Upperton Pharma Solutions (Upperton), a UK-based specialist contract development and manufacturing organisation. Confident in the location, Upperton is investing circa. £15m in the design and bespoke build of its new 50,000 sq ft facility on the estate.
MMC Materials UK and Upperton join a range of other established businesses based on the 18-unit industrial site, including BW Flexible Systems, RSK Group and SRL Traffic Systems Ltd.
Northwood's success is reflective of the high demand for space in the region. JLL's own research has revealed that prime headline rents have risen by an average of 25.5% across the Midlands. The multi-let and mid box industrial market Spring 2022 report revealed that, in the East Midlands specifically, there remains eight months' supply of space available, but is seeing comparatively little new speculative development. Regional demand for small units is particularly strong in the 3,000 to 5,000 sq ft and 10,000 to 20,000 sq ft range, with local and regional occupiers driving the majority of demand.
Trent Gateway's sought-after green credentials include the likes of electric vehicle charging points; low air permeability design; warehouse skylights making up 15% of roof surface area increasing natural lighting; high performance insulated cladding and roof materials; and secure cycle parking all provided as standard.
Iain Taylor, Director at Northwood Urban Logistics said: ''We are very pleased to welcome our latest occupiers to the scheme. Trent Gateway has been proven to accommodate a wide range of occupiers who have been able to adapt the units for a variety of uses."
Gemma Constantinou, industrial director at JLL East Midlands, said: "Trent Gateway has benefited from having high-quality units in a market that is increasingly calling for more space. Crucially, though, this market also understands that the need to make greener choices, in the push towards Net Zero, is only intensifying.
"The speed in which the entirety of Trent Gateway has been snapped up should be a clear, green light for developers to invest further in the East Midlands. We expect take-up to remain at a consistently high level for the next few years while the battle for availability continues at such a pace."
Mark Tomlinson, Director at FHP, commented: "We are delighted to have delivered fully occupancy and such a strong tenant line-up at Trent Gateway, which was delivered to service a pent-up demand from occupiers who have been hampered by an undersupply of industrial property in the region. The East Midlands still has one of the lowest vacancy rates in the country, so we were not surprised to have brought forward such strong demand for the scheme."
Located within Beeston Business Park and just one mile outside of the town centre, Trent Gateway is a 40-acre hub providing a mix of industrial and office space, all overlooking the Attenborough Nature Reserve.