The CMA CGM Group upgrades its services to Morocco with 5 unmatched export solutions of Moroccan citrus fruits and vegetables to Russia, North America, Europe, the Middle East and Africa
13th October 2015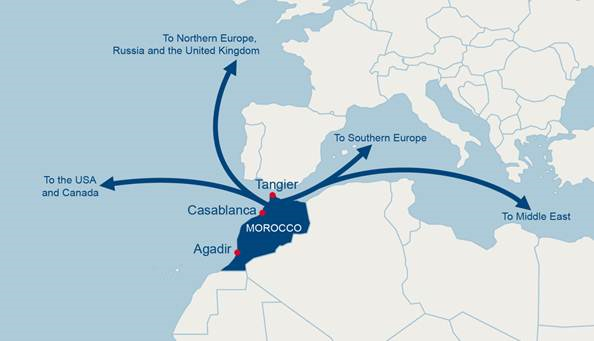 CMA CGM deploys 5 maritime services to meet increased needs due to Moroccan citrus fruits and vegetables export season beginning
This unmatched offer provides Moroccan products export to world strategic consumption areas: Russia, North America, Europe, the Middle East and Africa
CMA CGM contributes to Moroccan agriculture development
CMA CGM, a leading worldwide shipping Group, is pleased to announce the deployment of its upgraded transportation offer to Morocco. It is specifically designed for citrus fruits and vegetables export.
5 maritime services will provide Moroccan producers unparalleled export solutions with 14 calls in Moroccan ports per week
CMA CGM and its subsidiary OPDR adapt their offer to the Moroccan citrus fruits (oranges, clementines…) and vegetables (tomatoes, zucchinis, peppers…) export season resuming and launch 5 maritime services that connect Morocco to key consumption areas (Russia, Northern Europe, North America, the Middle East, and Africa).
These 5 services will offer 14 departures from Morocco per week. The port of Agadir is the heart of Moroccan citrus fruits and vegetables production, and will thus be served with 3 weekly calls serving Northern Europe and Russia, via the DUNKRUS, CISS and AGAX services.
CMA CGM provides the export of Moroccan goods towards strategic consumption areas around the world
Under the CMA CGM brand, the Group will directly connect Morocco to France, Spain, Belgium and the Netherlands via:

The DUNKRUS service will start on October 26th. Its rotation will be: Agadir, Dunkirk, Rotterdam, Antwerp, Vlissingen, Havre, Rouen, Vigo, Tangier, Casablanca, Agadir.
Russia – the largest consumer of Moroccan citrus fruits – will be served thanks to a connection in Dunkirk.
The AGAPOV service will start on October 29th. Its rotation will be: Agadir, Port Vendres, Barcelona, Valencia, Casablanca, Agadir, Port Vendres, Algeciras, Tangiers, Ghazaouet, Casablanca and Agadir.
Port Vendres will be called twice a week, providing an effective coverage of the South of France and offering an environmental friendly alternative and competitive transport time from road transport.
The weekly MOROCCO SHUTTLE service operates throughout the year. Its rotation is: Casablanca, Agadir, Tangier, Algeciras, and Casablanca. It serves the United States and Canada thanks to connections in Algeciras with other Group's services.
OPDR, CMA CGM's subsidiary since July 1st 2015, will link Morocco to Spain and Northern Europe via:

The CISS service will start on November 7th. Its rotation will be: Agadir, Huelva, Setubal, Tilbury, Rotterdam, Hamburg, Rotterdam, Tilbury, Tenerife, Las Palmas, Agadir.
The AGAX service will start on October 15th. Its rotation will be: Agadir, Casablanca, Portsmouth, Rotterdam, Antwerp, Casablanca, Gibraltar, Seville, Las Palmas, Agadir.
These two services provide a unique connection to the United Kingdom with calls in Tilbury and Portsmouth.
CMA CGM contributes to the Moroccan agriculture development
Agriculture is a Moroccan economy key sector and contributes to approximately 16.5% of the national GDP. It is also an important employment source.
CMA CGM is a major actor for Moroccan agriculture: the Group is the 1st carrier of agricultural products from Morocco to the rest of the world in refrigerated containers.
Established since 2002 in Morocco, CMA CGM currently employs 1,200 people and 17 lines call in the country.