Sustainable Warehouses at St. Modwen Park Lincoln
16th June 2023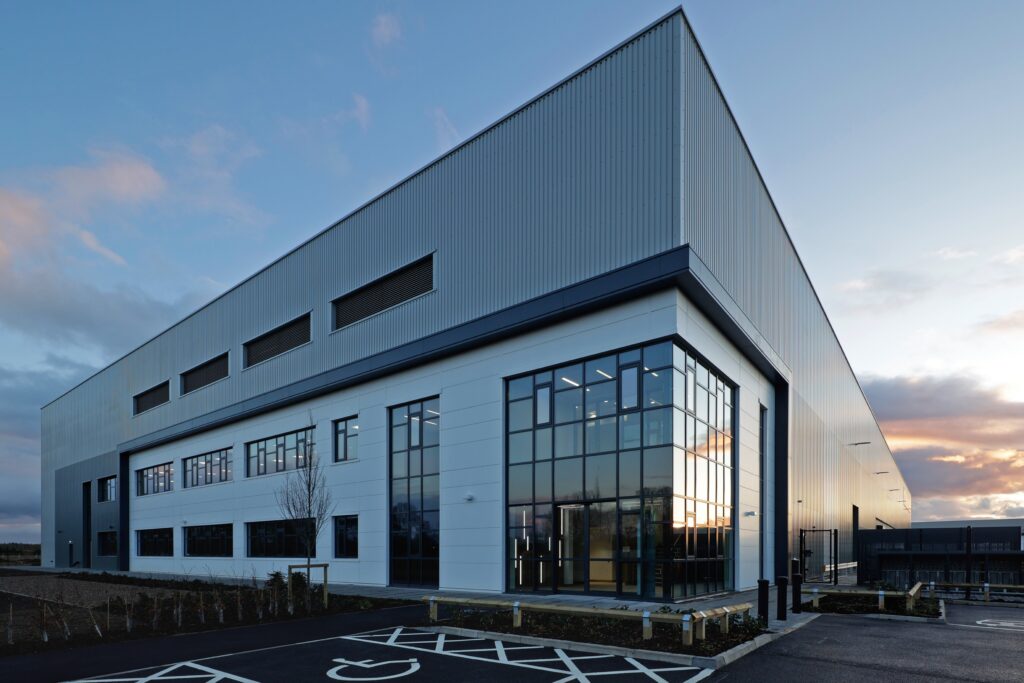 St. Modwen Logistics, one of the UK's leading logistics developers and managers and a Blackstone portfolio company, has completed work on a £15m 111,000 sq ft sustainable warehouse, as part of the fourth phase of development at St. Modwen Park Lincoln, UK, which could save occupiers more than £90,000 a year in operational energy costs.
Delivered by Caddick Construction, Lincoln 111 becomes the biggest unit at the site, demonstrating St. Modwen's confidence in the Lincoln and Newark region following the success of the Park since the first unit was completed back in 2019. In total, St. Modwen Logistics has invested £35m to deliver 411,000sq ft of space at the Park in this period, with the likes of logistics giant DHL, retailer Furniture Village and international ice cream distributor NIC all occupying space at St. Modwen Park Lincoln.
Built to St. Modwen Logistics' 'Swan Standard' guidelines for sustainable construction, Lincoln 111 is rated 'Excellent' by sustainability certification body BREEAM and comes complete with more than 1,000 sq m of solar PV panels installed as standard to help prospective occupiers to meet their own ESG targets.
Energy generated from these panels will fully power the building's 5,300 sq ft of Grade-A offices, making them net zero carbon in operation. Combined with other energy-efficient features which are incorporated in the design process, Lincoln 111 has been awarded an EPC A+ rating, helping occupiers to reduce their operational costs. The building also has access to an increased power supply, making it perfect for occupiers with large power requirements.
Located on the A46 dual carriageway between Lincoln and Newark, St. Modwen Park Lincoln benefits from its fantastic location and transport links and is just seven miles from the A1 with direct access available. In addition, customers at the Park also benefit from central Government investment into infrastructure improvements to the A46 Newark bypass and the completion of the Lincoln bypass, resulting in reduced travel time to the South West and North East towards the Humber Freeports.
Reserved matters planning consent has also been achieved for the fifth and final phase of development which will see the capacity of the Park total 740,000 sq ft in the coming years. There is a unique opportunity for the final development to be accelerated to meet the specific requirements of a business in need of a build-to-suit option, with St. Modwen Logistics able to deliver a single unit up to 350,000 sq ft available within 12 months.
Ben Silcock, Leasing & Development Manager, St. Modwen Logistics, said: "We are always striving to develop industry-leading warehouses in fantastic locations for our customers and Lincoln 111 is a prime example of this. As well as being near to the vital A1 interchange and benefitting from crucial infrastructure works in the region of late, the building is also best-in-class when it comes to both the quality of the development and its sustainability credentials. With extra power capabilities and reduced operational costs thanks to the installation of solar PV panels, it would be the perfect home for any businesses looking to expand their operation to the East Midlands or upgrade to a highly-efficient building."
Dominic Towler, Surveyor at Cushman & Wakefield, added: "Lincoln 111 is the largest speculatively built unit available within a 20-mile radius and adds much-needed supply to the area. The building's sustainable design also offers exceptional cost savings for occupiers looking to relocate from less efficient and inferior stock. Phases 1 to 3 have demonstrated that demand for space in the area is buoyant with both local and national occupiers taking units within the Park, and we again expect the unit to be of significant interest to similar occupiers."
Lincoln 111 features eight loading docks, two level access doors and 12.5m of clear internal height, as well as 48m yard depth. In addition, 20% of the building's car parking spaces will have EV car charging points installed and the Park offers a provision of cycle spaces, encouraging greener travel amongst employees.