St. Modwen Logistics' £18.1m investment supports regeneration
20th June 2022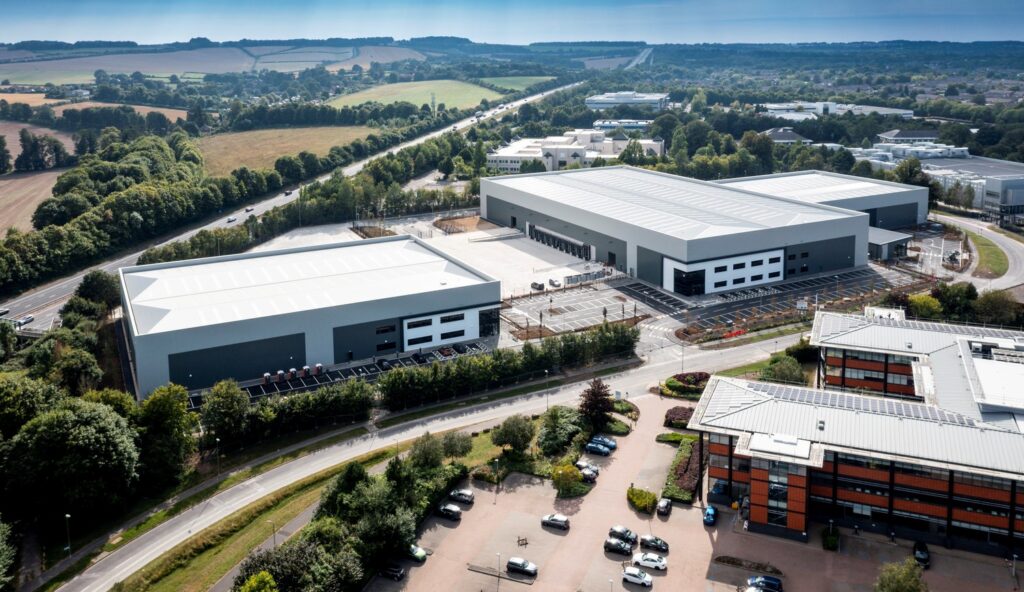 St. Modwen Logistics, a leading logistics developer and manager, has delivered on Basingstoke (Hampshire, UK) and Deane Borough Council's aspiration for the regeneration of Viables Business Park, Basingstoke, with an £18.1m investment which saw the property company build 190,000 sq.ft of manufacturing space for LevertonHELM – a joint venture between Leverton Lithium and HELM AG. Leverton Lithium was founded in Basingstoke over 45 years ago, and as LevertonHELM it will occupy the whole of St. Modwen Park Basingstoke, comprising three warehouses and two retail pods, which will be used as staff refectories.
St. Modwen Park Basingstoke provides LevertonHELM with the modern and larger space needed to scale up its production and manufacturing of battery grade Lithium chemicals in Europe. It will also provide additional capacity for the growing needs of its global customers, allowing for an expansion of 20kMT (kilo metric tons) of high-quality lithium chemicals.
The deal demonstrates St. Modwen Logistics' commitment to ensuring businesses have the space they need to grow and prosper in their local area, bringing much-needed investment and jobs. LevertonHELM's new buildings come with a range of sustainability features as standard including an EPC A rating, rainwater harvesting, EV charging points and PV solar panels.
Polly Troughton, Managing Director at St. Modwen Logistics, said: "At St. Modwen Logistics we are committed to providing our customers with the space and support they need to succeed. Working closely with the local authority, we are proud to be investing in the redevelopment of the site, which supports LevertonHELM's continued growth and expansion, helping create local jobs and generating economic growth in and around Basingstoke."
David Hicks, CEO of Leverton Lithium, said: "The lithium industry is developing rapidly and we are delighted to be joined by HELM AG as our company continues to grow. This manufacturing space will help us respond to market demand and support our operations as we provide large-scale manufacturing of battery grade chemicals."
Acting Leader of Basingstoke and Deane Borough Council, Councillor Simon Bound, said: "I am delighted that Leverton Lithium and HELM AG have demonstrated their confidence in the borough with this significant investment worth tens of millions of pounds. As well as creating and protecting many high-tech skilled jobs, it is great to support a company that is focused on reducing the world's use of carbon and helping to lead the way to a more sustainable future – something that we are committed to achieving locally."
"Basingstoke is a great place to invest, and we are delighted that we have been able to work with St. Modwen Logistics to create new high quality employment space in this strategic location which will be vital for the borough's economic recovery." Andrew Newman, joint letting agent for Hollis Hockley, said: "It's great that we have been able to work with St. Modwen Logistics, LevertonHELM and the council to secure such a fantastic result. LevertonHELM has secured a prime campus on which to manufacture lithium and the redevelopment will not only generate revenue, but also bring more jobs directly and indirectly to the Borough."