Speculative Development for St. Modwen Logistics
17th March 2023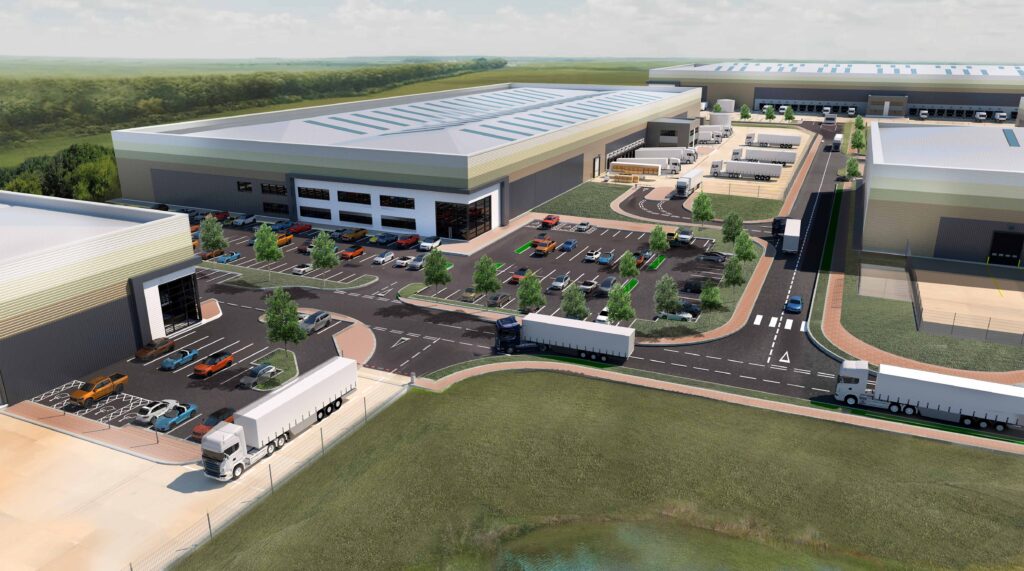 St. Modwen Logistics, one of the UK's leading logistics developers and managers and a Blackstone portfolio company, has announced that it will soon deliver c. 450,000 sq ft of warehouse space at St. Modwen Park Chippenham, including the company's largest speculative development in the region, a 342,000 sq ft warehouse unit.
The development, which is under construction by Winvic and is set to complete in summer 2023, also includes an additional 110,000 sq ft unit, with both warehouses built to St. Modwen's Swan Standard guidelines for environmentally friendly construction. St. Modwen Park Chippenham is already home to businesses including Huboo and FurnitureBox.
The buildings are being built to high environmental standards and targeting a BREEAM 'Excellent' rating. Sustainable features of the new warehouses include solar PV panels, which generate a significant proportion of clean energy used by the offices, making them net zero carbon in operation. The developments will also include a proportion of parking spaces reserved for electric vehicle charging points, and smart energy management systems which contribute to an EPC A+ rating.
Once built, the new warehouses will have the potential to employ up to 600 people in the Chippenham area, which benefits from a strong local labour force and excellent transport links. Strategically located adjacent to the M4, the site benefits from being less than a mile from Junction 17 and is ideally placed for nationwide distribution.
This latest project further demonstrates St. Modwen Logistics commitment to the region, with 860,000 sq ft of development work scheduled for completion in 2023. Work is progressing on three new units at St. Modwen Park Access 18 Avonmouth, whilst in nearby South Wales, four new warehouse units at St. Modwen Park Newport were recently completed to meet the demands of businesses in the region.
Peter Davies, Development Director, St. Modwen Logistics, said: "Chippenham benefits from its access to a skilled local labour force and its strategic location at the gateway to major consumer markets in the South West of England and South Wales. However, there is an acute undersupply of high-quality warehousing and we are responding to that by delivering new schemes capable of creating hundreds of jobs for local people and providing occupiers with fit-for-purpose, sustainable logistics space.
"Our decision to progress with the expansion of St. Modwen Park Chippenham and the delivery of our largest ever speculative development is testament to both the strength of the business' investment and development expertise, and to the resilience of occupier demand in the South West."
Winvic's Head of Industrial, Distribution and Logistics, Danny Nelson, added: "We've been making excellent progress on the two warehouse facilities in Chippenham, and we're proud that one is St. Modwen's largest speculative development. Working in partnership with the St. Modwen team, Winvic has focused on the requirements of tenants and have designed and constructed these buildings with sustainability at their heart.
The new developments support the continuing expansion of St Modwen's logistics platform, which was acquired by Blackstone, the world's largest alternative asset manager, in 2022. Since then, the business delivered 2.2m sq ft of developments with industry leading ESG credentials. In addition, over 1 million sq ft of space has been acquired in the last 6 months.
Chippenham is recognised as a major commercial location in North Wiltshire, benefiting from a strong local labour force and excellent transport links. 56% of local residents are aged between 16-44 and 77% live and work locally. There is significant opportunity to create high-quality, high-paying job opportunities in the region for local workers of a variety of ages and education levels, with St. Modwen Logistics' schemes providing office space as well as warehousing, supporting managerial and administrative functions alongside manual logistics roles.