Second phase of Redditch scheme approved
28th September 2022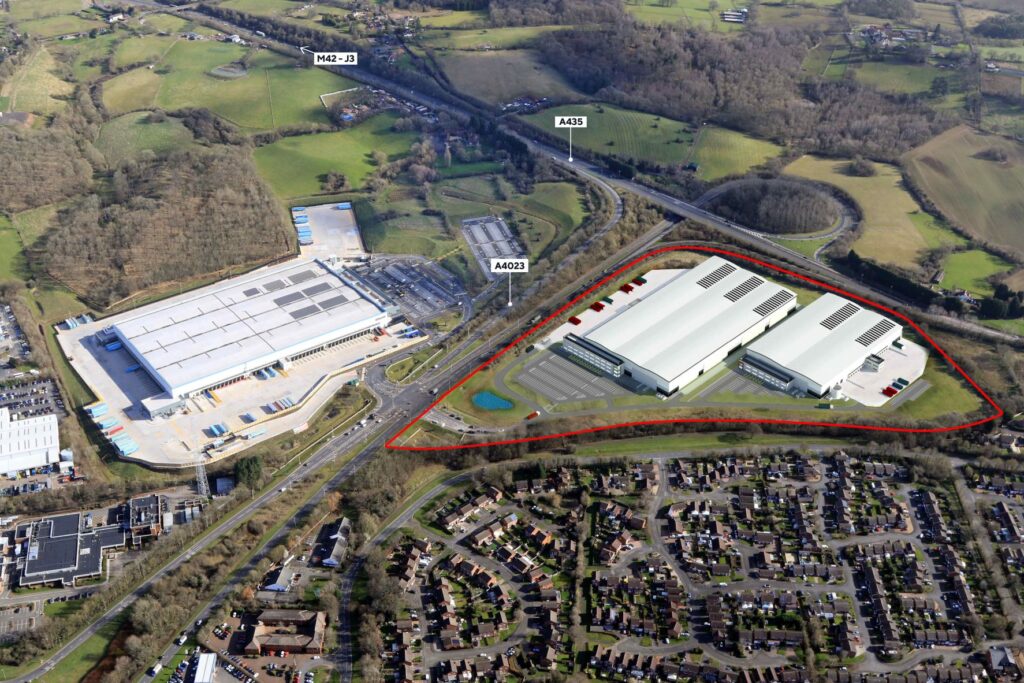 Stoford has secured planning consent for the speculative development of almost 450,000 sq ft of new industrial and logistics accommodation near Redditch.
The leading commercial property developer will build two new warehouse units at Redditch Gateway, a multimillion pound logistics and manufacturing scheme off the A4023 Coventry Highway.
The new net zero carbon units will comprise 160,208 sq ft and 286,328 sq ft respectively and will be developed on the southern side of the 78-acre Redditch Gateway site, which is fully serviced and delivers a 9.5 MVA power supply.
Features will include integral hub and office space, 15m clear eaves height, secure yard space and parking, as well as the creation of an external gym area and upgrades to the existing trim trail.
Construction of the new units is expected to begin imminently, with work likely to be completed in autumn 2023.
Dan Gallagher, Joint Managing Director of Stoford, said: "We are very pleased to have gained approval for the second phase of development at Redditch Gateway, which will meet a growing demand from regional occupiers. When complete, the scheme will deliver almost one million sq ft of highly sustainable new and high quality office, logistics and manufacturing accommodation and provide support to the local economy through new jobs and investment opportunities."
Gary Woodman, Chief Executive of the Worcestershire Local Enterprise Partnership, said: "It is great news to have confirmation of planning approval for more commercial units at the Redditch Gateway site in Worcestershire. We recognise that many businesses in the region are looking for new units to expand or invest their business into, and this development will help that to become a reality in Worcestershire.
"This is a key commercial site for the county and supports the Worcestershire LEP's 2040 Plan for Growth to increase the number of commercial premises available to support the growth of the local economy."
Anita Bhalla, Interim Chair of GBSLEP, said: "This is another great step forward for Stoford and the wider partners in fulfilling the vision for Redditch Gateway. It will provide quality logistics space for regional occupiers looking for a central location with good transport infrastructure. The £1.8 million grant GBSLEP contributed to this project has helped to unlock the potential of this site, creating jobs and boosting local employment and skills opportunities. Sites like this are vital to growing the local economy and driving inclusive, sustainable economic growth."
Leader of Redditch Borough Council, Cllr Matt Dormer, said: "The approval of this application marks the next vital stage in the regeneration of Redditch, as we continue to unlock previously untapped potential and inspire progress with exciting projects like this one. This council continues to deliver on our promises to improve our town; creating jobs for and enhancing the skillset of our residents and providing opportunities for local people to work close to home. This will help propel us into the future, boost our local economy and in turn make our town a fantastic place to live and work."
Cllr Tony Jefferson, Leader of Stratford-on-Avon District Council said: "This is a key employment location as identified in our Core Strategy. At a time when UK economic growth is stalling, the approval of this scheme will be a real tonic to the economic development of the area and will create a great many employment opportunities."
Councillor Marc Bayliss, Cabinet Member for Economy, Infrastructure and Skills, Worcestershire County Council, said: "We are pleased to see the continued development at Redditch Gateway; it presents the county with another prime investment site with superb connectivity and the potential to see more jobs created. I look forward to seeing the delivery of this phase to help us achieve our vision of making Worcestershire a connected, creative, dynamic economy for all."
Tim Davies, Senior Development Manager, Homes England, said: "Securing planning for the scheme is a fantastic achievement testament to Stoford's capabilities. We are currently working through conditions with Stoford to enable them to commence development in the next few months."
Stoford is lead developer for Redditch Gateway, working alongside landowners, The Gorcott Trust and Homes England. The scheme is being supported through a blend of grant and loan funding of £1.7 million from Worcestershire Local Enterprise Partnership (WLEP) through its Growing Places Fund and a £1.8 million grant from Greater Birmingham and Solihull Local Enterprise Partnership (GBSLEP).
Redditch Gateway is being marketed by Burbage Realty, Colliers International and Savills.