Second Phase of Derby Development Announced
14th April 2023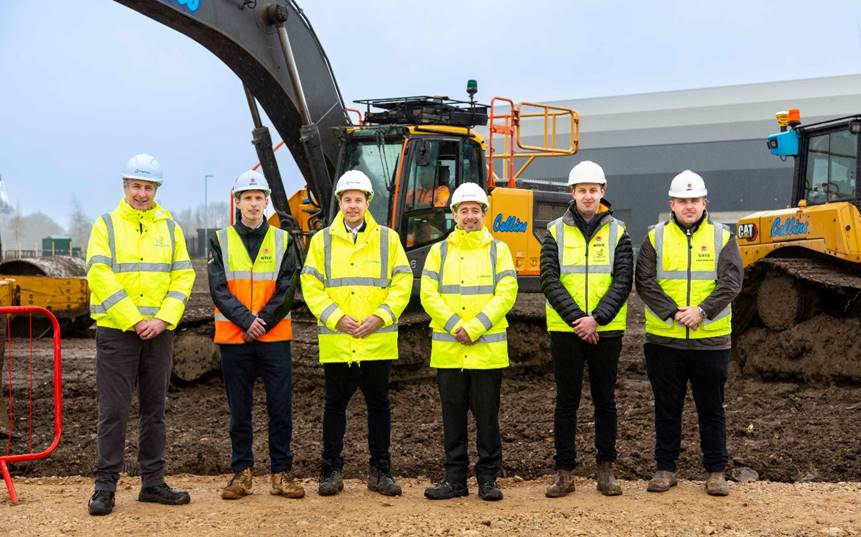 St. Modwen Logistics, one of the UK's leading logistics developers and managers and a Blackstone portfolio company, has invested almost £60m to develop an additional c. 350,000 sq ft of new warehouse space at St. Modwen Park Derby.
Due for completion in 2024, this next phase will see St Modwen Logistics and Winvic Construction Ltd deliver a new 147,000 sq ft warehouse which has already been pre-let. Four additional new buildings totalling c. 200,000 sq ft will also be developed to help meet increased occupier demand for mid-sized industrial and logistics units in the East Midlands.
As part of the first phase of development, to date, St. Modwen Logistics has invested more than £45m in delivering over 300,000 sq ft of sustainable warehousing across four units at St. Modwen Park Derby. Completed in December 2022, it has already attracted two international occupiers, with German heat pump manufacturer Vaillant signing for 131,000 sq ft and Swedish medical technology company Getinge establishing a new Global Centre of Excellence for Chemistry at the scheme alongside its new UK headquarters.
The quintet of new warehouses will be built to St. Modwen Logistics' 'Swan Standard' for sustainable construction, meaning they will be highly energy efficient and come with an EPC A+ rating, thereby helping customers to reduce their operational costs. All five units will benefit from the installation of rooftop solar panels as standard.
Additionally, all five buildings will aim to place in the top 10% of UK new non-domestic buildings for sustainability by targeting an 'Excellent' accreditation from BREEAM, the leading real estate sustainability body. In line with the company's commitment to sustainable development, the Midlands-based company is also strengthening biodiversity at the Park through the creation of a new riverside nature corridor, having already planted 17,000 trees and shrubs as part of the first phase of construction.
Located on Wyvern Way – adjacent to the A52 with direct access to the A38, A50 and nearby M1 motorway, and just 13 miles from East Midlands airport – St. Modwen Park Derby is one of the largest regeneration sites in the region and provides strong transport links and access to one of the highest skilled workforces in the country.
Robert Richardson, Development Director at St. Modwen Logistics, commented: "Our committed investments in St. Modwen Park Derby now exceeds £100m and our decision to embark on the next phase of development, underlines our confidence in Derby as hub for logistics as well as high-skilled tech and manufacturing. We expect a diversity of demand for the new units and a wide variety of employment opportunities to be generated."
"The first phase of construction on the Park was a huge success and we are looking forward to working with Winvic again to deliver this next phase of development."
Amanda Solloway, MP for Derby North said: "It has been fascinating to see St. Modwen Park taking shape on what was waste ground next to the Wyvern Centre. Last year, I attended the launch event and saw first-hand the huge benefits that it will bring to Derby in terms of job creation and the provision of high-quality warehouse space and the kind of modern, dedicated office space that the city and the wider Midlands needs if it is to grow and prosper.
"To see a further £59m invested into the park is therefore amazing news and an example of levelling up at its best!"
Paul Simpson, Chief Executive, Derby City Council, said: "This is more great news for the city in what has been a bumper month of major investment announcements, following the decision to make Derby the home of Great British Railways.
"In February we also welcomed two industry leaders, Getinge and Vaillant, to St. Modwen Park. Now we can look forward to seeing more in phase two, which will create more jobs and boost our economy further. It's clear Derby is seen as a fantastic City in which to invest.
"It was great to be on site to mark this occasion, and I look forward to seeing more investment in Derby and in the next phase of St. Modwen Park."
Danny Nelson, Winvic's Head of Industrial, Distribution and Logistics, added: "We have built an outstanding relationship with the St Modwen team in delivering the civils and infrastructure package and the four industrial units at Derby – as well assets across other sites – and we're delighted to have secured the contract for Phase 2. Sustainability is a fundamental part of both Winvic's and St Modwen's DNA and our one-team approach ensures we're able to help occupiers achieve their own sustainability goals. The team is looking forward to progressing the scheme at pace and we are scheduled to complete all five facilities early in 2024."
CAPTION: (L-R): Rob Richardson, Development Director, St. Modwen Logistics; Ben Shearman, Construction Director, Winvic; Ian Martin, Senior Construction Manager, St. Modwen Logistics; Paul Simpson, Chief Executive, Derby City Council; Ben Silcock, Leasing and Development Manager, St. Modwen Logistics; Adam Broadhurst, Project Manager, Winvic.