Prologis adds 700,000 sq.ft. UK Warehousing
9th August 2023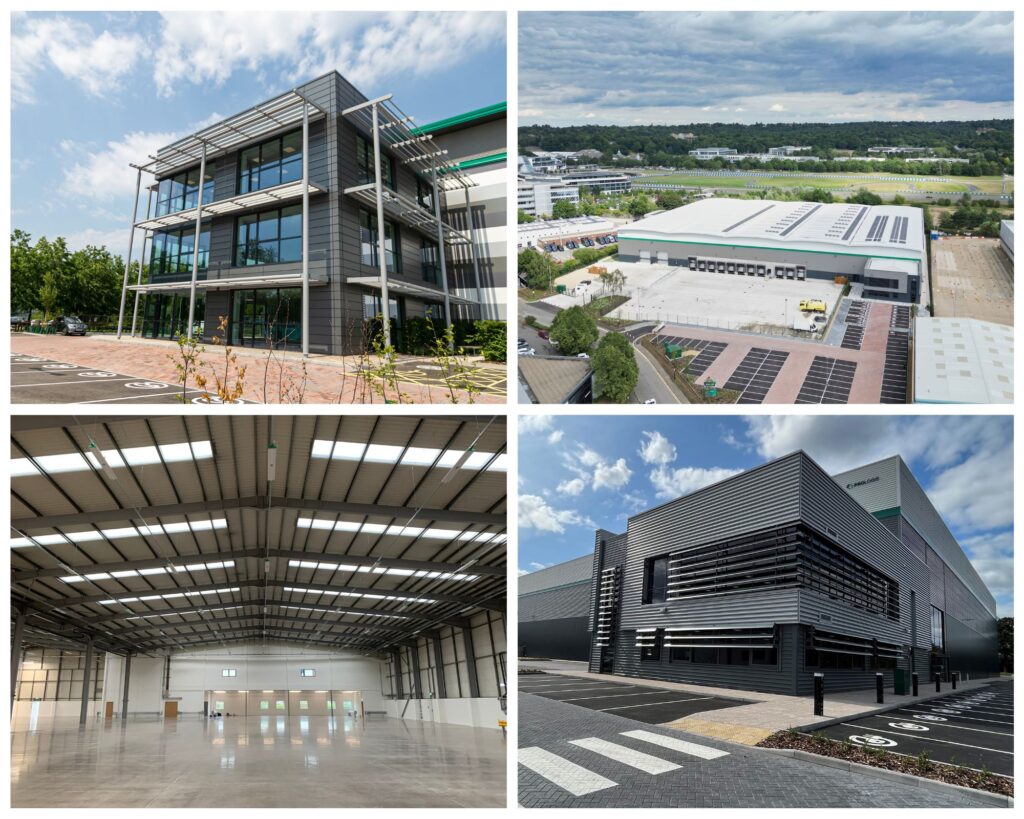 Prologis UK, owner and developer of logistics property, has completed a £240m portfolio of development across London and the Midlands, bringing 627,724 sq. ft. of prime new UK warehousing space to the market across three strategically located sites, with a further 62,537 sq. ft. comprehensively refurbished in Birmingham's strongest market.
The construction projects at Prologis Park Midpoint and Prologis Park Bromford Gate, both located in Birmingham, and at Prologis Park West London and Prologis Park Brooklands in Weybridge exemplify the business' continued commitment to providing market-leading logistics property.
The new 163,754 sq. ft. unit, DC6 at Prologis Park Midpoint, has brought the total floor space of one of the UK's most successful logistics parks to over 1.6 million sq. ft. and is located within the logistics "Golden Triangle" in the Midlands. Net zero carbon in construction, and with a BREAAM 'Excellent' rating and EPC A+, the new unit is located just eight miles from central Birmingham and has access to 11 motorway junctions within five miles, making it perfectly situated to support growing supply chain needs.
Similarly, the recently refurbished unit DC1 (62,537 sq. ft.) at Prologis Park Bromford Gate is situated just over three miles from Birmingham City Centre and as one of Birmingham's most prominent and recognisable parks is easily accessible from the M6 from both junctions 5 and 6. The unit's comprehensive refurbishment included enhancing the employee amenity and shower facilities, installing LED lighting throughout and providing EV charging provision to achieve an EPC A rating.
Turning attention to the London market, there has been an increased focus on the need for more high-density urban hubs to provide greater last-mile capabilities. In response to the growing needs of the industry, Prologis UK has broken ground on two key development areas within Greater London.
Strategically positioned to ensure access to the major consumer markets within West and Central London as well as the Thames Valley, two new units have reached completion at Prologis Park West London.
With a combined footprint of 339,569 sq. ft., units DC5 (195,720 sq. ft.) and DC6 (143,849 sq. ft.) stand as testament to Prologis UK's commitment to setting standards in the industry. Beyond net zero in construction and EPC 'A'-rated, both units also boast solar photovoltaics (PV) and will serve to help alleviate the increased need for high-density urban hubs that can provide greater last-mile capabilities. Both DC5 and DC6 are available immediately on flexible short term leases, a unique proposition in a competitive market.
Likewise, Prologis Park Brooklands DC1, achieved – BREEAM 'Excellent 'and EPC A+, is situated in a proven last-mile delivery location, serving Central and South London, with easy access to the M25, M3 and A3. The new 124,401 sq. ft. logistics facility draws upon a large and skilled labour pool from Weybridge and surrounding areas. Both Prologis Park West London and Prologis Park Brooklands are designed and built to meet the demands of high-performance operations.
Paul Weston, Regional Head at Prologis UK, said: "Our investment into such an extensive development programme goes to show the lengths to which we are prepared to go to service the market, and our customers. After listening to the market, we're excited to be completing our new units that push the boundaries of what is achievable in the industrial and logistics sector. Having led the charge for sustainable and innovation in logistics property developments, we're proud to continue our legacy of providing spaces that truly add value to our customers and communities."