Operations start at smart eCommerce warehouse
27th May 2021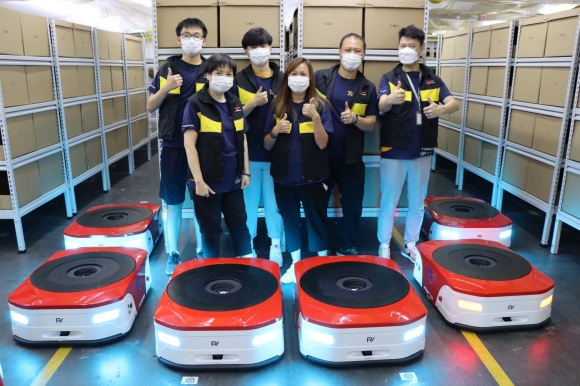 Work has been completed to turn one of the five freight hubs operated by U-Freight Logistics in Hong Kong into a smart warehouse.
The company's 2,000 sq m eCommerce fulfilment centre (EFC) in Kwai Chung has been equipped with an automatic guided vehicle (AGV) and Intelligent Racking system, and associated operating software, to improve the efficiency of operations and reduce costs.
For inbound consignments, the system, which was supplied by award-winning RV Automation Technology Company, will analyse the weight and dimensions of each Stock-Keeping Unit (SKU) in order to bring the most suitable storage rack to the EFC operations staff, enhancing the utilisation of storage capacity and shortening processing time.
Furthermore, this shortens the time period to the outbound order processing stage, which means consumers get their goods sooner.
When there are no operations staff at the EFC, the non-sleeping AGVs still execute instructions and pre-arrange the required goods to be ready for pick/pack when the operations staff return to work.
The U-Freight Group was an early entrant into the world of eCommerce logistics, and over the last few years several of the company's warehouse facilities across Asia, North America, and Europe have been equipped to enable them to act as EFCs.
"The deployment of autonomous mobile robots in warehouses around the globe is transforming the future of the e-commerce sector and its ability to meet rising business and consumer demand," says Simon Wong, the chief executive officer of the Hong Kong-based international freight forwarding and logistics group.
"The latest development is part of U-Freight's ongoing investment to meet the ever-increasing challenges of providing logistics services to this rapidly expanding sector of global trade.
"In our EFCs, picking operations account for an increasing proportion of costs, accounting for more than 50% of warehouse operation costs.
"Traditional warehouses mostly adopt the "person-to-goods" selection mode, which can mean high labour cost and low selection efficiency.
"By implementing an automatic guided vehicle (AGV) and Intelligent Racking system, we will be adopting the 'goods-to-person' picking mode, and believe this will improve production efficiency. It should also enhance workplace safety and improve ergonomic conditions for operations staff in our EFCs."
In its development of eCommerce logistics solutions, the U-Freight Group is continually trying to address the key issues stemming from increasing volumes of business-to-business (B2B) and business-to-consumer (B2C) eCommerce shipments and the time sensitivity that is associated with this business.
Other than its latest initiative in Hong Kong, examples of those efforts include its launch of e+Solutions in 2019, a bespoke product to assist small businesses with their e-commerce logistics needs.
In addition to hardware investment, the U-Freight Group is now a logistics partner of choice for the growing number of online channels and platforms, which entrepreneurs are using to sell their own designs and products, including  global eCommerce shipping platforms such as Easyship, and is also heavily involved in the Fulfilled by Amazon programme in several countries.
Wong concludes: "All of these initiatives are helping us boost efficiency and capture more value, in order to capitalise on the opportunities that are being presented by the ongoing surge in e-commerce volumes."