Oakland reduces carbon emissions with solar roof
22nd February 2022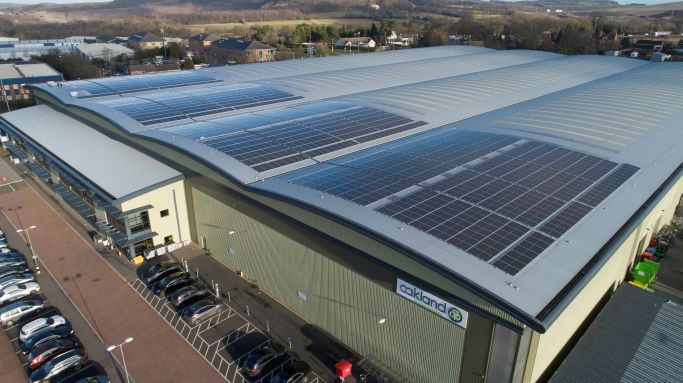 A 1,608-solar panel system developed, designed, and installed by BeBa Energy has been completed at Oakland International's Bardon facility in Leicestershire.
Producing enough power to run 265 two-bedroom homes and reducing Oakland's carbon emissions equivalent to taking 12.19 million car-miles off the road, Oakland was keen to use its roof space at Bardon to support its innovative and sustainable supply chain solutions offer.
Oakland International co-founder and group CEO, Dean Attwell, commented: "With such a vast roof and large energy bill, not to mention a moral obligation that we should lead by example, it was an obvious choice to look up and use Bardon's immense roof space to power our facility, with solar power being the obvious choice."
A temperature-controlled international supply chain solution provider, Oakland International is BRCGS AA rated and operates 24-hours/7 days a week, a D2C/B2C/B2B specialist in contract packing, storage, picking, food distribution and a brand development support provider for ambient, chilled, and frozen food to the retail, convenience, discount, wholesale and food service markets in the UK, Ireland and via its partner in Spain.
Attwell added: "We're delighted so many suppliers choose to work with Oakland because we place sustainability at the heart of everything we do, and for us solar is just one of several initiatives undertaken. Working alongside BeBa Energy for this project has been great. The project was delivered with little fuss, was on time and on budget."
The 611.04kW 1,608 panel solar PV array system is predicted to generate c.529,887kWh per annum and will significantly reduce Oakland's energy grid demand, cutting its carbon footprint by some 111,276kg per annum, which is the equivalent of taking 12,190,652 car miles off the road over the system's lifetime, and equal to planting nearly 164,992 trees.
BeBa Energy Director Shaun Beattie: "Oakland's commitment to sustainability is one of the strongest we have ever seen. For many of our clients, solar represents one of the biggest steps they can take towards NetZero; for Oakland it's one of several.
"It's not just a smart move for the planet either. With energy prices rising at a staggering rate, Oakland have ringfenced a large portion of their energy costs for the next 25 years."