New Dual-Temperature STEF Site in Switzerland
20th December 2016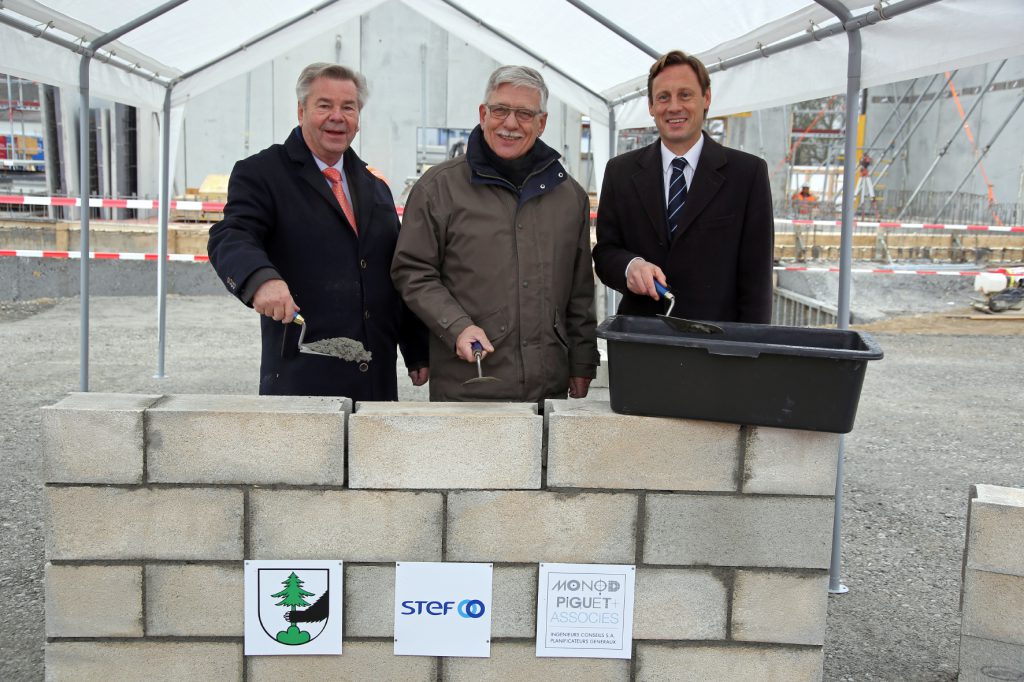 The foundation stone of the new dual-temperature STEF site in Kölliken was laid on Friday December 16 by Michel Christe, Chairman of the Board of STEF Switzerland, Stanislas Lemor, Deputy Chief Executive Officer of STEF Group and Fredy Gut, Mayor the city of Kölliken (all pictured). The Kölliken site will enable STEF to support the development of its Swiss and European clients, with storage and distribution services for their refrigerated and frozen products. Commissioning is scheduled for September 2017.
With its strategic geographical location at the heart of the German-speaking food production and consumers' areas, the new infrastructure will meet the needs of Swiss food manufacturers and serve mass retailers and wholesalers' platforms across the whole territory. As part of its clients, the site will count on EMMI, the leading Swiss dairy group which announced in December the setting of a joint distribution logistics network for Switzerland with STEF Group. The site will help all European clients of the Group develop their operations in Switzerland and will offer its Swiss clients an easy access to markets in Western and Southern Europe.
The investment in the Kölliken site is part of the STEF strategy to develop a solid footprint in Switzerland, where it has operated since 1927. With its current 100 employees, STEF Switzerland offers a range of transport and logistics services dedicated to frozen food products, with four sites spread over the territory: two in French-speaking Switzerland (Bussigny and Satigny), one in German-speaking Switzerland (Kriens) and one in Italian-speaking Switzerland (Cadenazzo). With the development of the Kölliken site, STEF Switzerland will also be positioned to offer consolidation logistics services for refrigerated products with a network of distribution platforms under +2°C / +4°C.
The opening of the Kölliken site is expected to create 40 jobs, followed with 100 more jobs by end of 2018. Built on a 2.5 hectares plot, the site offers a total 8,500 m² surface area, consisting of a section for activities dedicated to refrigerated products (4,000 m² and 6,000 pallet positions) and a second zone for frozen products (4 500 m², corresponding to 60,000 m3, and 12,000 pallet positions).
Staff will carry out services such as receiving goods, order-picking, co-packing and vehicle loading. The site offers a possibility for extension for services in ambient temperatures.
The project for the construction of this new site was conducted with the services of the municipality. The €35 million cost was financed by STEF Group, which owns more than 90% of its real estate across Europe.