Nagel-Group Expands Eschweiler Chilled Logistics Centre
12th October 2016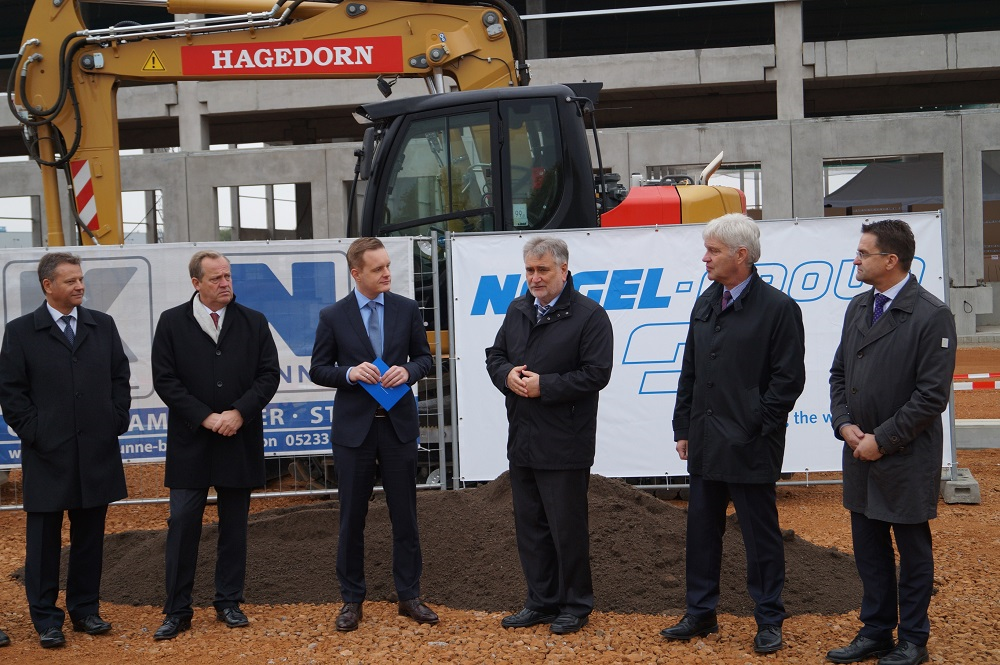 Construction work for the new chilled logistics centre of the Nagel-Group at the industry and business park in Eschweiler (IGP) is progressing well. The topping out ceremony was celebrated at the large building site today, three months after the first excavators started work to prepare the site for the foundation.
The new facility will be built on an area of approx. 29,300 square metres at the north-east end of the industry and business park in Eschweiler, and will have warehouse space covering an area of approx. 8,330 square metres. The logistics facility is designed for storage and handling of food in temperature ranges from 4 to 18 degrees Celsius. The chilled logistics centre will be completed later this year.
The warehouse will have storage capacity for 12,500 pallets, which will be stored on wide aisle pallet racking systems. The Nagel-Group will assemble, package, and repackage food on behalf of the customer over an area spanning 490 square metres. More than 1,600 tonnes of food can be handled at the logistics centre every day. Around 1,400 tonnes, primarily bakery products, dairy products, and confectionery, are being processed at the site currently. The Nagel-Group supplies not only central warehouses, outlets, bulk consumers, and catering clients in the area where the borders of three countries ( Germany, Belgium, and the Netherlands) meet, but it also supplies production plants in the food industry with raw materials. In case of international transport, the Nagel-Group's European network serves primarily Great Britain, France, and Italy.
24 parking spaces for cars, 27 parking spaces for trailers in front of the loading bays, and an additional 28 parking spaces for trailers in the courtyard have been planned. The new facility is located next to the existing logistics centre of the Nagel-Group. Both areas are connected by an access road.
The Nagel-Group with its headquarters in Versmold is one of the leading providers of food logistics in Europe and the number one in Germany. The family-owned business has been operating this site at the industry and business park since 1994. A warehouse with an area of 7,000 square meters with roughly 8,400 pallet spaces was added in 2004 After twelve years in operation, this warehouse has become too small to keep pace with the growth of the customers. Therefore, the Nagel-Group has decided to expand its site to the east of the existing group of buildings.


"We will almost double our storage and handling capacities with the construction of this new facility. As a result, we are well-positioned to achieve further growth with current customers as well as new customers," says Tobias Nagel, shareholder of the Nagel-Group. Four external warehouses with a total of 5,300 pallet spaces will be merged into the new facility, after the new chilled logistics centre goes into operation. This will be beneficial for the environment be-cause there will be no need for shuttle transport between the external warehouses. The Nagel-Group employs 168 people in Eschweiler at present. 70 additional jobs will be created in the short to medium term. Mayor Rudi Bertram is very pleased about this news: "This extension is already the fourth that has been undertaken by the Nagel-Group. It speaks not only for satisfaction, but also a great degree of trust in the economic standing of Eschweiler."