Intelligent Cleaning Technology for Sustainability
24th February 2023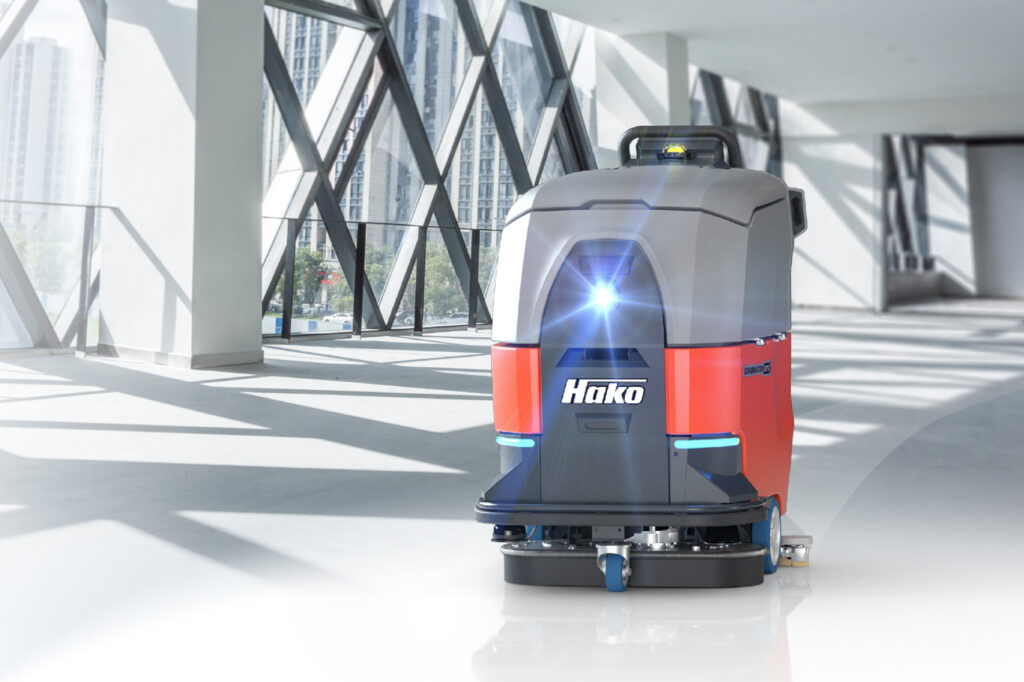 Logistics today not only has to be flexible and secure, but also sustainable, including using cleaning technology. Promising solution approaches include automation and artificial intelligence, together with process-relevant products that consistently support logistics companies in their tasks by providing a wide range of applications, autonomous systems, digital tools and high service quality. Visitors to the LogiMAT in Stuttgart can discover these solutions 'live' from April 25 – 27th, 2023.
Digitalisation and robotics offer great potential to make logistics processes more sustainable. More transparency in operational performance can make logistics more efficient, optimising costs and resources.
As one of the leading solution providers on the market, Hako offers intelligent, powerful and efficient cleaning machines that are precisely tailored to the requirements of logistics – always with an eye on the future: for example, to keep large halls and long aisles optimally clean, Hako has developed the new, autonomous scrubber-drier Scrubmaster B75i. Equipped with a disc or cylindrical brush, the autonomous scrubber-drier follows the learned routes precisely and thus with high efficiency. This significantly reduces water consumption and the consumption of cleaning agents, electricity and materials. For short cleaning jobs in between, the Scrubmaster B75i can also be used as a manual walk-behind scrubber-drier.
Wide range of applications for more economical use
The requirements for cleaning technology are just as individual as the environments in which the equipment is used. The more adaptable and versatile the solution, the more economically optimal cleaning results can be achieved. With the high-performance scrubber-drier Scrubmaster B400 RH, Hako offers a solution for the uninterrupted cleaning of large areas of up to 14,000 m2/h that does just that: all components of this powerful machine are designed for long heavy-duty use. And because the machine optimally supports the operator during his or her work, it has been certified by "Aktion Gesunder Rücken e.V". for its ergonomic overall machine concept.
New for smaller areas: Scrubmaster B5 ORB
For smaller, more complex areas such as sanitary or recreation rooms, the new upright scrubber-drier Scrubmaster B5 ORB is the perfect addition: with its unique Hako-Delta-Cleaning-System and flat cleaning head, the machine effortlessly cleans close to walls, deep into corners and even under furniture and substructures.
In the case of particularly difficult-to-remove soiling or deposits, e.g. on facades or walls, professional Oertzen waterjet technology meets the most diverse requirements efficiently, precisely and reliably: with high-performance hot or cold water high-pressure cleaners equipped with electric or combustion engines.
Service quality for high availability
With customised services and tools along the entire product life cycle, Hako increases the efficiency and sustainability of its solutions. From the qualified service team, which is always on site quickly and already fully equipped, to the efficient and responsive spare parts logistics, to digital solutions such as Hako-Fleet-Management – Hako is always the decisive step ahead when it comes to service. This way, downtimes can be minimised, the service life of the products is extended and the optimum can always be obtained from the machines.