Hermes Fulfilment reduces energy consumption thanks to Interroll RollerDrive
17th February 2015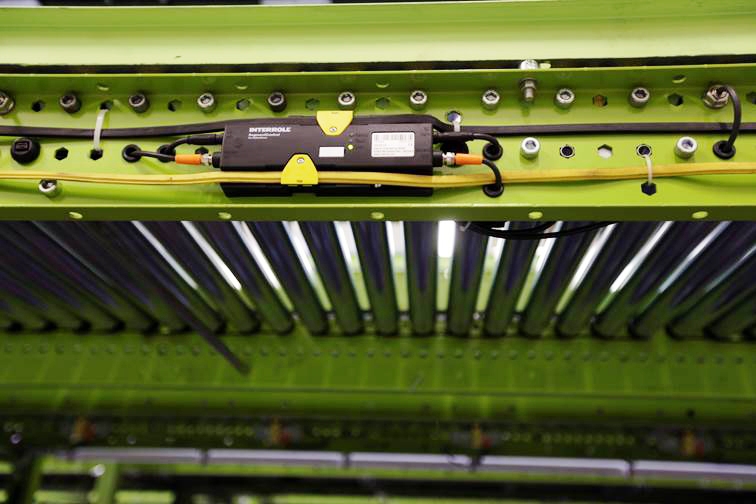 Hermes Fulfilment, an Otto Group company that manages all
services along the supply chain for European distance dealers at its four own logistics centres, introduced a
master plan on climate protection in 2006. As part of this energysaving
program, the company is replacing its
conventional 400 volt technology with energysaving
24 volt drive technology from Interroll.
Initial measurements have shown energy savings of about 25 percent thanks to the Interroll drive technology.
Michael Schekatz, Head of the Technical Services Department at Hermes Fulfilment and responsible for
sustainability, is therefore extremely impressed: "We installed this technology in order to save energy. At the
same time, however, we noticed in trials how quiet it is. This is a success we never really expected and are quite
pleased about. Furthermore, we have found that maintenance has become much easier now."

The technical service department of Hermes Fulfilment in Haldensleben is upgrading the logistics centre step by
step during operation. But only four hours per day are available to do this. Thanks to how easy it is to configure
and wire the Interroll ConveyorControl system, it can be installed and put into operation very quickly. The
control family allows for it to be used completely without an SPS or be completely controlled by an SPS by using
the GatewayControl.
A system driven by RollerDrive always has a decentralised structure. The drives are installed in all of the
individual conveyor zones. This means they can be switched on or off separately. Movement throughout the
entire conveyor takes place only when goods are actually transported with zeropressure.
Only those RollerDrive
that are needed to transport the goods to be conveyed are actually driven. This offers enormous potential for
energy savings and noise and wear reduction.
The logistics centre in Haldensleben with its approximately 54 hectares of surface area is the biggest and most
modern site that Hermes Fulfilment operates. 170 million articles are moved here per year and up to 300,000
shipments leave the centre each day. Approximately 1.2 million cartons are stored in two highbay
warehouses.
The length of the conveyor line that all products here are transported on is 30 km from goods receipt to goods
issue.
The drives clearly play an important role because they affect the energy consumption in conveying the products.
In the field of modern logistics, the areas of materials handling, storage and order picking are often responsible
for approximately 50 percent of the energy costs of plants with a high degree of automation. Heating,
ventilation and lighting account for more than two thirds of the other 50 percent, and lighting for around 15
percent. This means internal logistics offers significant energetic optimization potential.
Hermes Fulfilment started to think about the responsible use of energy early on. This pertains not only to the
use of economical motors and controls, but also includes measures such as the use of backfed
braking energy in
the highbay
warehouse, the construction of a combined heat and power plant in Haldensleben and the use of
energyefficient
lighting systems. A detailed costbenefit
analysis is developed for each project and includes not
only the initial investment, but also the ongoing operating costs.
Many years of experience and many hundreds of thousands of RollerDrive in use make Interroll a leading
manufacturer of 24 volt drive technology. End user worldwide have so far modernised multiple plants with this
technology that offers a fast return on investment (ROI).
The results of a scientific study conducted by the Institute for Material Handling and Logistics (IFL) at the
Karlsruhe Institute of Technology (KIT) headed by Prof. Dr.Ing.
Kai Furmans confirmed in many application
examples the advantages that 24 volt drive technology offers compared to conventional 400 volt drive
technology. Interroll offers both the complete KIT study "24 Volt Drive Technology in Continuous Conveyor
Systems" and a short version for downloading on its website: www.interroll.com.