Employer branding at BEUMER Group: A very attractive employer
8th December 2015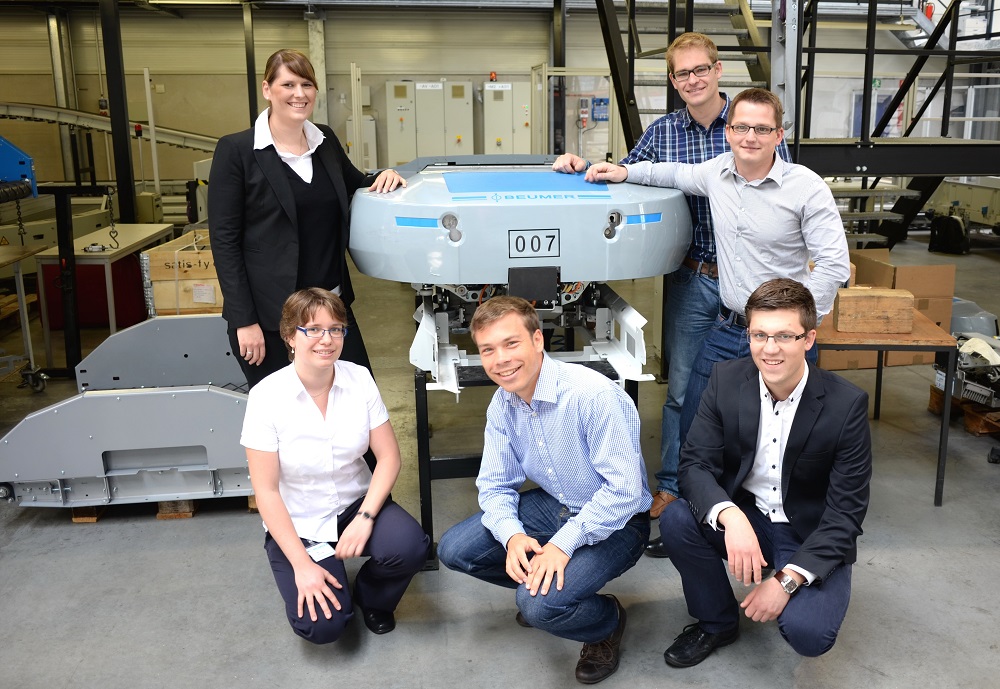 Skilled personnel are hard to find, not only in Germany. The reasons for this are rooted, among other things, in demographic development. The job market is becoming more emotion-based. Soft skills such as team play and communication, and values like work-life balance and self-realisation are becoming more and more important. Another decisive factor is the business location: the more rural the area is, the harder it is to attract new employees. Urban areas on the other hand face a different problem: potential employers are more likely to "fight" over the most talented applicants (often called a "war for talents"). Located in the Munsterland, a region that is known for its mechanical engineering industry, BEUMER Group offers exciting perspectives and an attractive work environment, especially for young professionals. This is what BEUMER Group's employer branding campaign is directed at.
What makes for an attractive employer? An attractive salary is no longer enough to hire skilled personnel. Especially young professionals have become more selective. At BEUMER Group, the employee always comes first. "Our goal is not the short term profit, but long term success, and this is only possible with motivated and highly-skilled colleagues", says Dr. Christoph Beumer, Chairman and CEO of BEUMER Group. "We can only achieve customer satisfaction and successfully meet the challenges of our competition, if we integrate the entire team sustainably into our company", he explains. The company has been ranked one of the best employers in Germany, according to an extensive study from FOCUS news magazine. Through the social internet platforms XING and kununu, FOCUS questioned more than 70,000 employees from different hierarchy and age levels. 806 companies with more than 500 employees were evaluated from 22 industries.

"Would you recommend working for your company to your friends and to people you know?", and "How satisfied are you with the managerial skills of your superior?", were two of many questions that the German employees at BEUMER Group answered in the company's favour. The family-run company ranked third place in this category, in comparison with other medium-sized companies with up to 2,000 employees. The intralogistics specialist achieved eighth place in the industry comparison of "machine and plant design" and was 85th amongst all 806 companies.

International leading position helps BEUMER stand apart from the crowd
This ranking can certainly also be attributed to the fact that BEUMER Group holds a leading position in the world market for this industry, and has experienced very high growth rates over the past couple of years. With innovative systems for intralogistics in conveying and loading technology, palletising and packaging technology as well as sortation and distribution systems, the company earned an excellent international reputation. Additionally, BEUMER Group continues to successfully seize globalisation opportunities.
Its headquarters, however, are not in Berlin, Munich or Dusseldorf, but in Beckum. A town with about 37,000 inhabitants, located in the northern part of North Rhine-Westphalia. It has a lot to offer: historic sites in beautiful surroundings, with a wide variety of recreational offerings and sports activities. The rural area, however, is also a challenge, that many middle-sized companies have to face. This is not only the case in Beckum, but at several of its international locations as well, so BEUMER Group is opting for a world-wide employer branding strategy. With this strategy, the company wants to face the challenges that come with demographic change and skills shortage and present itself actively as an attractive employer on the job market. BEUMER Group puts the emphasis on their employees. The campaign goal is to demonstrate what the intralogistics company is all about: their people.

Focus on the employee
BEUMER Group is an internationally successful, family-owned company, where employees play a very crucial role. Through their individual performance, every employee contributes to the overall success of the company. And to achieve this, the employer and employee must focus on the same set of values. This is what characterises the BEUMER Group spirit. But what is important to the employees? Have the demands on employers changed? To find out, the group handed out questionnaires at the different group locations and from the answers derived the core messages for the campaign. In order to bring the attention of young professionals towards BEUMER Group, the initiative will be accompanied by billboards, radio spots and the newly designed career website www.beumergroup.com/karriere.de. Employees are giving insights about themselves, the company and the attractive work environment, where the focus is on the employee.

Career goal: qualified employee
BEUMER Group devotes particular attention to the development of its own junior staff. To students who are about to write their bachelor or master thesis, the company offers exciting topics of practical relevance in an international environment, accompanied by the intensive support of experienced colleagues. BEUMER Group offers topics for theses in the fields of automation technology, engineering, sales, and research and development. During their time with the company, the students get to know the business, and BEUMER Group gets to know potential junior employees. Students who already graduated in engineering, economics or computer science can also start their career directly with BEUMER Group.
They also have the chance to participate in an international trainee program. Its goal is to prepare graduates for responsible specialist and leadership positions in the company. They move through a two-year development program in Sales, Engineering, Customer Support or the Commercial department. The first months are started at the group company location where the graduate is hired. In order to broaden their personal and professional horizon they are then sent abroad for several months, followed by a working period in a different department. They then complete an additional phase in another international group location, and finish their program at their home group. The trainees are accompanied by a mentor who provides feedback at regular intervals. The participants take an integral role in important projects. Moreover, BEUMER Group offers the program graduate a permanent contract. Christian Penger passed such a program, and is now the director of Corporate Management: "The program offers college graduates a great start into the professional world, combined with international experience. By working in many different parts of the company, a trainee can quickly set up his own network and get to know the respective contacts in the company. During my period as a graduate, I learned at an early stage that taking over responsibility is more than just a slogan."