DSV opens doors at Leics. hub
9th November 2021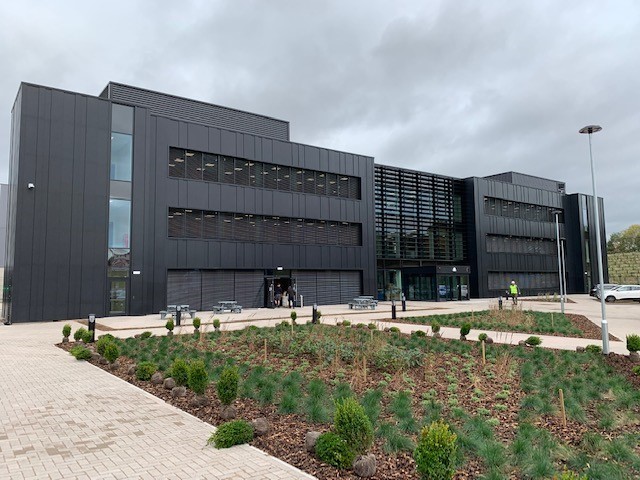 Just 10 months after commencement on site, DSV is celebrating the practical completion of a 522,000 sq ft industrial facility and offices. The scheme – designed, constructed and partially fitted out by Winvic Construction Ltd during the pandemic – is located at the 238-acre Mercia Park in north-west Leicestershire.
The plot comprises three buildings – totalling 522,000 sq ft – and contains:
104 dock levellers:
A 358,000 sq ft steel-framed warehouse containing three mezzanine floors and two single-storey hub offices totalling 4,360 sq ft
A 112,000 sq ft cross-dock terminal
A 35,660 sq ft three-storey office building
The large stand-alone office building was designed and executed to meet DSV's global standard with high-spec fitted office spaces found within the warehouse buildings. The prominent design features to the main office include a glass lift, wood-panelled walls in an oak finish and a feature staircase. The external works package included 381,700 sq ft yard space plus car parking for 406 vehicles, and the programme contained all drainage, retaining wall, and hard and soft landscaping works.
Surinder Dubro, Managing Director, in DSV, commented: "We commissioned the project in September to construct a building in the heart of England to accommodate all three divisions of DSV. The main shared user warehouse facility operated by our DSV Solutions Division will provide logistics services for two existing platforms clients and will ensure both seasonal capacity and growth can be accommodated.
"The facility will also be fitted out with DSV Factory Fulfilment automation. This plug and play system will allow clients to enter an automated tote bin and grid system where robots pick the goods and deliver direct to the packing teams."
This UK £2.5m DSV investment is one of six initial systems being installed in Europe with an initial investment of over £20m with more to come across the globe and is a clear strategy to ensure DSV delivers operational excellence.
Local Management, Marc Coleman, Louis Ataria and Sarah Pritchett shall be welcoming their teams from two existing locations to the new site from mid-October, which shall bring new job opportunities to the local area of Mercia Park.
Vice President, Jesper Hansen, added: "This is a huge enhancement to our portfolio, the state-of-the-art facility is ideally situated to operate as the key main hub for our distribution network, servicing the entire country. The location complements our already established infrastructure across Europe, adding significantly to our continuously developing DSV groupage network."
The project has been designed and constructed in accordance with the Building Research Establishment Environmental Assessment Method (BREEAM) under the 2018 framework to achieve excellence in respect of water and energy efficiency. To name a few initiatives, rainwater harvesting will be used for flushing toilets to reduce consumption of potable water, sustainable drainage systems have been implemented as well as solar photovoltaics for electrical power contribution.
High-performance LED lighting supported by motion sensors have been installed, reducing the total power demand whilst meeting best practice. As part of the Mercia Park site wide scheme beyond the site boundary, there is the creation of landscape buffers and large-scale planting using native woodland species, planting for wildlife habitat and wildflower buffers, roosting boxes for bats and nesting boxes for birds.
The project's progress has been streamed throughout construction and the completed buildings with their striking striped cladding can still be seen on Winvic Live in timelapse videos.
Winvic Construction Director, Rob Bull, said: "The DSV project bucks the industrial facility trend because it comprises separate buildings for the main warehouse, cross-dock and offices, but there was no doubt that we could carefully sequence the construction and fit-out works to build them all simultaneously and within ten months. Additionally, our team led by Project Manager David Gilbert knew that the aesthetics, material quality and execution had to meet DSV's high global design standards, and we're as thrilled as DSV are about the exceptional finish achieved."