Downward Trend Continues for Logistics Property in Frankfurt Region
22nd January 2020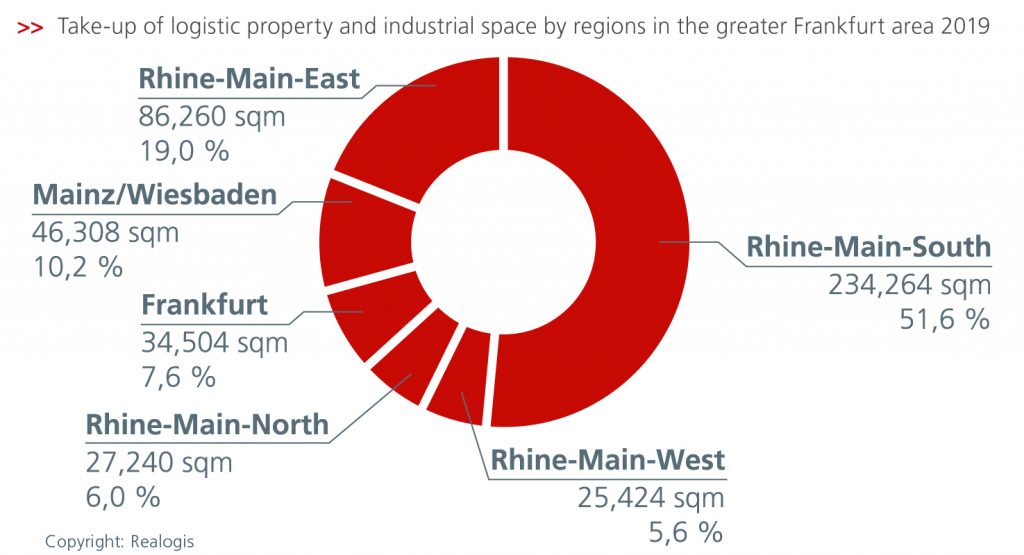 The latest analysis by the property consulting company Realogis on the letting volume of storage, logistics and production space in the Greater Frankfurt/Rhine-Main region* confirms the downward trend that started at the beginning of the year. While take-up was already down 13% year-on-year at the end of the first half of 2019 (H1 2019: 262,200 sqm, H1 2018: 300,000 sqm), 454,000 sqm of space was brokered by all market participants in the year as a whole (-36%). Consequently, the market delivered its worst result in the last five years, and also fell 22% short of the five-year average of 578,800 sqm.
"In the years leading up to 2019, the Rhine-Main region saw very high levels of construction of large spaces with direct letting," comments Adriano Borgia, Managing Director of Realogis Immobilien Frankfurt GmbH. "However, the decline in the result last year should not be overstated for the time being. Companies with large space requirements will locate in the outskirts in future, i.e. in peripheral locations 50 km or more outside the core region of Frankfurt."
"The Rhine-Main South region again posted the strongest letting activity in the reporting period, although the figure was approx. 200,000 sqm less than in the previous year," says Irina Lysenko, research analyst at the Realogis Group. At approx. 234,264 sqm, Offenbach, Gross-Gerau, Darmstadt and Bergstrasse accounted for more than half the space brokered.
The regions with the next highest take-up were Rhine-Main East (19%, 86,260 sqm), Mainz/Wiesbaden (approx. 10%; 46,310 sqm) and Frankfurt (around 8%; 34,500 sqm). "Rhine-Main North" (27,240 sqm) and "Rhine-Main West" (25,424 sqm) each had a share of around 6% of market activity in 2019.
Total take-up in 2019 was dominated by units of 5,000 sqm or more (64%, 290,560 sqm), with a focus on the 7,500 sqm and under segment. Demand for units up to 20,000 sqm was also strong.