Cogri Provide Floor Testing for Japanese Logistics
15th September 2023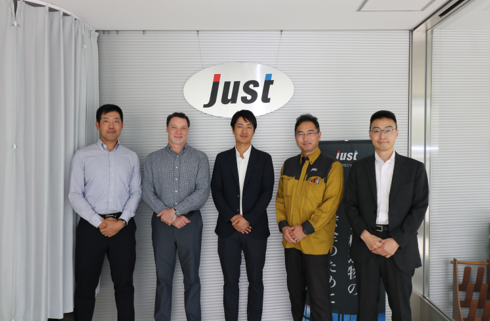 CoGri Japan Co.,Ltd is pleased to announce the formation of a Strategic Alliance with JUST Co.,Ltd to collaborate on the promotion and provision of 3rd Party Floor Flatness Surveying and Testing Services using the CoGri Group's state-of-the-art digital floor testing equipment.
Japan is one of the top 5 E-Commerce markets in the world, with 20% year-on-year growth in value as well as being a global leader in industrial automation and robotics. Warehouse flooring quality and performance are, therefore, becoming increasingly critical to the success of its logistics operations.
With the business cooperation between CoGri Japan – part of the CoGri Group consortium of industrial floor solution specialists, and JUST – a market leading 3rd Party Building Survey and Inspection company, the strategic partners aim to ensure their clients receive warehouse flooring which meets global standards, allowing maximum efficiency and safety in warehouse operations.
Jason Blackmore (Regional Manager of CoGri North Asia and Representative Director of CoGri Japan) said, "The global CoGri Group family are excited to be working closely alongside JUST, the leading Building Survey and Inspection company in Japan. With more than 50 years of experience and offices throughout the country, JUST is recognised as an honest and professional specialist who uses the latest technology with continuous innovation. Therefore, a great fit to support us with the promotion of Face Consultants Services in Japan."
Masaki Mori (Business Development Manager of CoGri Japan) added, "Although construction standards in Japan are generally good, the concept of 3rd party floor flatness testing in Japan is not common. Robotics and Automation G2P systems have specific flooring requirements which are often not considered at the right time. We look forward to working with JUST to ensure our global and domestic Clients in Japan receive floors which are fit for purpose and future-proofed."
CoGri Japan is part of the CoGri Group consortium of Floor Solution Specialists. CoGri has been operating in Japan since 2016 and can provide the full range of CoGri Group services including:
• Design of Ground Floor Slabs
• Floor Consultancy Services and On-Site QA Supervision
• Floor Flatness Surveying and Testing
• Design, Testing, Construction, and Floor Upgrading for G2P Robotics & Automation
• Specialist Floor Repairs & Upgrading
• Technical Support for Warehouse Floor Construction
• High Performance – High Tolerance Floor Construction