Biggest Mass Timber Logistics Centre
26th October 2023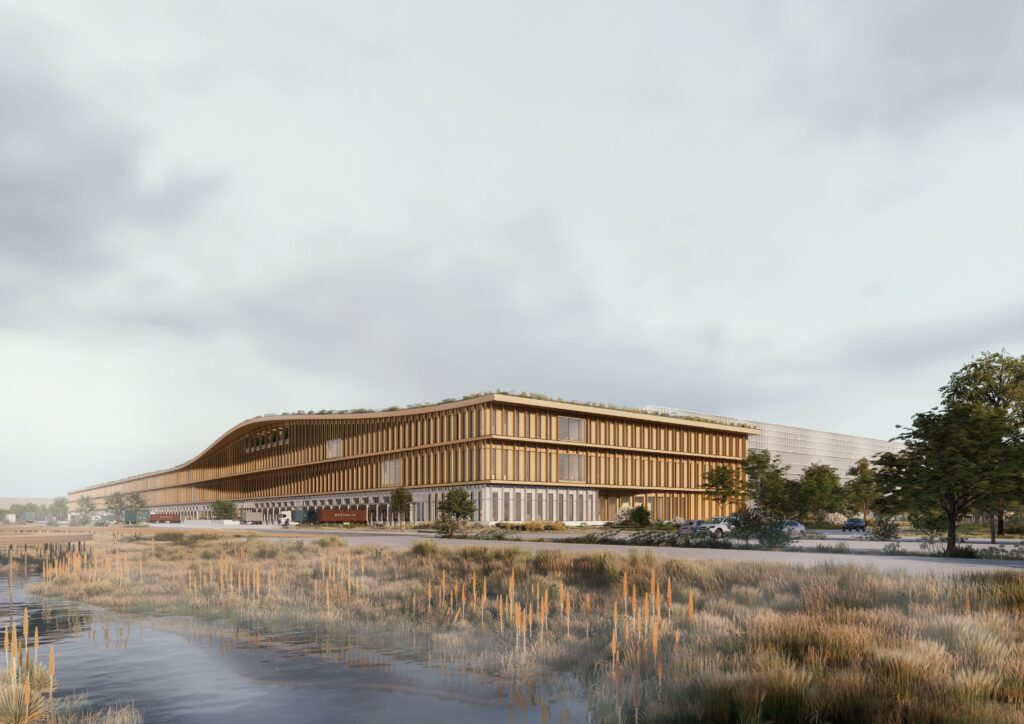 Global fashion company Bestseller and architecture studio Henning Larsen have unveiled the concept design for a new ground-breaking logistics centre to be built in the Netherlands. The centre will be the biggest of its kind in Europe made with mass timber, and the companies aim for the building to reach ambitious standards for design and sustainability.
Located in Lelystad, 60 km east of Amsterdam, the 155,000 m2 logistics centre will be built over the coming years. Logistics Centre West (LCW) as the building is known, is being built by the fashion company BESTSELLER, and it was designed by the architecture firm Henning Larsen. When completed in 2026, it is expected to be the largest logistics centre built using mass timber in Europe.
"We are happy to be able to unveil the design of our new logistics centre, for which we have very big ambitions. Not only because it strengthens our opportunities for future growth, but also because it was designed to excel in sustainable construction through, not least, the choice of mass timber in the construction. We wanted the building to demonstrate our desire for aesthetic design, and we are very proud of what we have succeeded in jointly with Henning Larsen," said Allan Kyhe Kjærgaard, Logistics Director at BESTSELLER.
In addition to the striking mass timber construction, the building will also be equipped with 23,000 square meters of solar panels.
Aesthetics and excellence
An important part of the design process was creating a workplace that is both visually appealing and healthy for the almost 600 colleagues who are expected to be work at the centre. The team from Henning Larsen has, among other things, prioritised daylight and green areas as well as harmonising indoor and outdoor elements to promote employee well-being.
"The design of Logistics Centre West represents a fundamental change to the way we imagine how a logistics centre should look. It's a result of a united client and consultancy team committed to creating a design that is visually stunning, carbon efficient and has a positive biodiverse impact," says Eva Ravnborg, Country Market Director, Partner, Henning Larsen.
Promoting biodiversity
More than half of the total site is dedicated to its landscape. The majority of the area will thus be dedicated to wetlands and forest to protect biodiversity and help absorb CO2.
In order to preserve and protect the area's animal and plant life, the construction will be surrounded by a constructed wetland, which will contribute to promoting microhabitats for native species. The centre will also have an optimised rainwater system that, among other things, protects against flooding and recycles rainwater from the roof.
"We are very aware that constructing new buildings affects the environment, the climate and the local community. Therefore, a very thorough process has taken place before we can now present the plans for our new logistics centre. There have been many ambitions which had to be united in one building, but we believe that we have succeeded – not least thanks to a good and close collaboration with Henning Larsen. We look forward to putting the logistics centre into use in 2026, says Allan Kyhe Kjærgaard.