Belfast based Hireco secure 500 000 pounds deal with trailer giant Krone
5th November 2015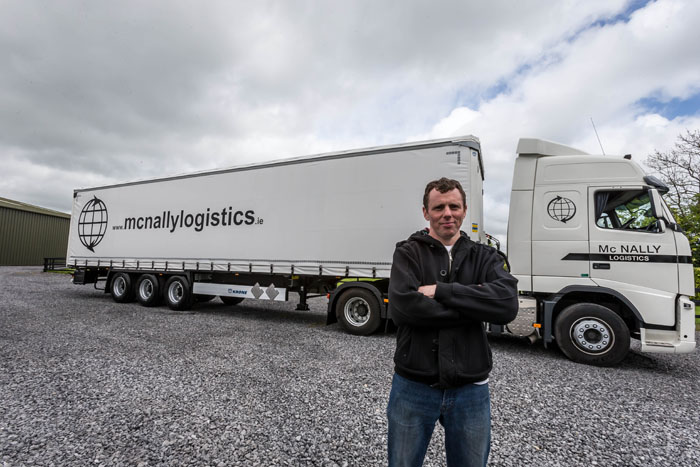 Hireco, the Northern Ireland based company which provides a full rental, leasing and 24/7 breakdown service for trucks and trailers (across the UK and Ireland) is delighted to announce an investment of ?500k in securing the purchase of 20 GRP box vans from leading trailer manufacturer Krone.
Hireco now employs over 100 people across the UK and Ireland, with depots in London, Manchester, Reading, Belfast and Dublin. The company was set up 30 years ago, and has more than 5,000 vehicles on the road across the UK and Ireland.
This deal underlines Hireco's commitment to investment in fleet having spent ?25m last year and ?20m so far this year.
Hireco Commercial Director Tony Wan was keen to highlight his reasons for choosing Krone trailers in this investment:


"Our customers need the assurance of high security and secure loading when conducting logistical tasks. Krone's dry liners have a unique door locking mechanism which guarantees against break ins and owing to the trailers' inherent strength, they can also cope with form-fitted loads without the need to strap. Furthermore, they come with Code XL certification which is important for our European service."

In addition, Tony talked about the properties of the trailers and how buying quality equipment creates dividends long term:


"Flexibility is key to a good rental trailer and in this regard, the Dry Liners tick the box. The specification achieves 2.7m internal height for UK & Ireland with an overall height of 4m for European use, therefore compatibility with road safety across Europe is covered. Our customers will be delighted to be able to avail of Krone trailers as our business grows and invests in the future."

Hireco rents trucks and trailers to industry leading transport and logistics companies including Wincanton and DHL, as well as Norbert Dentressangle and Asda. Hireco also provide transport companies with long term fixed price servicing and breakdown cover from its 24/7 service centre located in Belfast.
Established in Dublin, Hireco now has seven outlets throughout the UK and Ireland supplying premium equipment for contract hire and rental. Hireco has grown by redefining articulated rental, providing high quality equipment while introducing pioneering concepts in customer service. An established market leader, Hireco places customer requirements at the core of its operation. The continual fleet and lorry investment means Hireco has an unrivalled rental offering.