Avocado distributor opens Dartford facility
26th October 2022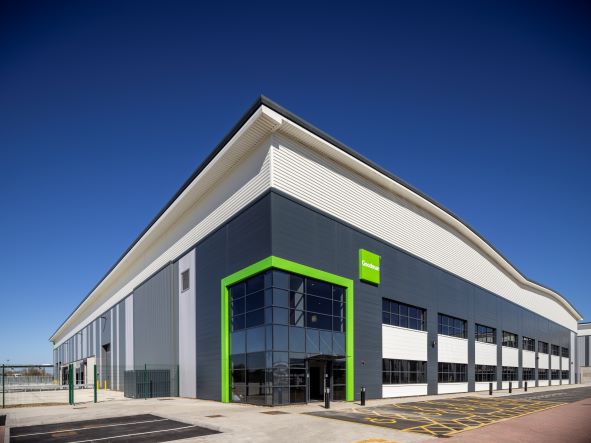 Mission Produce, a global leader in avocado marketing and distribution, is set to open its first UK facility at Goodman's Crossways Commercial Park in Dartford, Kent.
Covering 101,659 sq ft, the highly-sustainable building will be used as Mission's state-of-the-art ripening, packing, and forward distribution centre which is expected to help streamline import logistics and reduce transit times to UK customers.
Founded in 1983 and headquartered in California, Mission specialises in sourcing, producing and distributing fresh Hass avocados. It has an established network of 12 ripening and distribution centres globally, with avocado packing facilities in key locations including California, Mexico and Peru, and additional sourcing capabilities in South Africa. Mission leverages its global presence to serve retail, wholesale, and food service customers in more than 25 countries.
Paul Frowde, Managing Director at Mission Produce UK, said: "The opening of this distribution facility is a milestone that represents a significant opportunity for our business as we expand into the UK market.
"Goodman's Crossways Commercial Park location was the ideal choice, blending a strategic location with a high-quality facility designed to streamline our operations. Its sustainable features and use of renewable energy are also expected to promote energy, cost and maintenance savings as we strive to maximise efficiency."
Crossways Commercial Park's strategic location, places 11.7 million consumers within a 60-minute drivetime. Its prime position, adjacent to Junction 1a of the M25, offers fast access to London and the national motorway network.
Developed to a BREEAM 'Excellent' specification, the facility promotes energy efficiency aligning with Mission's strong Environmental, Social and Governance (ESG) credentials. It features a 490kWp rooftop array of solar photovoltaic (PV) panels, solar thermal hot water, rainwater harvesting and charging infrastructure for electric vehicles.
With the facility expected to open in early 2023, Mission is currently undertaking a highly specialised fit-out, including the installation of a 3,000 sq ft mezzanine and a variety of cutting-edge features. Grading visibility technology to reduce handling and minimise fruit damage, advanced testing machinery to determine stages of ripeness with precision, and specialised heating and cooling systems are just some of the systems being implemented to help Mission optimise its operations and provide customers with year-round supply of the world's finest avocados.
The Crossways Commercial Park location will also be Mission's first facility to feature "Mission Control" technology in dedicated ripening rooms. Using a specialised atmosphere control process, this innovative system can create the optimal environment for ripening, which in turn helps enhance product quality, extend product shelf life and reduce waste.
George Glennie, development director at Goodman, said: "Crossways Commercial Park is our most sustainable UK development, with cutting-edge technology and investment in on-site renewables.
"Combined with a prime M25 location, Crossways Commercial Park offers fast access to large consumer markets, maximising logistical efficiencies and supporting Mission in its next phase of growth."
The news follows Goodman's leasing of Crossways 138 – another unit in Crossways Commercial Park – to premium ingredients supplier, Albion Fine Foods, leaving just one 240,884 sq ft unit remaining.