Copal efficiently serves coffee for Tramar
15th March 2022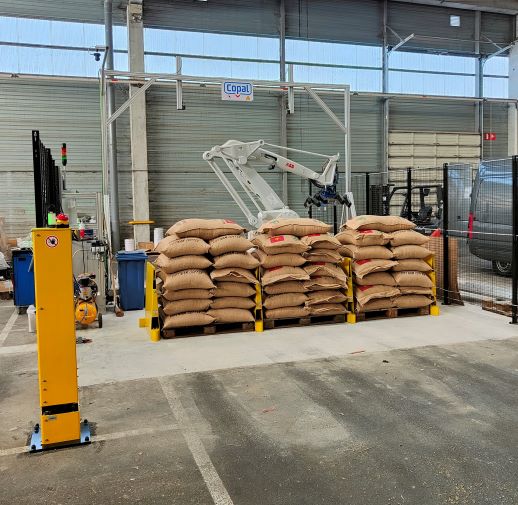 Tramar SRC, from Le Havre, France, is a logistics company that unloads green coffee from containers which can store up to 160,000 bags of coffee beans. It handles about 50,000 tonnes of green coffee annually.
In 2019, Tramar was facing difficulties to find personnel to manually unload its containers. To mitigate the labour shortage problem, Tramar purchased an automatic container unloader & palletiser from Copal Handling Systems of The Netherlands. Since June 2020, this machine has been in operation to the full satisfaction of Laurent Gouédard, director of Tramar SRC.
The labour shortage, however, is not diminishing; to the contrary, it has been increasing year after year. So, in mid-2021, Laurent Gouédard went to Copal again to find a solution for restacking coffee bags from large harbour pallets to smaller euro pallets.
In February 2022, Copal commissioned an automatic re-palletising robot at Tramar. An advanced camera system recognises the position of each individual bag and sends its coordinates to the robot. The bags can therefore be accurately picked up and re stacked on a different pallet size.
Different coffee bags on one pallet is possible as well. The Copal re-palletising robot will make mixed pallets with no effort at all.
Instead of three people plus a forklift driver to re-palletise, one forklift driver is now enough to get the job done.
Laurent Gouédard says: "Copal has succeeded in developing this re-palletising system in line with our technical constraints and needs. The system is efficient and exceeds our expectations in terms of output. The simplicity of its use requires very little training time.
We are delighted with this continuing partnership between Copal and Tramar SRC."
CLICK HERE to watch a video.