Watch Now: Webinar with Fives and SNATT Logistica
30th January 2023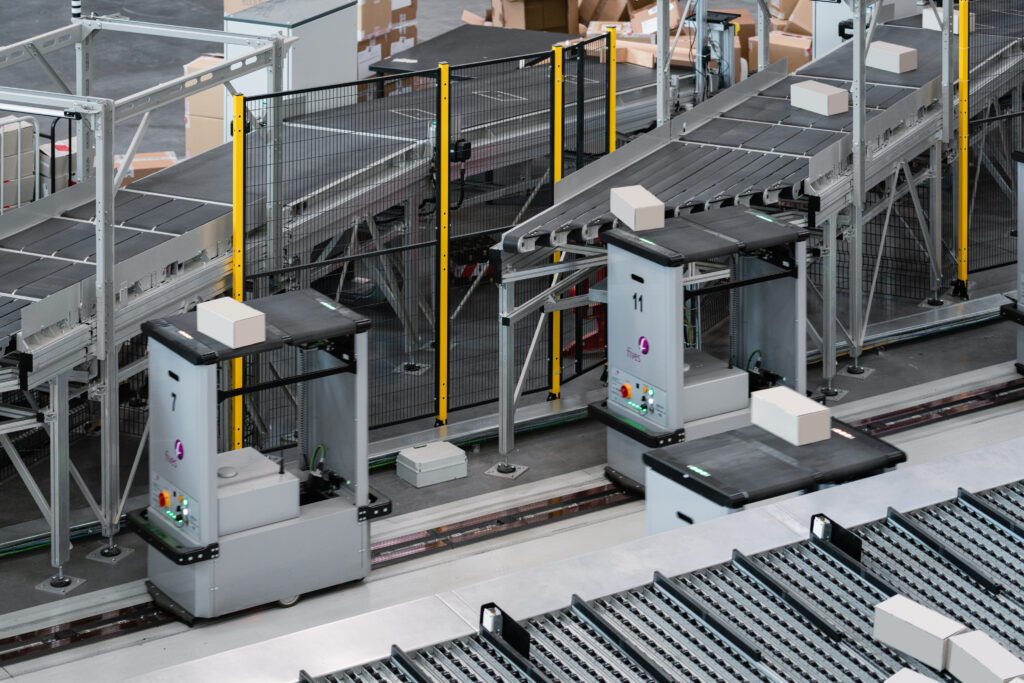 Logistics Business has a new Webinar to play on-demand for free, moderated by Editor Peter MacLeod. Peter talks to Fabio Sacchi, New Application Director of Fives Intralogistics SpA and Fabrizio Oleari, CEO of Italian third party logistics company SNATT Logistica SpA. Click here to watch now.
In the 34 minute Webinar sortation technology for fashionwear distribution centres is discussed, specifically the new GENI-Ant system.
Here is the transcript:
1. Q to Sacchi: Why did Fives decide to invest in AMR technology for sorting / what is GENI-Ant?
To meet the needs of all companies faced with increasing logistics complexity and labor shortages, Fives has introduced a new smart sorter based on AMR technology: the GENI-Ant sorter.
It is a mobile sorter able to transport 2 items on board each vehicle and deliver the parcels to the destinations within the working area. It is the tallest in the market able to sort dynamically at high speed : the robot can be up to 1.300 mm high and run at 2,5 m/s
2. Q to Oleari: SNATT have been investing in automation already for many years, implementing cross belt equipment in their warehouses. Why did you decide to implement the GENI-Ant? What challenges were you facing?
We had two major requirements: We needed a sorting system that provides flexibility and scalability to any future change in terms of volume of parcels sorted, or number of sorting destinations
Moreover, we needed a sorter equipment ensuring that no parcel is damaged during the operations, including the most delicate ones. We need a system able to handle the parcels with extreme care.
3. Q to Oleari: Please can you tell us a little bit more about your business – the size of the warehouse operations where Fives technology is installed, the size and volume of the products being stored and dispatched, and how the GENI-Ant is being deployed within the operation?
SNATT Logistica is a 3PL company in the fashion industry, specializing in the distribution of its customers' clothing, footwear and accessories lines. The company provides logistic services and each of its warehouses is dedicated exclusively to the logistics activities of a customer, for distribution of the articles of one brand only, in Italy and abroad. We help our customer's business, because thanks to our outsourcing service, we help save time and money: the customer has lower fixed costs and can focus on the resources on product development, marketing, and sales growth. We take care of the handling of articles like footwear packed in standard shoe boxes as well as flat garments in plastic bags and various accessories. The GENI-Ant sorter can handle these kinds of fragile packages in a gentle way with no damages at all. As you know in the fashion world, the external packaging is very important for the brand image, almost as much as the content itself. Moreover, Fives sorting technology ensures the flexibility we need in order to react quickly to changes in volumes. Fluctuations in sales result in variations of the material flows to manage inside the warehouse. The implementation of the GENI-Ant 's robotic solution has allowed us to process orders faster and increase picking volumes a lot, compared with manual processing.
4. Q to Sacchi: Compared with other traditional sorting technologies, what are added benefits for the customer that chooses a GENI-Ant sorter?
Answer: scalability and footprint
Scalability: GENI-Ant is a system that can be tailored to the required capacity: only by adding robots, it can easily adapt to future volume peaks or structural expansions.
Footprint: the GENI-Ant solution can be installed in very small areas even in general utility buildings. It can be easily reconfigured and relocated from one to another building, if needed
5. Q to Sacchi – What sort of operations are the deployed GENI-Ant robots helping to optimise?
It can be deployed to optimize the sorting operations in various processing, for instance in the last mile delivery or in the 3PL application like at SNATT facilities. The ability to manage multiple types of parcels, even non-standard ones and the compact design make it suitable for installation in urban depots or small warehouses, where the available space is limited or there are
The flexibility and the ability to adapt according to changing requirements as well as to fluctuations in material flows make it the best solution for future-proof systems where the sorting capacity can increase either very quickly for example during seasonal peaks or over the years according to sales evolution. It is actually very simple to increase the sorting capacity of the GENI-Ant: it is enough to install additional destinations or adjust the number of robots, and this is done in a matter of weeks. In this way, there is no need of oversizing the system in view of future expansions, GENI-Ant sorter can grow and adapt easily to changes.
6. Q to Sacchi: how long does it take for the production and installation of a GENI-Ant sorting system?
It takes 7 months for the production and only 2 months for delivery and installation The installation does not disturb the existing on-going warehouse operations at customer's site.
7. Q to Sacchi: What are the performances achievable with GENI-Ant?
Answer: 6.000 pph with item size from 150×150 mm to 1200×700 mm
8. Q to Sacchi: is it possible to customize a solution according to various and each time different customer requirements?
Answer: yes, we can customize the size and the design of the belts on top of the vehicle/robot to automate the handling and sorting of both conveyable and non-conveyable items
Moreover the layout of the system can be adapted to fit into the sorting are at customer's facilities and even re-configurated in a second time, if needed
9. Q to Sacchi: how do you see the future of GENI-Ant?
Answer: GENI-Ant will be used more and more for order fulfilment in retail, e-commerce, distribution due to its features mentioned before. While in parcels and postal the requirement is to automate handling and sorting of small and big items that are non-conveyable using traditional equipment and in general more difficult to handle than standard conveyable parcels, thus require still manual handling or re-working.
10. Q to Oleari: Would you recommend GENI-Ant?
I would recommend GENI-Ant because it's the new cutting-edge technology available in the market for sorting. Nowadays, since the purchasing habits and consumer needs have changed dramatically and the logistics have become extremely complex, GENI-Ant™ is the right solution to respond to investments that require flexibility and scalability in a small footprint.