UK Premier for Interroll DC Platform at IMHX
25th July 2019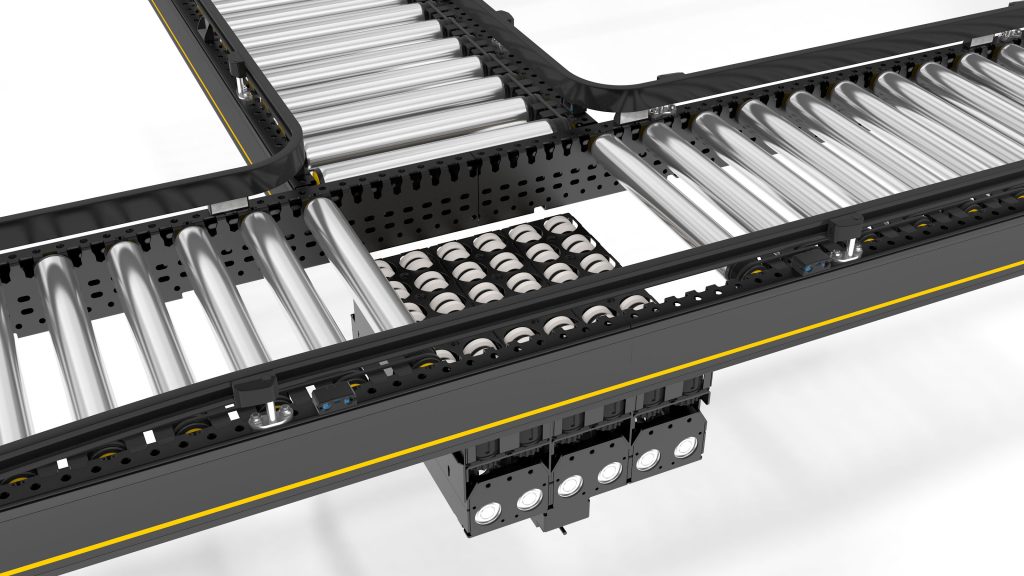 Conveyor technology expert Interroll Ltd is set to showcase a number of innovations at IMHX 2019, the UK's largest logistics event, which takes place on 24-27 September at the Birmingham NEC. A UK premier will be handed to the company's DC Platform, which comprises a new RollerDrive EC5000 motorised roller, controls and power supplies, while the innovative Pallet Flow range will also be present on the stand.
Interroll's new DC Platform is a combination of 24V and 48V solutions that provides outstanding advances in automated conveyor technology and makes it possible to embrace the digital world, namely autonomous conveyors, predictive maintenance and more. The 48V specification is an optimum solution because it allows users to utilise fewer power supplies and more cost-effective wiring, thus reducing installation time and overall system cost.
With Interroll's new RollerDrive EC5000, users will be able to choose between different power levels, depending on the application. For instance, 35W and 20W can be deployed for light‐duty applications, or 50W for heavier loads. Notably, RollerDrive EC5000 is backwards‐compatible with current controls and power supplies, which means it is easy for customers to retrofit their existing system.
Thanks to an advanced CANopen Bus, the latest RollerDrive EC5000 offers several benefits: it is not only a standard drive but is capable of positioning items in an accurate fashion. What's more, it is possible to turn a powered conveyor into a gravity conveyor, if needed. Further features include a signal that provides information on the lifetime status of RollerDrive, which no other motorised roller on the market can do. Users can also schedule all predictive maintenance work ahead of time.
Also being promoted at IMHX for the first time in the UK will be the Interroll Modular Pallet Conveyor Platform (MPP), the market's most comprehensive integrated solution for pallet handling. When combined with Interroll's Pallet Flow, MPP gives system integrators the possibility to provide customers with a proven, highquality solution for the entire flow of pallets through manufacturing plants and distribution centres.
MPP, which is designed to be reliable, versatile, energy-efficient, safe and scalable, is a combination of pallet conveyor modules (roller or chain conveyors) and specialty conveyors, such as transfers, lifts and turntables.
Additionally, a stacker crane system for loading and unloading pallets, as well as a transfer car system, can be offered. MPP is a fully modular platform, which means configuration is very easy, and different conveyors and accessories can be added at a later stage.
Another innovation being promoted at IMHX will be Interroll's Dynamic Storage portfolio that makes picking and shipping processes much more efficient. Such solutions save up to 50% on space and reduce travel distances by up to 80%. Included in the portfolio are Interroll's Pallet Flow and Carton Flow solutions that optimise the available space and offer maximum flexibility and efficiencies to store fast-turnover stock. Both can be configured for first-in, first-out (FIFO) as well as last-in, first-out (LIFO) applications.
Interroll's Pallet Flow features the unique MSC 80 magnetic speed controller, which significantly reduces the risk of damaging goods conveyed on gravity roller conveyor sections, while Carton Wheel Flow beds are designed for simple installation with dramatically reduced mounting time.
Any logistics or supply chain professionals attending IMHX are welcome to call by the Interroll stand, where the company's team of friendly specialists will be more than happy to discuss any current or future conveyor challenges.