Swiss Conveyor Specialist Avancon Builds System for Samsung in South Korea
21st January 2020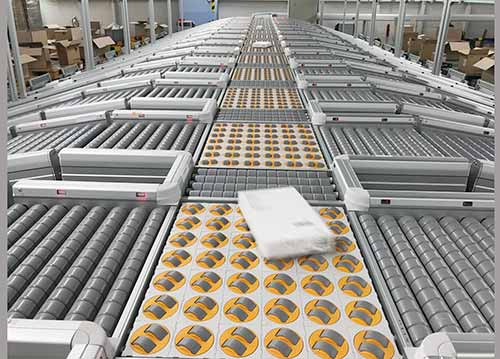 Swiss conveyor specialist Avancon has teamed up with South Korean system integrator Asetec to build a logistics centre for Samsung.
Asetec is a specialist in electronic control systems, Pick-to-Light and communication with higher-level BUS / IT systems. The centre built with Avancon focuses on Samsung's small units – like the new Galaxy Note 10 – as well as larger boxes and other products. The requirements for this sorting and distribution system included very short delivery time, tight space restrictions, operator safety and  fast handing times with gentle handling of high value products.
The Avancon team and the Asian managing director, Hyunmin Park at Seoul/South-Korea, were under intense pressure as this complex sorting system had to be produced within four weeks.
"With our partner, integrator Asetec Co. Kr in Seoul, and Samsung's logistics managers, I had many discussions, conferences, meetings, phone calls, and emails. The question was how this system could be accommodated in the existing space and how 30,000 cartons per day could there be quickly distributed to 28 destinations. We discussed different layouts," reports Hyunmin Park, "Then we all visited at Hanmi Pharmaceutics the Avancon order picking system, which has been in operation for more than a year. The decision-makers and employees of Samsung were able to see and feel this beautiful system life. They were convinced of the sleek, streamlined design and the efficiency. So we got the job."
It was not easy to get the engineers and technical director at Avancon Headquarters in Switzerland to produce everything within this short time. Hyunmin Park and Asetec then had to make sure that the system was quickly installed and tested.  There was not much room between the 28 electronically controlled chutes, but the true plug-in concept and the simplicity of the control system based on the famous ASi fieldbus enabled Avancon and Asetec to meet Samsung's requirements.
The Avancon concept was not only much more economical, but also quieter and of superior design compared to other possible solutions such as the crossbelt sorters, shoe and tilt tray sorting system. If it is fast enough, it is an inexpensive alternative, says the company.