Sorter Manufacturer Celebrates ProMat Innovation Award
15th May 2017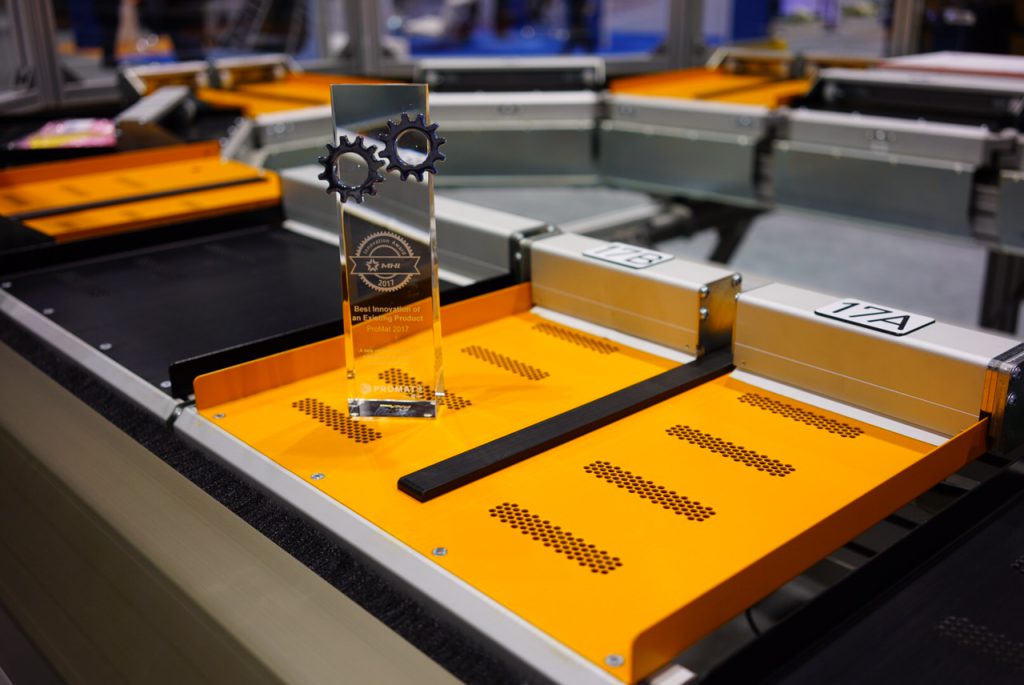 EuroSort, a provider of innovative sorting solutions, is celebrating being awarded the Innovation Prize for best further-developed product at Promat 2017 in Chicago last month.
This prize relates to the further development of the Twin Push Tray Sorter which is now capable of doubling the capacity of the Single Push Tray Sorter. With its even greater sorting range of (in mm) 50 x 70 x 20 to 780 x 580 x 500 and from 0.1 g to 25 kg, the Twin Push Tray Sorter is suitable for processing a very large number of products via one sorting machine up to a capacity of 26,600 units per hour. The design of the Push Tray works like this: one pusher is fitted to one blade on one carrier, with the pusher simply gently pushing off the great variety of products at a right angle into an accumulation area. The products are sorted by criteria determined in advance by a customer. The product pushed off can be collected immediately into a box / plastic tub / sack / container or be manually repacked at a dispatch packing station.
The EuroSort Twin Push Tray Sorter goes one step further by fitting two pushers per blade to one carrier, with the pushers working independently of each other. Each pusher can push the product off independently or push large products off in a synchronised manner. This makes it possible to sort two small items or one large item per blade. In a direct comparison with a Cross Belt or Tilt Tray Sorter, the design of the Push Tray Sorter scores higher regarding its footprint because it requires less width for the exits. That means less space is needed for the same exit quantity or, alternately, it is possible to create additional exits on the same footprint.
This innovation has therefore led to a unique patented design. The sorter is suitable for users with a great variety of product sizes and who therefore demand a high degree of flexibility and require greater throughput volume than with the earlier model. The company says the machine is specifically suitable for the postal, parcel, retail trade, e-commerce and electronics industries.