Pouch Sorter Claims Faster Handling of Flat-Packed Items
28th September 2018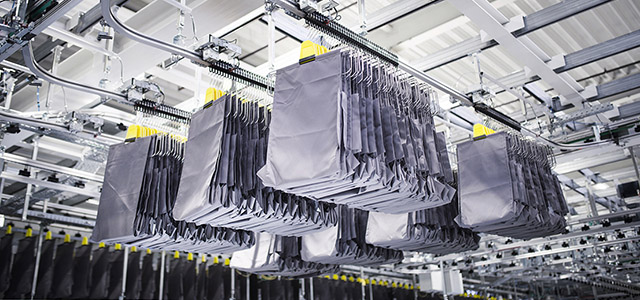 Intralogistics expert psb has launched a pouch sorter, in which many advantages of overhead transport systems can be transferred to the handling of flat-packed items like shirts, shoes or other packaged goods. Efficient buffering and sorting solutions for single parts can be implemented.
psb utilizes the technology of the modular mtr micro trolley system. This conveyor concept for single parts is used for the transport as well as for the buffering and sorting of hanging garments.
The pouch sorter offers the extremely fast and efficient buffering and sequential sorting of single parts. Further distinct features are the modular structure with a very flexible system utilization, high throughput rates, good accumulation properties and the three-dimensional mobility of the conveyor system.
By utilizing sorting pouches as load carrying units (instead of hanging garments), almost any product group can be buffered, transported and sorted overhead with this highly efficient system, according to the company.
The pouches are unloaded at the workstations either manually or automatically. In fully automated processes, modified pouches are used.
Innovation and implementation reliability fit together perfectly, it's claimed, because the mtr technology has been applied by psb already for many years and is successfully operated in several distribution centres for hanging items.
Individual system modules are tailored to the needs of the customers in terms of size and performance: infeed of goods/loading of pouches (also fully automatic), overhead transport, buffering (static or dynamic), sequential matrix sorting, unloading of pouches (also fully automatic).
Depending on the respective project, various upstream and downstream areas complement the intralogistics installation: inbound goods and/or returns, quality assurance, value added services, packaging, dispatch and further individually adapted functions.
You can experience the pouch sorter live at psb's own Technology Centre, an extensive installation over 1,200 square metres in Pirmasens.