Online Fashion Retail Sortation Project Completed by Leicester Firm
7th October 2019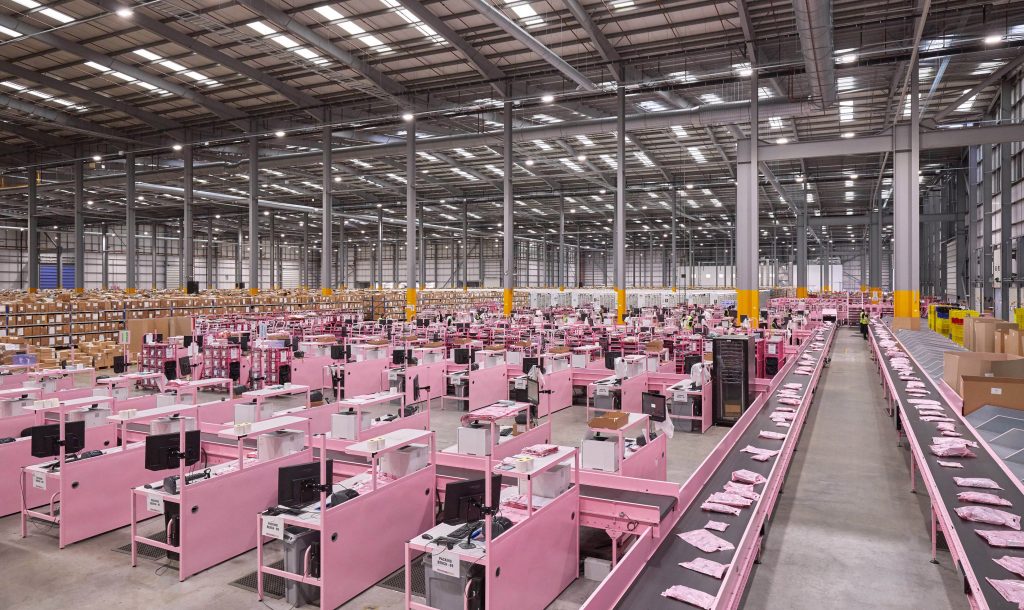 Leicester-based materials handling specialist BS Handling Systems, has completed a sortation project for online fashion retailer, PrettyLittleThing.
Due to rapid growth, the online retailer has relocated its logistics operation to a new 600,000 sq ft warehouse in Sheffield. In addition to needing extra storage capacity, PrettyLittleThing also required a sortation solution to sort parcels by both carrier and service type.
The project has seen BS Handling Systems install in a bespoke pink colour:
• 60 metre powered belt conveyor with two 180 degree bends
• 6 x 22 metre long conveyor feeder chutes in-between packing benches
The conveyor chutes allow workers to place completed parcels onto the conveyor next to their packing bench. The chutes then feed parcels onto the main carousel line.
The far side of the carousel features sortation bins which enables workers to sort parcels by both carrier and service type ready for worldwide despatch.
Ben Hulme, Head of Operations, PrettyLittleThing concludes: "The conveyor system is tailored to our sortation needs and enables us to handle our peak volumes without any issues. BS Handling Systems were very flexible with the project and met our strict installation deadline."
Key benefits:
• 60 m long carousel conveyor – 2 x 180° bends
• 6 feeder lanes – 22 m powered belt conveyors
• Handles peak worldwide volumes without issues
• Sortation by carrier and service type
• 600,000 sq ft site in Sheffield