Krone Profi Liners provide added loading speed and security for 24:7 trailer rentals
15th May 2015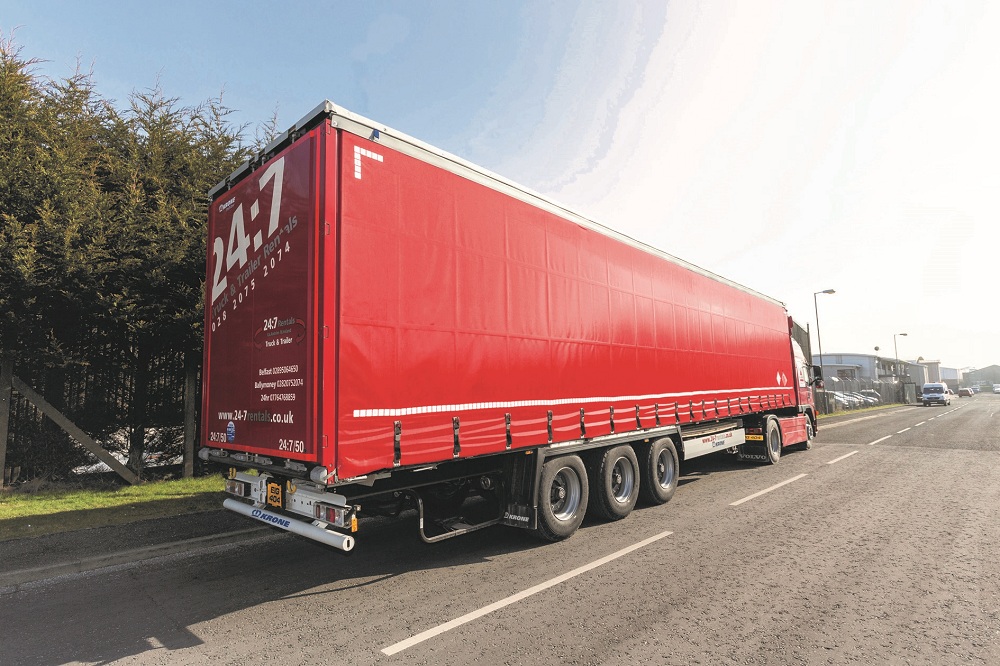 Established in 2006 and already a major player in the Northern Ireland vehicle rental market, 24:7 aims to provide a level of service which, according to founder and MD Darren Getty goes 'one step further' when it comes to vehicle quality and availability.

"As the name suggests," says Darren "we specialise in providing trucks and trailers for rent around the clock. The Krone Profi Liner is ideal because not only is it very reliable but also it has the Multi Lock load security system which, with around 130 strapping points along each side rave, allows safe loading of virtually any type of cargo anywhere along the trailer bed. The spec' is quite unusual and certainly streets ahead of many other trailers currently available for hire."


The 24:7 fleet operates across Ireland and into European countries and as such, must be able to cope with a variety of loads. Darren continues: "This trailer is perfect for fast and secure handling of groupage and mixed loads and the spec' is exactly what we needed for our customers who operate in Europe: Code XL certification, flexible and robust. A good all-round work-horse."

For abnormally shaped or larger loads, the Profi Liner can quickly be loaded through the sliding roof and for ease of use, the loading straps can be accessed by the driver from inside the trailer when the curtains are closed.
24:7 also provides dedicated maintenance and breakdown cover through its Fleet Services operation which, in keeping with the company's name is available at all times of the day and night.

"In addition to our own service facilities," concludes Darren Getty, "Krone has two main service operations in Ireland which although they may not be required, it's good to know they are there. Also, should we need spare parts in a hurry, we can order them online using Krone's web-based parts store."

24:7 provides a full range of vehicles on long and short term lease from 7.5 to 44 tonne trucks, Euroliner trailers, fridge trailers, box vans, flatbeds and skeletals. Vehicles can be supplied in customer's livery and all are available 24 hours a day and 7 days a week.