Interroll Drum Motors Win Business from Italian Machine Maker
29th October 2018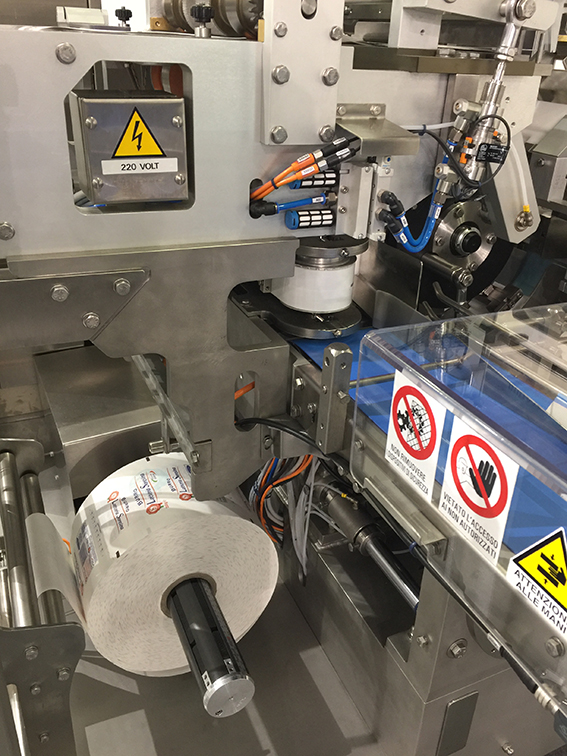 An Italian market leader in butter packaging machinery has selected Interroll Drum Motors to help convey its delicate product on its machines. Ing E.Vezzadini & C. S.r.l.'s packaging machines are mainly used in creameries around the world, as well as by food processing companies producing cheese spread and margarine.
Packaging machines for this type of product combine precision mechanics and electronics, and the extent to which the machines can be customized is extremely high. Vezzadini products are distinguished by their premium quality and artisan manufacturing. The company's automated machines must produce packs of butter at a rate of 100 blocks a minute. All of this has to happen with the utmost precision and the greatest possible fluidity.
Interroll, one of the world's leading producers of high-quality key products and services for internal logistics, is providing stainless steel drum motors—certified by the European Hygienic Engineering and Design Group (EHEDG)—for the machinery used by Ing. E. Vezzadini & C. S.r.l. in Reggio Emilia, Italy.
The decision to use a drum motor from Interroll was influenced by the company's need to make its packaging machines less bulky, more efficient and 100 percent safe with regard to hygiene. The high-efficiency Interroll Drum Motor is easy to fit, covers a vast range of services and is virtually maintenance-free. It provides the clear benefit of using less bulky drum motors in place of conventional gear motors. The fact that the motor, gearbox and bearings are housed inside the drum means that drum motors require a lot less space than other types of motors. The belt conveyor can be made more compact and installed in smaller spaces. Moreover, drum motors are considerably faster and easier to fit: On average, in fact, they can be installed in 25 percent less time than is required to install a conventional drive system with multiple components, according to a recent study by the University of Parma. Reducing the number of components results in lower costs to manufacture the belt conveyor and purchase the components themselves.
Interroll Drum Motors are perfect for use in the food industry as their IP66/IP69k rating satisfies EHEDG hygienic equipment design criteria, follows the Ecolab cleaning procedure, and complies with US Food and Drug Administration (FDA) and European Union EC 1935-2004 regulations.
Low-wear Interroll Drum Motors provide full performance even in harsh environments where water, fine dust, grit, chemical substances, fats and oils are present. They can even be subjected to high-pressure cleaning. Moreover, thanks to their smooth, stainless steel surface and fully encapsulated hermetic structure, Interroll Drum Motors are exceptionally hygienic.