Greencarrier work with Krone and TIP to expand Pan-European fleet
17th March 2015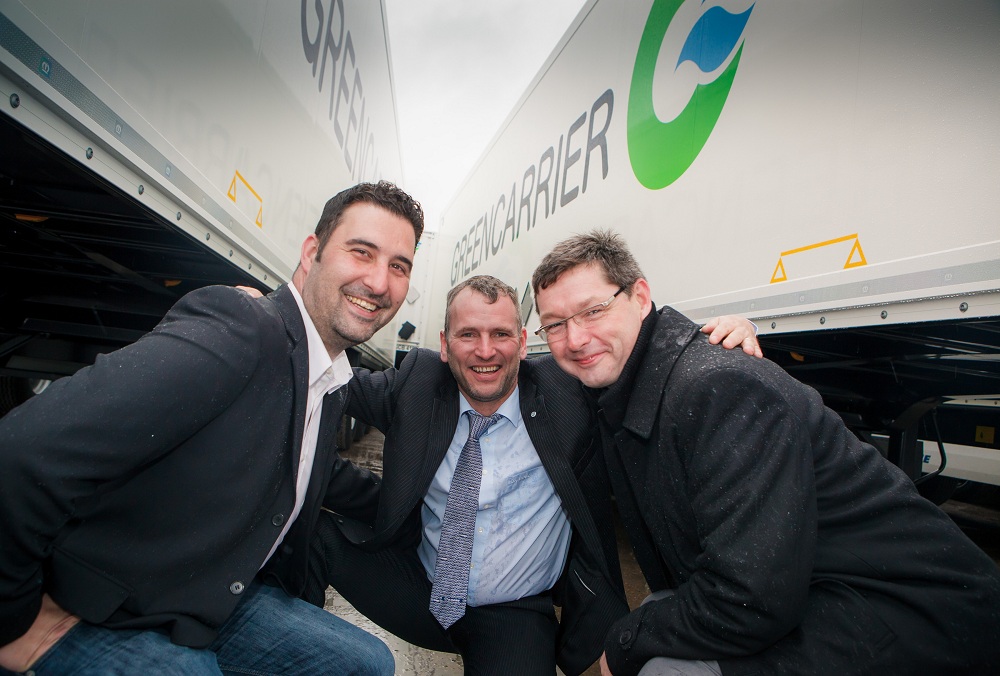 Greencarrier Freight Services UK has expanded its trailer fleet with the addition of 20 Dry Liner box vans and 15 Profi Liner curtainsiders from Krone Trailers UK, on long term lease from TIP Trailer Services.
With vehicle depots, warehousing and cross-docking facilities in Ipswich and Immingham, Greencarrier Freight Services UK is strategically placed to handle Scandinavian and Eastern European freight services as part of the Greencarrier Group, whose operations are based in 14 countries throughout the north and east of Europe.
According to Greencarrier Freight Services UK, the firm has responded to continued strong demand and the new trailer equipment was fully utilised upon entering the vehicle fleet.

"We run a busy, two way operation between the UK and many other countries" explains Adam Gaunt, Fleet Controller for Greencarrier Freight Services in the UK, "and the trailers we use need to be able to cope with the rigorous demands of ferry work and intensive loading schedules.
"We move a lot of relatively high value, packaged foods and therefore the Dry Liners come into their own to provide protection against moisture ingress and potential tampering. They are constructed from Duoplex steel, certified for beverage transport according to VDI 2700 BI.12 and are about as sturdy and durable as you can get for this type of trailer."

The Dry Liners' walls are of sandwich panel construction with a PVC inner coating and exterior steel skin, while the 30mm-thick roof is insulated with a foam core and steel outer. For additional strength, the waterproof trailer floor is constructed from phenolic-coated plywood with a floor rating of up to 7.000kg for fork lift axle loading. Krone's delta-shaped, steel rear buffers and additional rubber bumpers provide added shock-absorption.
In addition to dedicated food transport and storage contracts, Greencarrier Freight Services UK operates a general haulage and groupage service between the UK, Nordic and European countries – for which part of the operation the Profi Liners were specified.

"The curtainsiders were chosen, in preference to other makes, for their loading flexibility and are mainly used for groupage and general ro-ro ferry work throughout the north and in some parts of eastern Europe," continues Adam Gaunt "they carry everything from lawnmowers to motorbikes and often need to cope with outsized loads. This is where the sliding roofs and Multi Lock side rave strapping points (which have securing points every 100mm along each side) come into their own. The trailers are specified with 10 multi positional post pockets in the floor centre and 10 pairs along the sides, which mean we can load virtually anything safely and securely along the entire trailer length. Furthermore, the curtains can be strapped from inside the trailer, which is a safety benefit and much appreciated by our drivers."

The Profi Liners are also constructed with phenolic-coated plywood floors to the same rating as the Dry Liners and both trailer specifications meet the European load security certification EN 12642 code XL. The trailer chassis are KTL primed and powder coated, as part of the automated manufacturing process at Krone's Werlte plant in North West Germany. The tyres meanwhile, are Krone's own-brand Easy Rider R22.5s.

"We have been using Krone trailers for many years" continues Adam Gaunt, "and in the last year or so have formed a working partnership with TIP to help procure and then support the new trailer equipment required for our Pan-European services. To this end, the trailer specifications are bespoke to our needs and as far as support goes, we can rely on maintenance and service back up anywhere in Europe."

David George, Pan European Account Manager for TIP Trailer Services is upbeat regarding the 'working partnership' between the three companies.

"Greencarrier is a diverse operator with freight services spanning the whole of Europe. Therefore, it was important to take a Pan-European perspective when specifying the trailer equipment and to put in place a solid and comprehensive after-market service."
Maintenance for the Krone equipment is provided by TIP Trailer Services, while emergency service, should it be required, is available from TIP's own European support network, Roadside Assistance, which is on hand to provide 24 hour breakdown recovery anywhere in Europe.
Krone too, has taken a consultative approach while advising on the most suitable trailer specifications for Greencarrier's varied European freight demands. Jason Chipchase, Krone Trailers UK Sales Manager, is in no doubt regarding the importance of matching the customers' operational needs to the correct equipment for the job.

"There are many suppliers of trailers these days but few who can provide precisely what is required to suit the individual needs of a European operation of this type. With these Dry Liners and Profi Liners, we worked closely to make sure that every last detail was addressed before pressing the button. This way, everyone in the team can rest assured that we have delivered the optimum specification for loading flexibility and security while providing Krone's round-the-clock after-market support."
Greencarrier also offers pick and pack, sorting, re-marking, labelling and shrink wrapping facilities at both their UK sites, along with computerised stock control systems.At the Immingham warehouse, dedicated facilities are available for ambient food storage, using electric forklift trucks to ensure a clean and quiet working environment.
The Greencarrier global network extends across Eastern Europe with offices in Latvia, Lithuania, Estonia, Poland and Czech Republic. With transport and warehousing facilities in each country, the company offers a door to door service to any inland destination, including onwards into Russia.vakia and China.