DURKOPP FORDERTECHNIK EXTENDS SYSTEM AT ASDA'S BRACKMILLS DC AS GEORGE BRAND SALES INCREASE
21st November 2014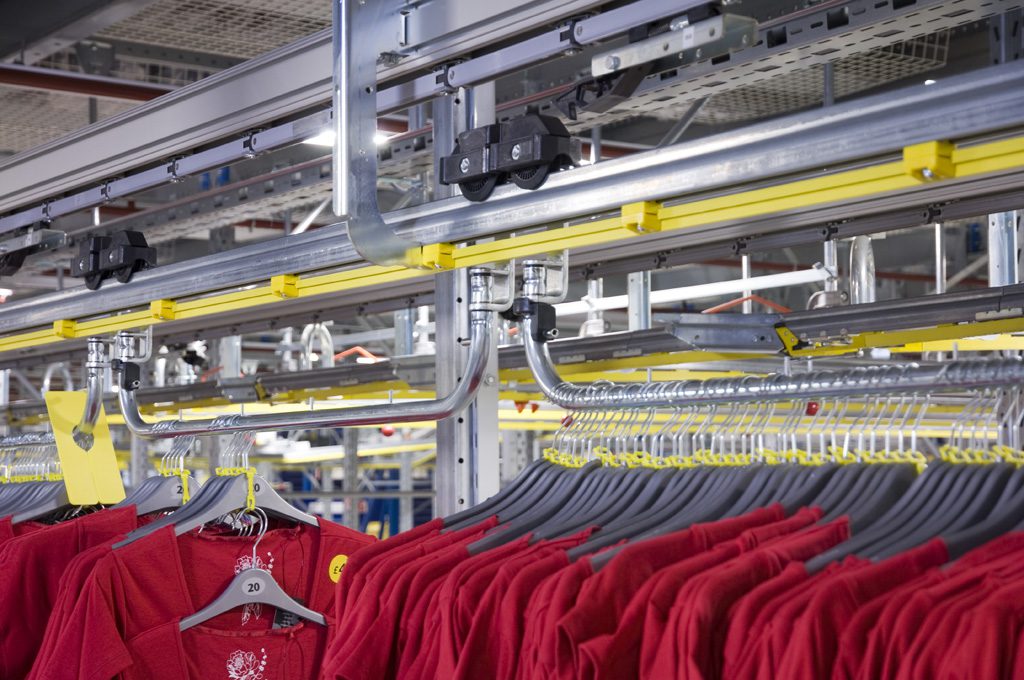 ASDA's national garment distribution centre at Brackmills, Northampton – which already distributes some 155,000 items daily – is benefiting from an equipment upgrade by Durkopp Fordertechnik.
Durkopp – a market leader in the provision of garment conveyor and sortation systems – originally installed its equipment at the five-floor, 56,000 m2 facility when it was built in 1996. Further extensions and equipment upgrades have since been added in 2000 and 2008. The DC is one of three depots which handle all the garments for the George at ASDA brand which is sold at some 550 stores nationwide as well as online.
ASDA's Brackmills facility is amongst the UK's largest and most highly automated handling sites capable of storing some five million garments. Goods are received and put on to trolleys which can each carry up to 60 items. Throughput is maximised by feeding empty trolleys to one of several extending booms which are placed into the respective delivery vehicle. A circular conveyor control system manages garments flow from induction to despatch using transponder readers. ASDA's WMS (Warehouse Management System) inputs garments and store requirement data to the Durkopp control system which manages all garments movements.
The entire system is also ISDN-linked to Durkopp's back-up team for remote diagnostic analysis which enables them to respond effectively if technical support is required.
The latest upgrade involves an additional interfloor conveyor which can carry up to 800 trolleys an hour. It will primarily be used to move picked goods from any of the depot's four floors to the ground floor as well as to the existing pre-sort buffer and single garment sorter. The single item sorter sorts batch picked items to stores and e commerce deliveries.
Nathan Bower, senior manager – engineering at ASDA, said: "Durkopp supplied and installed the original conveyor system and it has run very successfully. However, sales volumes of the George brand – both in-store and online – have increased significantly and we needed to boost the conveying capacity to deal with the additional throughput."

Following the successful introduction of the first Durkopp systems at Brackmills, the company's equipment was subsequently selected for ASDA's 54,000 m2 northern clothing DC at Washington, Tyne & Wear, which can store some five million garments. Again, the technology installed is the trolley system as well as two 500 metre circular conveyors which can each handle some 840 trolleys per hour. In addition, two high speed sortation systems – each with a capacity of 8,000 items per hour – separate the merchandise into 180 store lanes.
Annette Sommer, UK General Manager for Durkopp, commented: "George at ASDA is one of the UK's most popular clothing brands and I am delighted that – once again – Durkopp equipment is helping to speed items to ASDA's customers. This latest contract is yet another endorsement of our proven expertise in the garment handling sector."