DHL Opens New VanRiet Modular Sorter at Hanover Hub
13th June 2016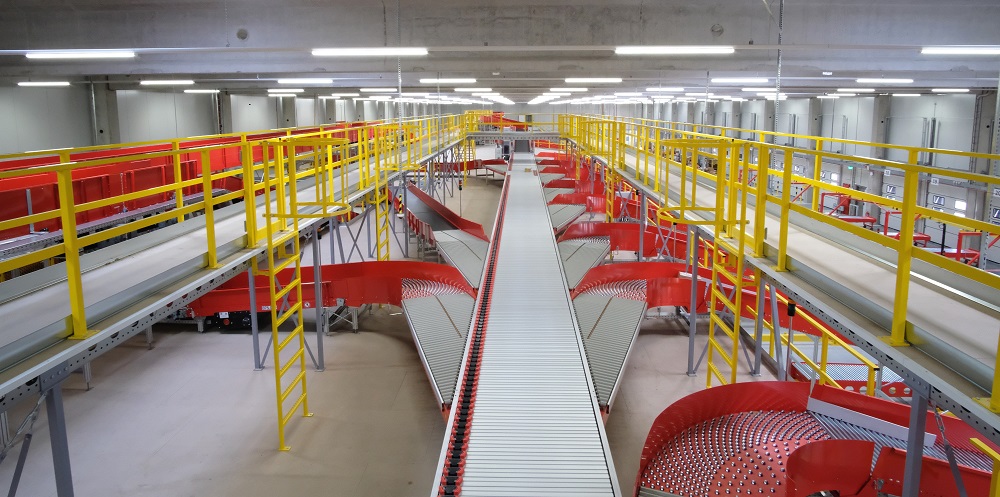 The VanRiet Group has installed a modular HC Sorter at DHL Express' new location in Hanover, where it will be able to process around 6,000 shipment items per hour through 7 input and 13 output lines. Its acquisition is part of a comprehensive investment programme by DHL Express in Germany, further supported by VanRiet at the locations in Nuremberg, Stuttgart and Hamburg. The official opening took place on 2 June.

'We have been cooperating successfully with VanRiet for several years now. Our recent decision to acquire another system from this company was based on their reliable technology, high level of expertise and flexibility', says Wolfgang P. Albeck, Managing Director of DHL Express Germany. The new distribution centre in Hanover bundles all national and international shipment flows to and from the region.
Seven supply lines feed incoming express parcels and documents into the system, comprising 5,600m2. After sorting and processing, the shipments are transported to the respective loading docks via 13 output lines. For fast distribution, the sorter has four PUD (pick-up and delivery) fingers, while its modular design allows for the expansion of that number. DHL Express also benefits from VanRiet's closed design, which prevents waste from entering the sorter and causing downtime through malfunctions. Moreover, the system boasts extremely low noise emissions and flexible processing of different product groups.
The sorter is also equipped with five side cameras to scan bar codes as well as automated weight and volume determination for individual packages. In order not to waste space, parts of the VanRiet sorting system have been installed on mezzanines. The space thus saved is used, among other things, to process non-conveyable packages manually. Also, a special area has been created for the handling of declarable goods (DHL WPX).

"The new location is an important step towards increasing our capacity, and VanRiet's technical know-how helps us achieve our growth targets" says Albeck. DHL Express is also investing in its locations in Nuremberg, Stuttgart and Hamburg, again using VanRiet technology.