Daifuku's 'Spider' Aims to Boost Automotive Parts Flexibility
27th September 2018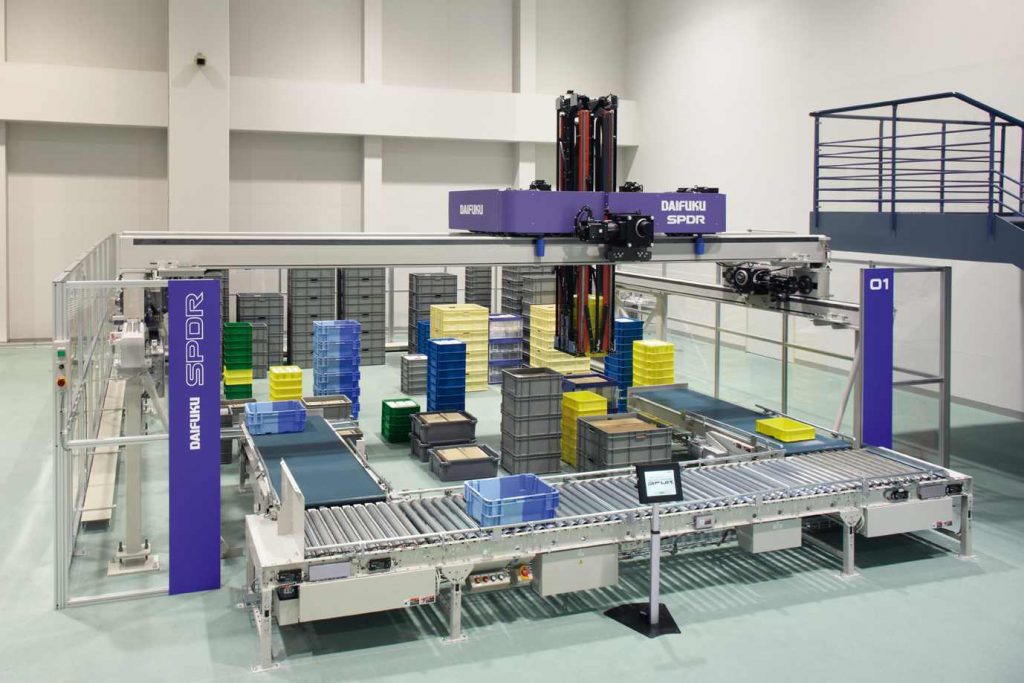 Developed primarily to meet the needs of the changing automotive industry, Daifuku has launched SPDR (pronounced Spider) as a temporary storage and sortation systems for spare parts. SPDR comprises an automated robotic arm, which automatically lowers and raises to grasp a wide range of tote sizes. This flexibility enables the picking of small items quickly, which is ideal for kitting.
Requiring no racking, SPDR is based on a framework which enables movement in four directions. The system stacks cases directly onto the floor of any open area within the support columns. The innovative arm mechanism is a proprietary technology and is the world's first to handle cases of varying sizes. It can grasp cases one by one or in a stack and thus can easily handle cases on lower layers, which facilitates operation, such as picking retrieval and grouping retrieval, to satisfy requirements on the line side.
In automobile plants, parts often need temporary storage before being supplied to production lines. In many cases, they are temporarily loaded onto the warehouse floor, to be then manually retrieved and sorted by employees. This places a heavy burden on workers lifting heavy parts – potentially causing injuries and time off.
Harry Chana, head of automotive at Daifuku said: "In addition, we had received many requests from customers who wanted to utilize limited space more effectively, automate operations with different case sizes and also install temporary storage solution in a short time period. SPDR has proven very popular globally so we're keen to offer this flexible solution to European OEMs."
The system has a high throughput of up to 80 storage and retrieval cycles per hour, with a maximum storage height of 7m. SPDR is remarkably flexible, allowing input and output ports to be located anywhere as needed. These can be modified or added in a short time even after installation.
SPDR can handle most commercially available containers, including standard, handled and collapsible containers, which can weigh up to 20kg individually and up to 150kg in total when grasped as a stack. Besides extensive functions for inventory control, SPDR provides various expansion interfaces that enable storage, retrieval, and inventory checks via tablets.