Conveying the right solution
20th October 2021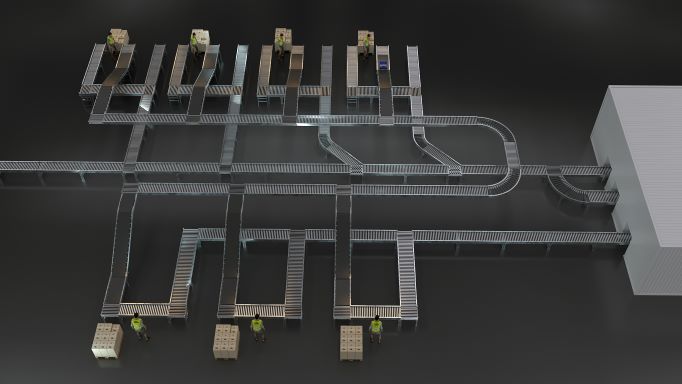 Japanese engineering specialist Itoh Denki believes it can help integrators and OEMs looking to find intralogistics conveying solutions for the new economy. Logistics Business magazine editor Paul Hamblin reports.
In a logistics world in which there needs to be room for businesses of all shapes and sizes, it follows that the conventional logistics model needs to be challenged. Yes, the big players will still need their large Build-to-Suit warehouses, and vast, multi-tenanted logistics parks are undoubtedly here to stay. But what about ecommerce providers looking for professional, fast logistics?
These companies might be small – but they might grow very fast, in which case they need agility, flexibility. Most of all, they want ease of payment alongside ease of use. Not for them the vast capital expenditures on logistics of those giants who can make such facilities so cost-effective. Ideally, they want state-of-the-art logistics capability without necessarily needing the building asset that goes with it.
Japanese-founded engineering specialist Itoh Denki, which has worked with integrators and OEMs in logistics for many decades in the supply of rollers and conveying components, has recognised this pattern. It has identified a trend, notably in Japan where land use is at a premium, but increasingly in Europe, for multi-storey, multi-tenanted logistics spaces deployed with a pay-per-use sharing model.
"Think of it as Hotel Logistics," quips Tatsuya (Ted) Akashi, Itoh Denki MD Europe. "You come and go as agreed, you can stay for longer if you wish and you only pay for those times."
Recognising that reliable, flexible sortation is key to this business model, Itoh Denki has brought its Diverter-Centric Sorting to the market. Best known for Motorised Driver Roller (MDR) technology, Itoh Denki's footprint in Europe has now expanded to include a fully capable Amsterdam Tech Centre to complement its base in St Pierre, France where the MDRs are given final assembly.
Alexander Gigerl, Technical Sales Manager, explains the Diverter-Centric sorting business case by pointing out that the high throughput of the traditional crossbelt sorter comes with a correspondingly high cost. He says that Itoh Denki's F-RAT (Flat Right Angle Transfer) will bring down those costs dramatically, but without necessarily the very high throughputs some customers require. The company's MABS (Multi Angle Ball Sorter) also brings with it considerable cost savings versus the cross belt but with three times the throughput of the FRAT. The combination means that Itoh Denki can offer a powerful hybrid solution to suit a variety of budgets and requirements.
An enormous variety of package sizes can be smoothly transported, even the most fragile loads. The list of benefits includes the flexibility and scalability that comes from a fully modular system. Maintenance and service is another plus, because faults can be sourced and fixed quickly via this modularity, without unnecessary and profit-killing downtime. Safety and comfort of workers is promised by the optimised footprint of the layout and the super-quiet, no pneumatics, 24v DC power source.
It is fully CE compliant, which means costs will not be incurred in installing extra safety facilities or barriers in the vicinity. Energy efficiency is assured by on-demand operation, the motor driven only when a load enters the zone.
The central 90° technology of the F-RAT offers the benefit of transfer without changing levels. Meanwhile, the MABS solution offers 30, 45 and 90° transfer.
Itoh Denki emphasises that it will not be selling direct to end users and will continue to work with its established OEM partners to ensure end user customer delight.