Automated Handling System at British Gas Clocks Up 10 Years
1st November 2016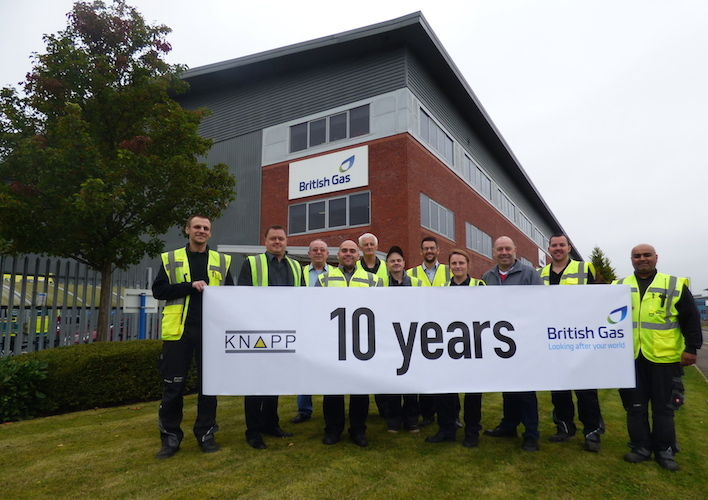 The automated handling solution supplied by KNAPP to British Gas at its National Distribution Centre in Leicester has achieved 10 years of successful operation, supported by a team of resident KNAPP service engineers.
British Gas celebrated the 10-year milestone with a week of fun events for staff that included throwing wet sponges at colleagues in the stocks and a pop-up photo booth – all of which raised funds for the local charity, LOROS, which provides hospice care in Leicestershire. The week culminated with a buffet lunch and a charity prize raffle, for which KNAPP donated two iPads. Nathan Billing, Head of Customer Service for KNAPP UK Ltd, visited the National Distribution Centre (NDC) to present the prizes and congratulate both the British Gas team and the on-site KNAPP service engineers.

"Reaching this 10-year anniversary is a great achievement," commented Nathan Billing, "and is testament to the spirit of partnership between British Gas and KNAPP in the evolution of the automated handling systems at the Leicester NDC." Present on site since the automated logistics solution went live in October 2006, the 15-strong KNAPP team is one of nine resident teams at customer sites across the UK.

Downtime minimized
Under a 7-year maintenance contract signed in 2013 – the longest KNAPP service agreement to date – the KNAPP engineers provide a 24/7/365 service that includes preventative maintenance, spare parts management, hotline support, IT services and emergency repair. With the life expectancy of each piece of equipment assessed, parts are replaced before they fail, resulting in fewer system outages. "The ongoing programme of preventative maintenance has been extremely beneficial to our business," commented Jason Bailey, Logistics Manager for British Gas. "Downtime has been reduced and the NDC has an excellent reputation within our parent group, Centrica."



Next-day supply of parts
The 12,800m2 NDC is used for the next-day distribution of gas and electrical appliance spare parts and ancillary equipment to some 13,000 British Gas engineers nationwide. Serving more than 11 million home and business customers in the UK, the company's Leicester operation is both huge and complex, with some 40,000 stock lines. "In summer, 25-30,000 items are distributed from the NDC each day, rising to 40-45,000 items per day in winter," explained Jason Bailey. "The warehouse operates seven days a week and orders made by our field engineers by 8.00pm are delivered to one of 800 collection points across the UK by 7.45am the next morning. It is the automation that has makes this possible," continued Jason Bailey, "and in fact the system allows access to any item in a maximum of 20 minutes. We also supply the engineers' van stock."
The logistics solution features two of KNAPP's OSR ShuttleTM automated storage and retrieval systems, as well as a miniload store, several thousand metres of intelligent conveyor and pick-to-light technology. As British Gas engineers order their required parts and materials at each customer site via their laptops, shipping totes are part-picked and buffer stored in one of the OSR ShuttleTM systems, allowing rapid vehicle loading when loads are ready for distribution.


Successful partnership
The KNAPP solution has secured a number of benefits for British Gas including improved management information, the capacity to handle growth, significantly reduced manual handling, enhanced stock integrity, superior space utilisation and a significant reduction in picking errors. "British Gas has been proactive in investing in extensions and upgrades for its warehouse automation," added Nathan Billing. "Of course, having members of our team on site has undoubtedly helped us to understand British Gas' evolving business needs and suggest enhancements." During his visit, Nathan Billing also presented the resident KNAPP engineers with watches engraved with both the KNAPP and British Gas logos. "Under the continuing partnership with British Gas," he added, "KNAPP also recently took responsibility for customer service at the British Gas returns centre in Coventry, which we are supporting through our field service team and visits from members of our on-site team at Leicester."