"'Casual' forklift training poses serious risk to businesses" warns RTITB
7th October 2015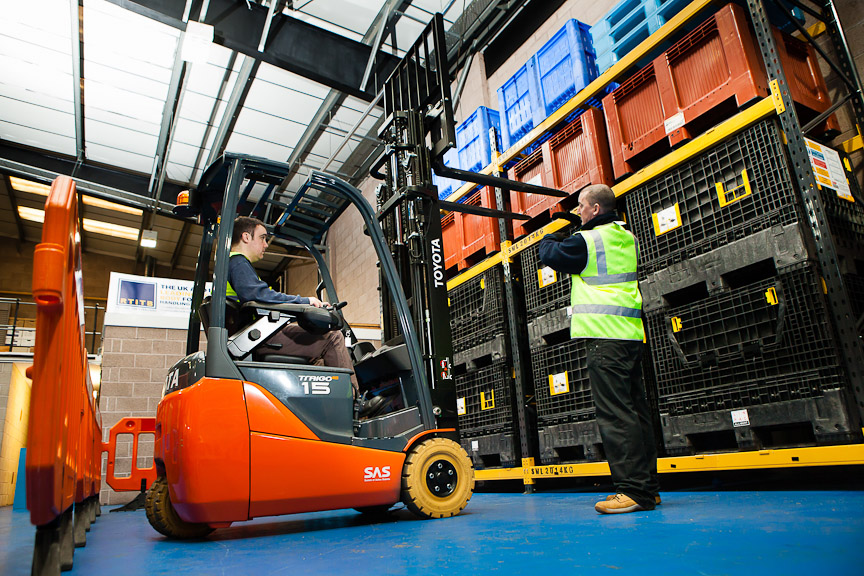 According to the Health and Safety Executive (HSE), some businesses allow lift truck "training" to simply be carried out by a forklift operator, who may or may not be correctly trained themselves, rather than using professional lift truck instructors. RTITB warns of the dangers of 'casual' training and confirms best practice.

"Forklift training should be delivered by an instructor who is trained and qualified, as clearly outlined in the Approved Code of Practice for Rider Operated lift truck guidance (L117) from HSE," says Laura Nelson, Managing Director of leading workplace transport training accrediting body, RTITB, explaining that good quality training is crucial in helping to prevent accidents in the workplace.
The HSE has expressed that improperly trained "instructors" are an ongoing problem that must be tackled. To encourage safe work environments, comply with HSE guidance and reduce the possibility of accidents, businesses are urged to ensure that they employ or contract properly qualified instructors to train their operators. By not doing so, business owners and warehouse managers expose themselves to risk of prosecution, particularly in the event of an accident.
Last year, for example, the HSE reported* that a North Lanarkshire employer was fined ?24,500 for safety failings which led to a worker being killed after he was thrown from a forklift truck and crushed. The employee had not received any formal training on driving forklift trucks; he had been given about 20 minutes' in-house training. There are several similar reports on the HSE website, which could have been avoided with the correct training carried out by a qualified and competent instructor.

"It is true that a good forklift operator can make the best instructor, and there are many benefits to training up an operator who is already familiar with your operation to become an instructor," Laura continues. "But they do need to complete their instructor training to make that transition. Instructor training consists of more than just the forklift operating skills."

Lift truck operator training can be carried out in-house or at a training centre. Delivered by a qualified instructor it offers a number of benefits, such as heightened safety, improved efficiency, increased margins due to reduced equipment and product damage, and confidence amongst operators.
As well as knowing how to operate the equipment, a qualified instructor knows how to plan and prepare courses, give practical instruction, assess and test an operator's skills, and has a solid and up-to-date understanding of any relevant legislative frameworks. A skilled instructor also understands whether a struggling trainee requires a boost in confidence or motivation. All these additional skills are taught via proper accredited instructor courses.
Impartial examinations are used to test the abilities of candidate instructors and to ensure RTITB qualified instructors perform to the highest industry standard. This means that employers and trainees can be confident in the skills and ability of an RTITB qualified instructor.

"Due to the stringent process and impartiality, passing an RTITB examination is something candidates can be truly proud of," Laura Nelson adds. "The current national pass rate is over 80%."
RTITB lift truck instructor courses can be purchased from a network of RTITB accredited providers or from the RTITB Instructor Academy. The courses take just 10-12 days to complete and can be undertaken onsite at the training provider's premises, or at a dedicated training centre.
To enrol on an RTITB instructor course a trainee should hold a certificate of Basic Operating Skills for the specific machine type, completed in the last 12 months. RTITB also recommends that candidates provide evidence of at least six months' industrial operational experience to enhance their application, as instructor positions are competitive.
A useful instructor candidate selection video, advising employers how to identify the specific qualities and skills to look for in an instructor, is available via the RTITB App for iPhone and Android devices. For more information please call the RTITB team +44(0)1952 520 207 or visit www.rtitb.co.uk.