Conquering retail peaks with mobile robots
2nd December 2022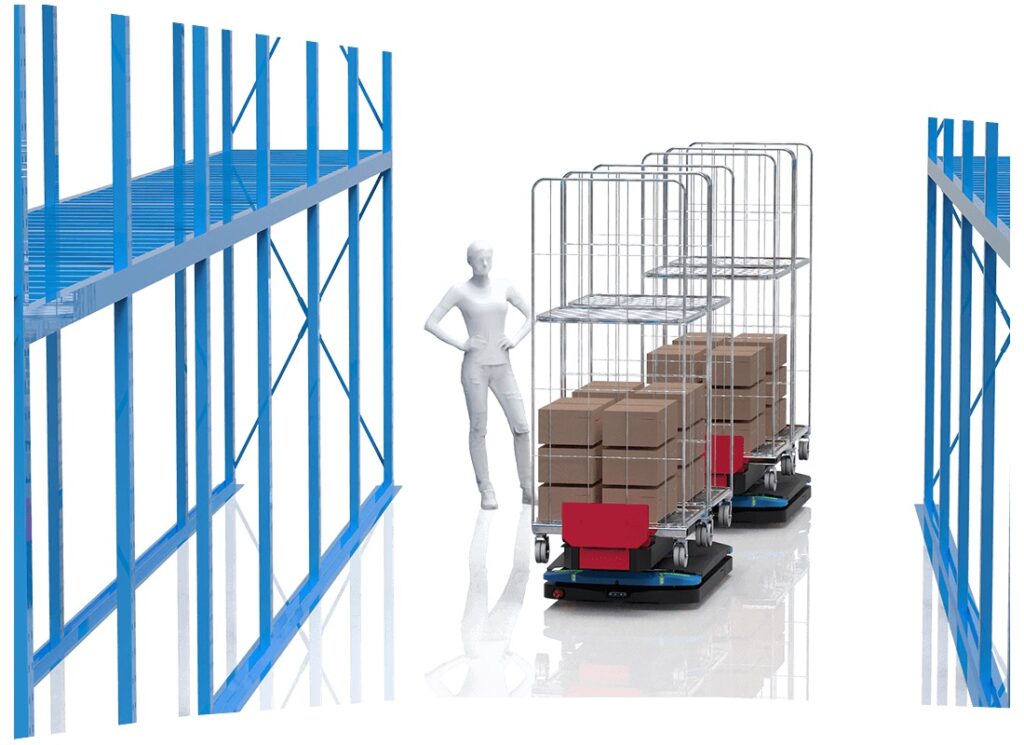 Retail peaks such as Black Friday can seriously challenge intralogistics operations. Autonomous Mobile Robots (AMRs) offer a cost-effective solution that will help remove much of the risk, smooth the spikes and ensure continuity of service to customers, writes Frazer Watson, VP-Sales UK/Ireland at mobile robot designer and manufacturer iFollow.
Not so long ago peak in retail meant Christmas. Now there is a whole season of peaks through autumn, starting with Black Friday and followed by Christmas and then Boxing Day. This year, unusually, the World Cup has been thrown into the mix, which shows how peaks can crop up at any time. After Christmas comes the inevitable peak for returns, which now run at unprecedented levels across retail. In fact, depending on the sector, peaks will keep popping up throughout the year – Valentine's Day, Easter, summer goods and Halloween being just a few examples. Fashion retail has moved from two main seasons of Spring/Summer and Autumn/Winter in a year to over 50 micro-seasons catering for new trends and rapid customer purchases.
Peak events are not limited to promotions where the retailer is in charge of how much and of what is being offered, such as with Black Friday. There are likely to be instances of unpredictability, where they have no control over demand. For example, each Christmas sees a 'must have' toy or game emerge, sometimes apparently from nowhere.  Book publishers can launch what they assume will be a 'best seller', but they have little influence on the content or timing of reviews that may promote sales. These days, all it takes is word to spread on social media to spark lines to fly off shelves. With so many peaks, many being off-piste, it starts to look like a mountain range for retailers to conquer.
Cost of living crisis affects peaks
And that's not all. The cost of living crisis is expected to have an overall dampening effect across this year's peak season, though Black Friday may be an exception as shoppers spread the cost of Christmas by taking advantage of reduced prices. Consultancy PwC estimates the overall spend on Black Friday bargains to be £7.5bn this year – some £0.5bn higher than last year. Nevertheless expectations of consumers cutting back in the coming months in some form abound, certainly in non-grocery. This puts additional pressure on retailers during the most important part of the year and at a time when they are facing higher energy and labour bills, as well as rising commodity costs.
With profit margins under intense pressure and given the crucial role warehouse operations play in ensuring that customers are not let down, retailers are looking for flexible and cost effective intralogistics solutions that can help to improve their bottom line and achieve their priorities­ – including continuity of customer service levels. Resources such as warehouse shelf space and labour are tight. To cope with peaks, it may be necessary to change modes of operation, which might mean different pick routines in the warehouse, for example.
To support this need for flexible intralogistics processes it makes sense to also have in place easily adaptable, robust and reliable equipment that not only performs everyday functions, but can also be scaled up whenever necessary to meet peak demand. Few items of intralogistics equipment tick these boxes as successfully as AMRs, which is one of the reasons why robotics has become an integral part of warehouse operations. According to the International Federation of Robotics report, half a million industrial robots were installed in 2021 globally. This represents a growth rate of 31% year-on-year and exceeds the pre-pandemic record of robot installation in 2018 by 22% – we can call that a new peak.
Easily scaleable
A significant advantage of using mobile robots in retail warehouses, unlike systems that are fixed to the ground, such as conveyors and automated storage and retrieval systems, is the ability to add and remove robots to meet demand. Given they do not require the support of infrastructure, their tasks can be easily modified to suit changes in requirements.
They offer simple automation that can enhance productivity. For example, assigning one zone per operator and organising the robot's shifts according to the products it has to pick will maximise the number of picks per hour achieved by a picker and will minimise their movements. This allows the operator to gain up to 90% in productivity compared to manual preparation.
Duo picking is an excellent way of working efficiently with one or more mobile robots. Each operator is equipped with a voice terminal, a Radio Frequency (RF) terminal or an order picking tablet to read the list of items to be picked. This picking method allows the operator to gain up to 50% in productivity compared to manual picking.
Fleet management software
Fleet management software that can manage up to 200 robots, and works with all ERP and WMS systems, will efficiently allow locations and tasks to be modified with just a few clicks.
Christmas being the busiest time for grocery retail is a trend that is unlikely to ever change, despite current economic conditions. The ability to handle two roll cages up to 1500kg on one robot, which is a stand-out feature on iFollow's AMRs, will be a massive help to warehouse operators looking to keep the supermarkets shelves full of everything required for Christmas. iFollow AMRs can also operate in cold rooms down to -25°C and ensure the absence of condensation, even when moving from a very cold environment to a temperate space, which demonstrates their flexibility and reliability.
In a volatile retail economy, predicting and managing future events is always going to be difficult. Mobile robots offer a great intralogistics solution to support agile retailers that cannot afford to disappoint at peak. But remember: robots aren't just for Christmas – they should be at the core of everyday intralogistics operations, continually providing flexibility and improving productivity.