ConFoot sponsors Agoria Solar Team
20th April 2022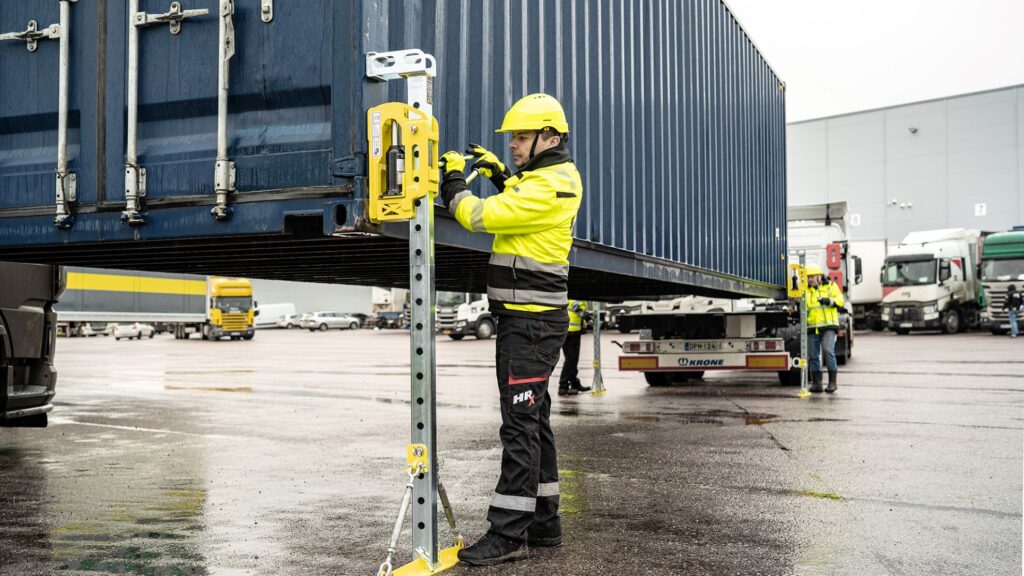 ConFoot Ltd is sponsoring Agoria Solar Team, the solar car building team from the University of Leuven in Belgium, by providing the team with the latest ConFoot CFU model for lifting and lowering shipping containers.
Agoria Solar Team is competing in the Bridgestone World Solar Challenge with its Bluepoint Atlas car, and has so far won the World Championship in 2019, as well as the European Championships in 2020 and 2021, being the first team ever to have won both titles.
However, winning is not the only goal; the team aims to promote renewable energy, introduce innovative techniques and ideas, promote entrepreneurship and inspire young people.
The three-wheeled Bluepoint Atlas has an entirely self-built engine, with microstructure containing solar panels to increase efficiency, and artificial shark skin to improve aerodynamic performance.
The biannual Bridgestone World Solar Challenge is the world's toughest and most prestigious solar car event, and it has been inspiring the most brilliant minds in engineering and pushing the limits of technological innovation for 30 years.
In 2019 the competition had 44 teams participating from 21 countries.
The ConFoot CFU model has manually operated hydraulic bottle jacks incorporated into the leg structure, enabling for the container holding the solar car to be lowered all the way to the ground from the truck's trailer and lifted back again without any additional container handling equipment.
The co-operation between ConFoot and Agoria Solar Team is a continuation of ConFoot's work with various pioneers and innovators in the renewable energy sector.
Agoria Solar Team Car Facts:
Length – 5,000mm
Width – 1,300mm
Height – 900mm
Weight – 190kg
Maximum speed – 150km/h
Range – 700km
Number of solar cells – 292
Solar panel power – 900-1,000W
Solar panel surface area – 4 sq m
Solar cell efficiency – 28%
Motor efficiency – 98%
ConFoot CFU Facts:
Capacity – 20t
Lifting/lowering range – 0-1,400mm
Single leg weight – 46kg (consists of several pieces, individual piece weight under 25kg)
Number of legs in CFU set – 4
Operational temperature – -20 +40°C