CoEvolution Makes ProMat Debut
21st March 2023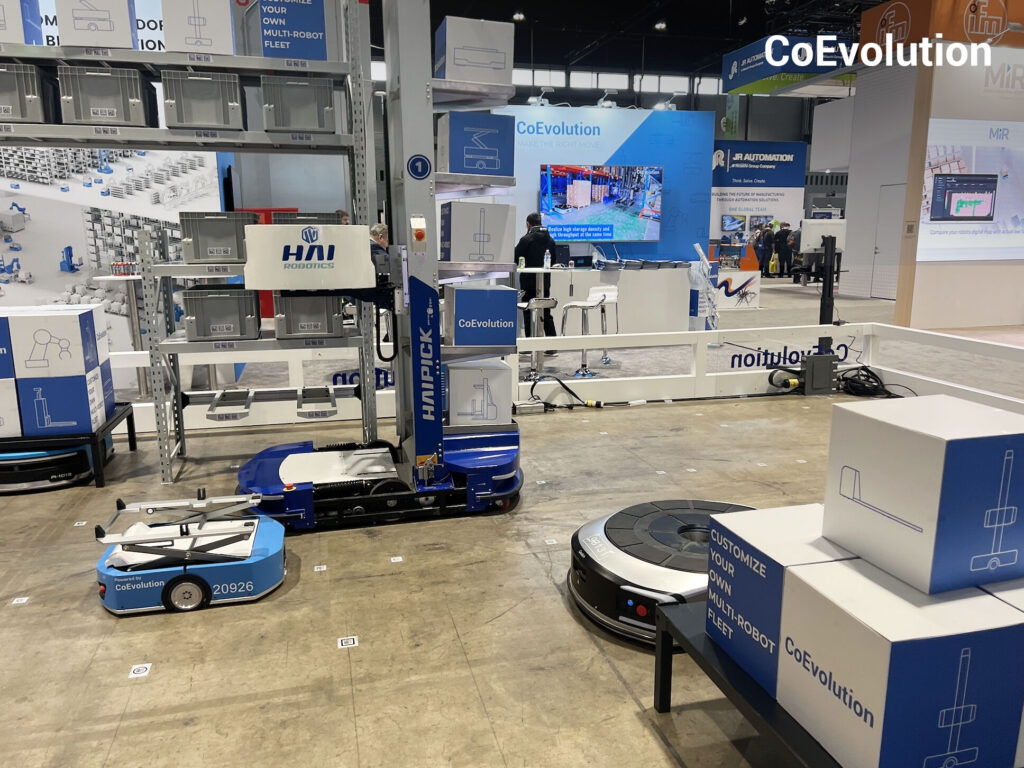 Multi-robot orchestration software specialist CoEvolution Technology has launched its products onto the US stage and is now seeking partners in North America. As part of its first appearance at the ProMat industry trade show in Chicago this year, CoEvolution has been showcasing its multi-robot orchestration software solutions.
CoEvolution's core technology is AI-powered software that can control different types of robots and coordinate them seamlessly, so they operate as a homogenous fleet. Using this core technology engine, the company builds multi-robot orchestration software solutions for customers that are innovative, highly efficient and flexible, including synergised robot control systems, automation process orchestration, and smart logistics simulators.
CoEvolution aims to build the next generation of flexible logistics automation solutions, to help customers quickly adapt to an ever-changing business environment. The company's team of co-founders bring with them many years of AI and robotics experience. CoEvolution already has more than 30 industry awards and over 20 patents to its name, and it focuses on customer value, continually striving to "co-evolve" with its customers.
Seeking US partners
Having established itself in a number of international markets, CoEvolution is now securing its presence in the US market and seeking to forge new partnerships as part of its ambitious goal to expand its US customer base, open its first US office, and hire a US workforce in the near future.
CoEvolution brings with it mainstream robot vendor partnerships (such as with Geek+) and is actively seeking North American partners at ProMat, including robotics vendors, logistics companies, systems integrators, 3PLs, and others.
Global demand for mobile robots is anticipated to undergo rapid growth over the coming years, with shipments expected to increase by around 50% between 2022 and 2027. Alongside this, the need for multi-fleet orchestration is growing in popularity at an even faster rate, with a forecast CAGR of 138% over the same five years, according to the recent Warehouse Automation Software report from market intelligence specialist Interact Analysis. And the outlook is even better for the US multi-fleet orchestration market, with a predicted CAGR of 147% over 2022-2027.
What is AMR orchestration?
In a traditional robot fleet implementation model, different types of robots are physically separated and operate in different regions within the warehouse, leading to low space utilisation. However, this results in low efficiency in integrating different processes and it is often hard to control traffic for multiple types of robots.
CoEvolution's system can improve utilisation of space by providing a means of controlling multiple types (brand, navigation, functionality) of robots holistically, and synergised control of a mixed robot fleet can increase efficiency by 20-30%.
Utilising multiple types of robots to create smart warehouse systems leads to high storage density and high throughput, increasing operational efficiency and reducing errors. CoEvolution's AI-powered multi-fleet orchestration software can also be used in production and processing settings to control different types of robots working collaboratively together as a homogenous fleet to create a complete intralogistics system.
Next-generatoin flexible automation
Michael Wang, CoEvolution Chief Operating Officer, says: "We aim to bring our next-generation flexible logistics automation solutions to the US through successful partnerships. The need for multi-fleet orchestration is growing and we are excited to launch our software into the North American market at ProMat 2023. Having just incorporated in the US, we are ready to do business and are actively seeking partners who will work with us to bring our innovative intelligent flexible logistics solutions to a wider audience.
"I am so proud that our products, combined with our growing portfolio of partners, mean we can offer a wide range of warehouse automation, logistics and material handling solutions to customers, with rapid deployment and fast ROI. Our multi-robot orchestration technology has been proven to increase storage density, improve productivity, enhance efficiency rates and deliver cost savings.
"We very much value the US marketplace and the opportunities it offers, and that's why we came to ProMat 2023. We have been communicating our vision of the smart warehouses and factories of the future to the leading players in the industry. Looking forward, I will personally be taking charge of our activities in the US and I am joined at ProMat by our Co-founder and Chief Scientist Heng Liu, and a team of expert CoEvolution solutions engineers.
"Having been recently named by leading US tech publication The Information as one of the 50 most promising start-ups of 2022, we are already starting to make waves in the North America and plan to keep doing so!"
CoEvolution at ProMat
At its 1,500 sq ft booth, CoEvolution is showcasing its AI-based mobile robot orchestration solution to a US audience, including:
The CO-PICK smart warehouse system, including a demo which utilises six kinds of mobile robots running collaboratively, including integrating an industrial/commercial cleaning robot into the system
The R-Star Smart Factory Solution, which can be seamlessly integrated with customers' WMS, ERP or MES systems to control various mobile robots. It includes path planning and traffic control capabilities to deliver quick, easy-to-use and flexible workflow configuration.
A demo video of CoEvolution's simulator, which is based on actual logistics control and robot control systems. It supports real business workflow simulation of smart warehouses and factories with 2D and 3D visualisation, and a comprehensive data dashboard.