Charging forklifts cost-efficiently
13th June 2022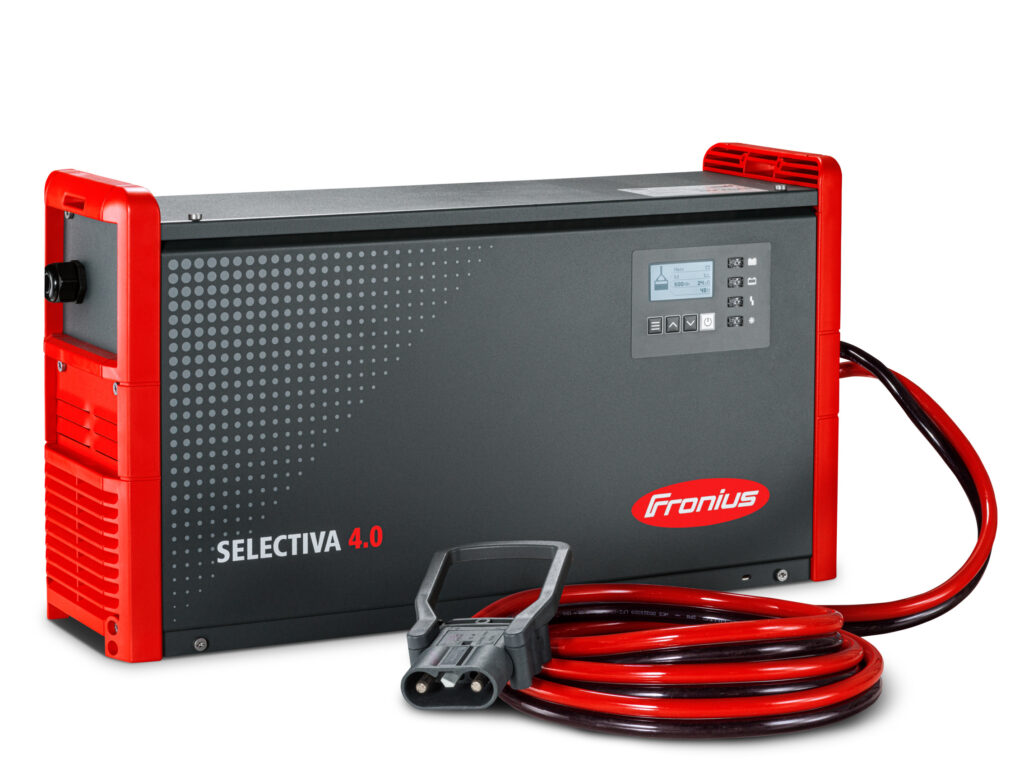 Many companies are currently suffering from rising energy costs and are looking for additional cost reductions. Enormous savings potential can be generated by intelligent charging solutions for electrically operated industrial truck systems. Complementary energy analysation and optimisation consultancy can help fleet operators to save additional money on electricity consumption.
Reducing electricity costs is now highly ranked on the industry's to-do list when it comes to ecological and economic issues. That is why energy-efficient solutions are required – this also applies to electrically operated forklift systems. Significant savings potential opens up if users take a holistic view in optimising the overall operating system of industrial truck, battery and charger.
Reduction of energy consumption
Energy-efficient charging technologies from Fronius Perfect Charging help to save energy: Selectiva 4.0 chargers are particularly gentle and effective during charging due to their high overall efficiency. The patented Ri charging process ensures that each process is individually adapted to the age, temperature and state of charge of the battery. Overcharging can be avoided, only the energy that is actually required is supplied. Compared to conventional charging technology, the energy consumption can be reduced up to 30 percent. The service life of the battery can be extended up to 10 to 15%.
Fleet operators can also save electricity and costs by using the calendar function integrated in the Selectiva 4.0 battery chargers. If the user starts the process in individual charging stations or rooms at intervals of 15 minutes, for example, there is no increased cumulative power requirement at the beginning of charging. Peaks in the network load can thus be avoided. Fluctuating electricity tariffs, which in many cases depend on the time or day, can also be effectively managed with the calendar function. If the user sets the start of charging at a defined time or on weekend days, they can take advantage of lower rates.
Identify additional savings potential
Using the software tool I-SPoT Calculator Smart, fleet operators can calculate the total operating costs (costs over lifetime) and determine how power consumption can be minimised with the help of the optimal charging technology – individually for different company locations and individual departments. The user thus finds out exactly the starting point and sequence for the optimisation measures as well as how high the savings are compared to 50Hz or HF technology.
The Fronius Perfect Charging experts are available for a more detailed analysis and energy consulting, evaluating further options for energy savings. To do this, the experts analyse the conditions regardless of manufacturer and technology – always with the aim of reducing costs and increasing availability and performance. Based on the identified potential, the Fronius specialists support the user regarding the charging process, battery technology and networking solutions. Fronius Perfect Charging follows a holistic approach and supports customers from analysis and advice to conception and planning to implementation and ongoing support.