Case Study: Innovative Loading Bay for Shannon Airport
12th November 2019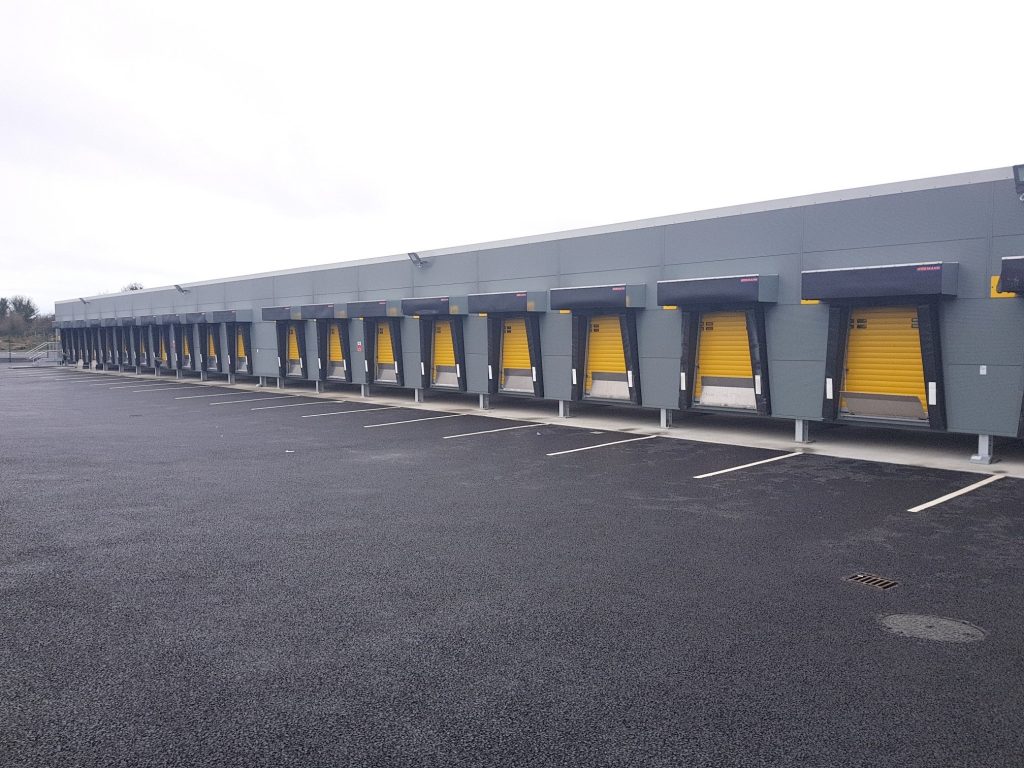 Hörmann Ireland has secured a new partnership with leading logistics company, DHL, to supply an innovative loading bay facility near Shannon Airport, Ireland. The bespoke facility, which has been uniquely designed by Hörmann, safely and easily facilitate DHL's small transport vehicles.
The €4.5 million development has been purpose built for use as a DHL Express facility to serve customers across Clare, Galway, Limerick, Tipperary and Kerry. The new warehouse has been constructed in response to an increase in demand for facilities that cater for small transport vehicles, suited for courier services and lighter parcels.
With E-commerce parcel volumes growing 9% annually, the demand for warehousing facilities to have the ability to stock and sort deliveries has subsequently increased. In response to this, the new DHL Express facility aims to improve the efficiency and output level of parcels distributed around Ireland, whilst also improving the safety and security of logistics drivers and warehouse operators loading and unloading parcels.
The DHL Express facility features 38 unique loading bays, suited for small commercial vehicles that are used by DHL's fleet of drivers. The loading bays are supported by Hörmann Ireland's BBS dock seals and top shelters for small transport vehicles, as well as 38 Decotherm rolling shutters. The products have been specifically designed and specified to allow for smaller vehicles to efficiently use the facility without compromising on security while the parcels are being handled, as well as the safety of those working in the facility.
Hörmann Ireland's Decotherm Rolling Shutters provide flawless roll-action, which allows for smooth operation in the development, whilst also minimising heat loss by creating a connection between the vehicle and loading bay.
As well as supplying 38 bespoke loading bays specifically for DHL's fleet of smaller vehicles, Hörmann Ireland also provided two standard hinged-lip dock levellers with wheel and light guides in order to cater towards heavy goods vehicles (HGVs) that may use the warehousing facility. The addition of dock levellers compensates for the difference in height between various truck floors and ramps, therefore allowing for loads to be moved in or out of HGVs in a single horizontal movement. The vehicle alignment guides provide exceptional levels of safety for all, particularly when loading or unloading is in process, as drivers of larger trucks are able to see how they are able to safely park their vehicle before loading and unloading takes place.
Managing Director of DHL Express in Ireland, Bernard McCarthy, commented: "The completion of our new facility is a significant milestone for DHL Express in Ireland and it is a testament to our commitment to the region. The necessity to expand our facility reflects the growing demand for our courier services in the area. The warehouse is strategically located next to Shannon airport, where our daily carrying capacity is 30 tonne, as well as having close links to the national road network. The way companies do business and the way consumers shop is changing drastically meaning e-Commerce is becoming an increasingly important aspect of our business. The way we operate as a business must evolve to accommodate these changes and this new development signals the next step in this process.
"We worked closely with Hörmann Ireland, who supplied us with loading bays and low dock seals, specifically suited for our small transport vehicles. As the dock seals are designed to seamlessly manage the vans used by our couriers, it provides us with additional peace of mind, as it minimises the risk of accidents occurring due to loads being transported in and out of the development unsafely.
"Ireland is considered to be a 'trading nation' and as such, our warehouses are custom built to cater for changes in the way parcels are delivered. As there are more small commercial vehicles on the road due to an increase in e-Commerce, our courier services needed a warehouse facility that could enable safe and secure loading and unloading of vans. Hörmann Ireland helped ensure this."
Managing Director for Hörmann Ireland, Stuart Doyle, added: "We were specified by DHL Express to supply products for use by small transport vehicles, specifically the Volkswagen Crafter. The DHL team focused on what is required in the area surrounding Shannon Airport and worked closely with us to develop products that are fit for purpose and safe for its staff using the facility. Developments such as this are vitally important in terms of providing warehousing solutions that meet the needs of the changing landscapes of the courier and logistics industry. It was an exciting project to work on and demonstrates the forward thinking nature of our products."