Case Study: From Pick to Shout to Pick to Light
26th November 2019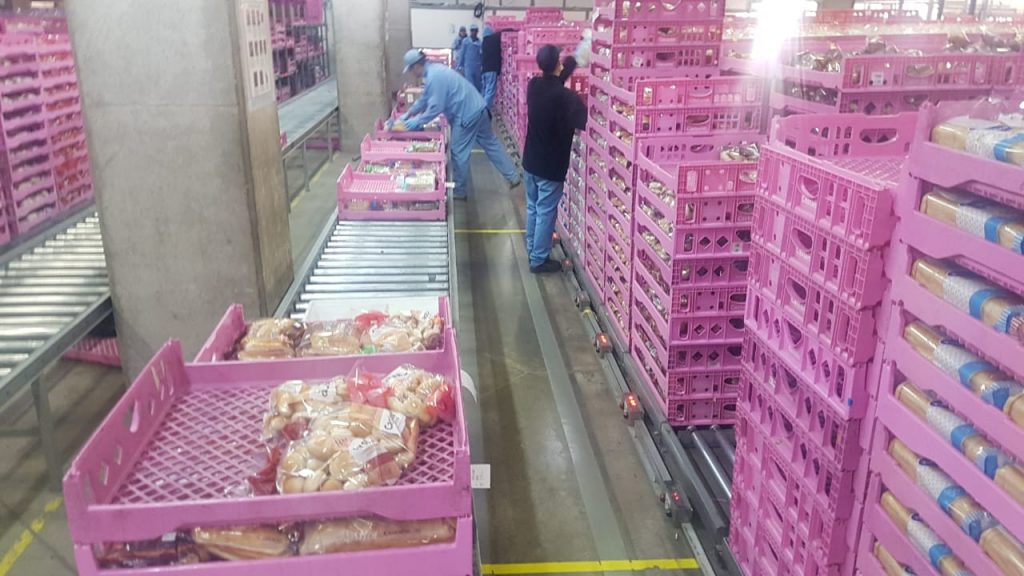 Pcdata Logistics Automation, a Dutch system integrator and specialist in PTL techniques, supplied a Pick and Put to Light system to food producer Castaño in Chile. This is the story in their own words.
On a daily basis, Castaño supplies freshly produced product to both its own stores and retail chains such as Walmart. Depending on the product groups (fresh or packaged) and the sales channel, Pick or Put processes are chosen. The Pick and Put to Light technology is a major advance in productivity and reduces picking errors. Before implementing the system Castaño used what it calls "Pick to Shout" technology.
By digitizing the order picking process, food manufacturer and distributor Castaño has considerably increased both productivity and accuracy. The Chilean company has installed Pick to Light for order picking of packaged, long-life products and Put to Light for the distribution of daily fresh pastry products and other food products. Co-owner Cristobal Castaño: "We now have much more control over the process."
Castaño shops form an inseparable part of the street scene in Santiago. People constantly walk in for a sweet pastry, fresh salad or a savoury empanada. The number of stores in the Chilean capital and surroundings is growing. The 100th store opened last summer. "We also supply fresh products and pastry to other retail stores, plus we produce various packaged bread products that we sell through supermarket chains in Chile, including those of Walmart, " says Cristobal Castaño, who manages the company together with his brothers.
The production for Castaño and other stores shows major differences with the production for the supermarket chains. For the first case, it concerns 150 plus locations and an extensive range of more than 200 daily fresh items with a shelf life of one or two days. For the second case, the company supplies supermarkets – 600 plus locations throughout the country – with a range of up to 80 longer-lasting, packaged items. "Around fifty percent of the products we make in Santiago go to the supermarket chains. The rest to our own branches and those of other customers like Starbucks," explains Castaño.
From "Pick to Shout" to Pick to Light
For many years preparing the orders was a manual, labour-intensive process. The management was vocal and was in the hands of the team leader. Castaño smiles, not Pick to Voice but Pick to Shout. "The accuracy has been inadequate. It often happened that products were exchanged or orders were partly delivered."
Castaño installed Pick to Light for the packaged products. Later the installation of Put to Light for the daily fresh products followed. "Given the range and the customer base, that was the best choice for both operations," explains Castaño, who is satisfied with both systems. "The reliability and stability is great".
Higher productivity, fewer errors
The most important advantage of Pick to Light is the increased order processing capacity of 50%. "That means that our people have time for other activities" says project leader Ronald Aguirre.
At Put to Light, the increased accuracy is striking. The number of picking errors has decreased considerably, so that the Castaño stores hardly complain about missing products. Aguirre adds. "The capacity has also increased thanks to Put to Light. This does not mean that we have time left over when distributing fresh products, but that we have more time after each wave to prepare for the next wave. As a result, we now have more control over the process. "