BYD Forklift unveils advanced products at LogiMAT
1st June 2022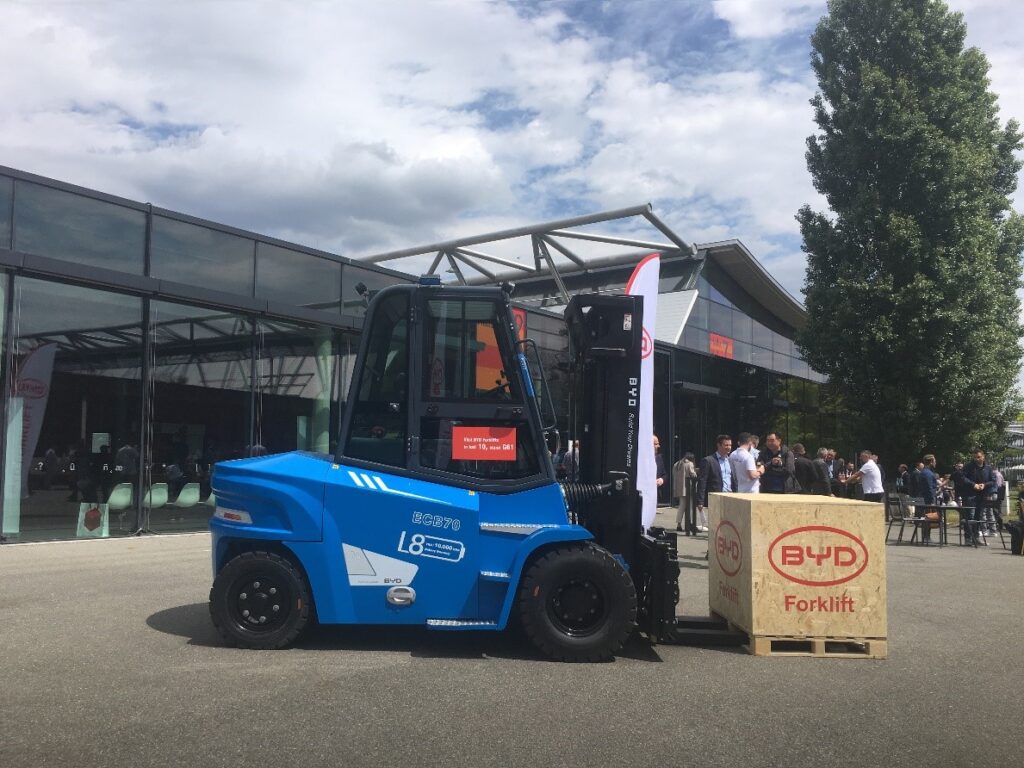 BYD, a world-leading manufacturer of New Energy Vehicles (NEVs), is using the occasion of this week's LogiMAT trade fair to introduce new products to its range of zero-emission forklifts. A highlight is the European premiere of the heavy-duty BYD ECB70/80 counterbalance forklift. Additionally, BYD is demonstrating an expanded range of industry-leading robust material handling equipment, all powered by the patented BYD Iron-Phosphate Battery.
Since the previous staging of LogiMAT in 2019, BYD Forklift has significantly expanded its range of award-winning forklifts. The new heavy-duty BYD ECB 70/80 is BYD's highest-capacity counterbalance forklift to date, and is being displayed in an outside area (between halls 9 and 10) to reflect its suitability for use both inside the warehouse and outside in the yard. Representing a breakthrough in a sector dominated by diesel- and lead acid-powered trucks, the BYD ECB70/80 can operate for up to nine hours on one charge. BYD's advanced charging intelligence means with just one hour of charging, its range can be extended a further two to three hours, making it an attractive proposition for high-intensity operations in sectors such as manufacturing, beverage and building products.
LogiMAT visitors are also among the first in Europe to see the BYD ECB20S, a three-wheel counterbalance with a 2-tonne capacity that ensures BYD offers a complete product range to meet every customer's needs. Originally scheduled to make its public debut at the cancelled 2020 staging of LogiMAT, the all-purpose BYD ECB20S has attracted considerable attention from busy logistics operations thanks partly to its flexible zero-maintenance battery options that offer the highest-possible levels of availability.
Making their European debuts are a pair of powered pallet trucks from BYD each offering lifting capacities up to 2 tonnes. The BYD PTP20P features a fixed ride-on platform and side panels, and has been optimised in virtually every area to improve operator safety and ergonomics, as well as manoeuvrability and energy efficiency. The new BYD PTW20Si, designed for use in retail, supermarket and stores for easier picking and transportation tasks, boasts a compact design, light weight and the ability to lift up to 750mm.
As well as introducing models into existing ranges that offer greater choice of capacities, BYD has launched the SEF range of counterbalance trucks, which have been designed to bring a cost-effective forklift to low-level users who may previously have believed the advantages of a lithium solution were beyond their reach. Visitors to BYD's stand have the opportunity to see at close quarters the new BYD SEF35 for the first time, which has been carefully configured to deliver similar driving and performance characteristics as a diesel forklift with an equivalent capacity.
As a global leader in NEVs, BYD is renowned for making significant advancements in charging technology, and takes the opportunity at LogiMAT to display a number of its smart chargers. As well as a continuous drive to extract the greatest performance using the lowest-possible energy consumption, BYD offers a new smart charger with flexible charging configurations that optimise energy use for any material handling application. Uniquely, BYD manufactures its efficient next-generation chargers and batteries in-house, making it the only manufacturer with the ability to ensure its forklifts are fitted with a tailored battery solution.
The line-up of BYD products at LogiMAT are completed by further Iron-Phosphate Battery-powered zero-emission models from its extensive range. Demonstrating it has a truck for every purpose, BYD is showing the rugged BYD ECB50 with a 5-tonne lifting capacity, and the BYD EPS14Pi, a manual stacker with a capacity of 1,400kg and lifting heights of up to 5,400mm.
Finally, BYD is unveiling tools that help fleet managers keep tabs on their vehicles whilst also helping them to optimise remotely their energy use and battery management.
"Since we were last at LogiMAT in 2019, we have driven advancement in areas such as active safety, telematic solutions and charging technology at a rapid pace," says Blade Feng, Forklift Business Unit Director, BYD Europe B.V. "As a specialist in lithium technology, we are looking forward to speaking with visitors to LogiMAT who are interested to explore the improved flexibility and potential total cost of ownership savings offered by a switch to BYD.
"We are particularly excited to launch to the European market our new models, including the heavy-duty BYD ECB70/80, a true 'diesel killer' that finally brings a zero-emission solution with no compromise on performance to a sector that has relied for too long on polluting IC engines."
Feng concludes: "We would also like to use our presence at LogiMAT to speak with potential new dealers seeking to offer a complete lithium solution to their customers. Also, we encourage operators to get up-close to our forklifts, to see the build quality for themselves and to acknowledge the high comfort and visibility levels from the cabin."
BYD Iron-Phosphate Batteries come with the most advance design, highest levels of safety and an industry-leading 8-year (or 10,000-hour) warranty, offering its customers a safe, reliable, and long-term materials handling equipment partner supported by a growing network of local dealers.